Features
Featured Project: Warwick Printing Takes on Tricky Mural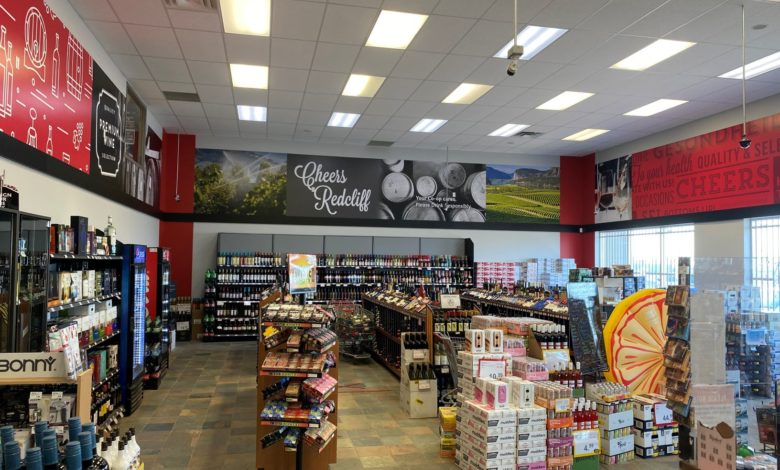 Warwick Printing, an Alberta, Canada-based full-service printing shop, completes a challenging wall mural project for client South Country Co-op Liquor in Redcliff, Alberta, Canada.
The project required Warwick Printing to design, print, and install 48 individual wall panels making up a mural spanning the store. As well as promoting the spirits, beer, and wine on sale, the mural features a "Cheers Redcliff" message. The installation took around 11 hours, including the setup and teardown of scaffolding and having to negotiate some fragile obstacles—the liquor bottles themselves.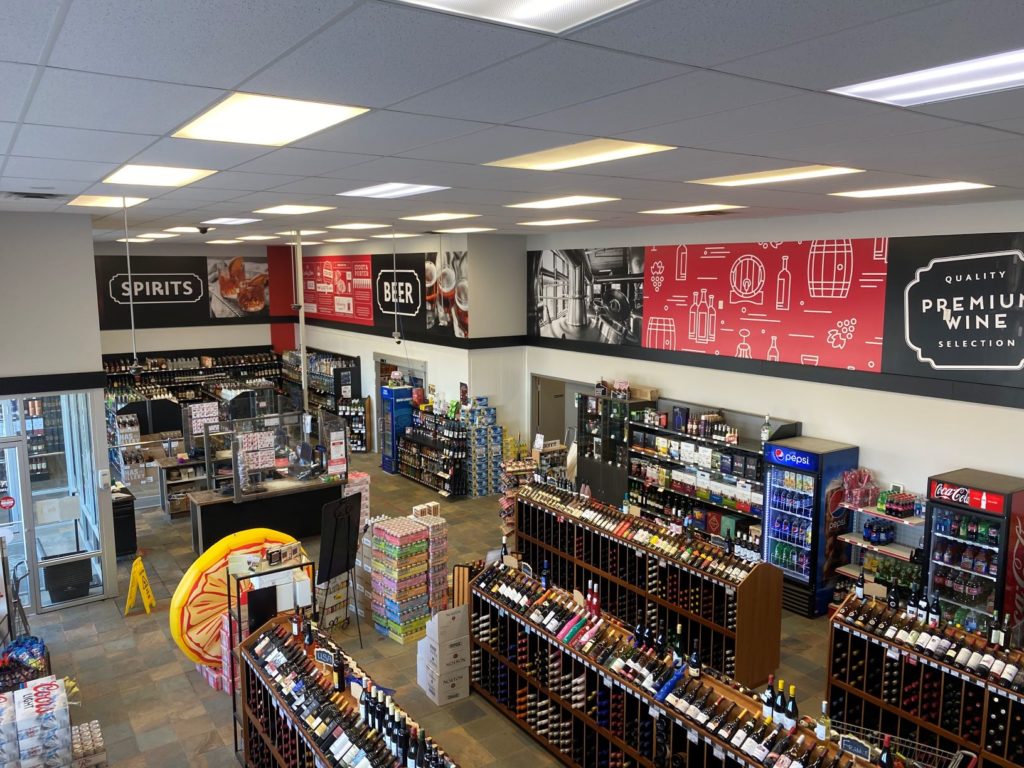 Lee Weighill, the owner of Warwick Printing, explains, "The main challenge was figuring out how to reach the 17′ install height with racks up against every wall without having to empty the whole store out. There was not enough space for even the smallest scissor lift or boom lift, and regular A-frame ladders would not get us close enough to the walls in the right position. We ended up using painters' scaffolding and had to stack two units to get high enough, but it was still a 26″ reach to the wall, which made it a little more difficult."
Obstacles aside, the team completed the project without knocking one bottle to the floor, according to Weighill.
He says the choice of vinyl was vital in completing the job on time, and in total, Warwick Printing ran over 260′ of Drytac ReTac Smooth 150 through its HP Latex 360 printer. A material he refers to as his "favorite go-to" mural vinyl.
Warwick Printing has evolved from mainly offset press commercial printing to more digital wide-format work in the last two years. Diversifying has helped the business reach new customers and survive this year's challenging conditions.
"We have fared pretty well so far during COVID-19," says Weighill. "Overall business was down significantly, as much as 65% in the beginning, but we have seen some major gains in our wide-format and signage division during the same period. I estimate we have done more volume during the pandemic than we did in the previous year and a half.
"We saw an opportunity very early in the pandemic for signage and floor graphics and quickly created marketing materials, so we were ready when business started opening up again."
He says, at one point, the shop was running its latex printer day and night to keep up with COVID-19 floor graphics orders.
"Because of this, we also picked up a lot of other vinyl business unrelated to COVID. This has for sure helped fill the void left in our other areas of our commercial printing."