Catalog Connection
Get connected with the latest products from top industry suppliers through Graphics-Pro's Catalog Connection.
View Catalog Connection
Verified Suppliers Guide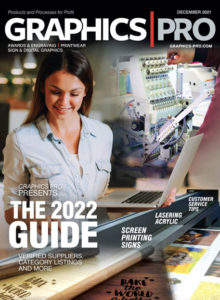 The most comprehensive and thoroughly vetted list of the suppliers, this issue also features articles covering the technologies and business aspects of the awards, personalization, signage, and apparel decorating markets.
Questions?
Call us at (800) 669-0424 or feel free to contact any one of our service team members directly: