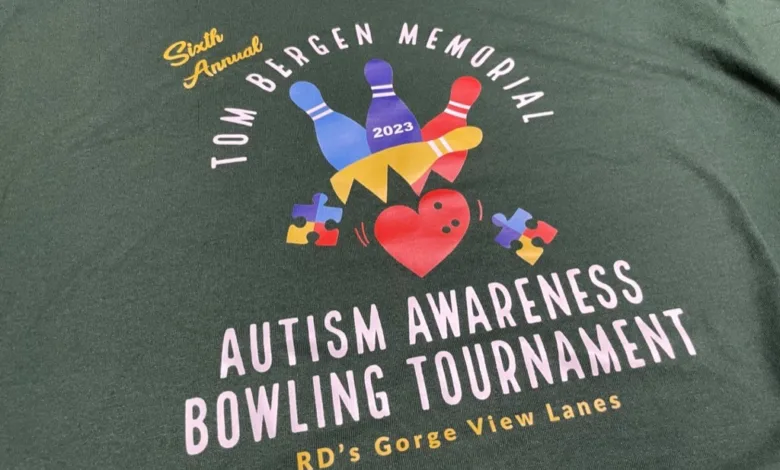 Like any new process, everyone is always worried about the learning curve, the quality of the printing capabilities, and the supply costs, now more than ever since the cost of running a business is going up drastically each year.
Our company really took notice of the Direct to Film (DTF) process around August of last year and asked ColDesi to ship us some samples to test print and wash. They heat-pressed very easily and held up really well after several washes.
ColDesi's prints are rated up to around 55 commercial launderings before they start showing any signs of breaking down at all, and it's our understanding that most people will not notice any visible degradation even after those 55 or so washes.
Testing the waters
This past January, we received our DTF-24H4 and installed it that week in between doing our normal workload each day. Our general manager did all the test print runs, starting with some files that had spot colors and half tones in them to see the differences between how each print would come out. Both prints out of the gate needed little to no major tweaks to make them more than passable.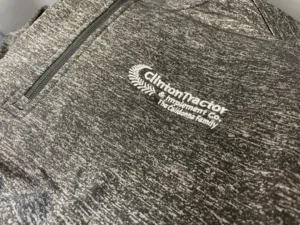 We also manage over 300 online stores, and many of them use screen-printed transfers or apparel vinyl. Our GM took several of those designs and tested them with the DTF printer to see if our settings and print quality either matched or improved those processes. Each design actually improved and was much better and cleaner looking.
One thing we caught onto right away is that this process allows us to press using 270 degrees for 15 seconds and adheres right away. That may not seem like a big deal, but it's huge for us.
With sublimation, you typically have to heat up to 400 degrees and press for up to a minute per location for several products. Apparel vinyl can be just over 300 degrees and 30 seconds.
With DTF, you don't need to heat the press up past 270 degrees, and the press time is 15 seconds or less, which means you should not experience dye migration when working with those more difficult product lines where the dyes activate when you hit close to 300 degrees for 45-plus seconds.
After we got the machine up and running that week and felt we had a handle on it we started offering it to our customers immediately. Normally with new processes, this takes at least a month or more to become comfortable with any new process and equipment. This machine and process felt like second nature.
Direct return on investment
In our first seven business days of production, we did just over $19,000 in production. Now I know what everyone is thinking … great, but what did that cost you in supplies? How much did you print? And so forth. It blew me away and I had to triple-check the numbers my GM gave me along with what it cost us.
Below is what we produced within seven business days:
742 (front lefts) 3″-4″
236 (full fronts) 10″-12″
600 (medium size) 5″-6″
38 (names)
1,616 TOTAL PRINTS
Supplies used:
8 bags of powder
1 of each color (CMYK)
4 white inks
Our total worst-case supply cost was $774.92 out the gate, even given that we tweak everything to print more color and use more white ink to make sure the color saturation is solid and pops with each print. Take $774.92 divided by 1,616 for about 48 cents per print on average for a full-color print option.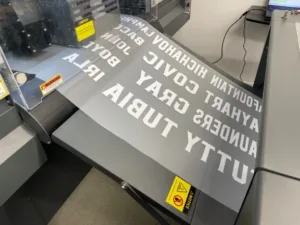 The printer prints at such high quality and so fast that we normally do not have it running longer than two hours per day, and we print thousands of prints per week already with it. Moreover, the operator can be cutting down DTF prints while the machine is printing.
This process has been a huge game-changer for our team and has actually boosted morale. This has replaced many of our screen print, sublimation, and apparel vinyl orders. Our time weeding apparel vinyl is gone, we have reduced the amount of time it takes to clean screens and the time needed to burn screens since many smaller and larger jobs shifted to the DTF process.
Another major factor is the electric bill has dropped dramatically. The entire system pulls 30 amps, while with a screen print dryer and flash unit, you can pull 75 amps, which is a drastic difference, and both are on eight to ten hours per day.
Screen printing and sublimation will always have a place in the market for printing on apparel, but for the everyday user, DTF is a great process to investigate.
You have a lot of options out there to choose from for this process. Be sure to do your research and understand your needs for which size machine you choose to go with, and leave yourself room for growth. Keep making moves, everyone!