Features
Shaffer & Nelson to represent MaxLite in Pacific Northwest
Aside from its New Jersey headquarters, MaxLite also has a facility in Anaheim, California to provide quick shipping to the Pacific Northwest.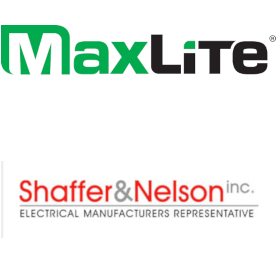 West Caldwell, New Jersey-based MaxLite, makers of energy-efficient lighting products, including LEDs, announces Tualatin, Oregon-based Shaffer & Nelson as its exclusive representative for the Alaska, Oregon, Washington, Idaho and Montana markets.
Now in a third generation of ownership, Shaffer & Nelson has been a supplier of electrical supplies to the Pacific Northwest since 1949. Aside from its headquarters, the company has satellite locations throughout the region.
"We are excited to have Shaffer & Nelson representing our line as our exclusive commercial and industrial agent in the Pacific Northwest," says Eric Fournier, vice president of sales for the Western U.S. for MaxLite. "Shaffer & Nelson has a well-earned reputation of excellence, and we look forward to a successful partnership that will deliver MaxLite's quality lighting products and industry-leading warranty program to customers in the Pacific Northwest market."
MaxLite claims to offer the most complete portfolio of indoor and outdoor LED fixtures, lamps and lighting control solutions in the industry. With a major distribution center in Anaheim, California, MaxLite provides 24- to 48-hour shipping throughout the Pacific Northwest region.