Features
Leyard and Planar Expand Sports and Entertainment Division with Lighthouse Partnership
Leyard and Planar's push into the sports venue world is being spearheaded by industry veteran Douglass Moss, who was hired in March 2018.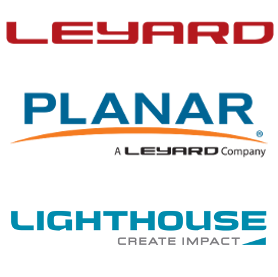 Chinese electronics manufacturer Leyard, a maker of LED products, and Portland, Oregon-based digital display manufacturer Planar, announces an exclusive partnership with Hong Kong-based Lighthouse Technologies Ltd., a video display company. The companies say the partnership will broaden Leyard and Planar's offerings and expertise in the sports venue market.
The deal combines Leyard and Planar's fine-pitch LED and LCD large-format and video wall displays with Lighthouse's tailored product line and proven implementation success in the sports market. The company has major installations in professional sports venues in Los Angeles, Cleveland, Dallas, Seattle, Philadelphia and Atlanta and a major presence at Times Square in New York. Lighthouse screens also provide information and entertainment at many major university and public facilities throughout North America.
"We are thrilled to announce our strategic partnership with Lighthouse," says Leyard and Planar executive vice president of sales and marketing, Adam Schmidt. "With our market-leading fine pitch LED and LCD offerings, combined with Lighthouse's LED solutions designed for the sports market, we can offer customers a display technology experience never before available in our industry."
The partnership follows Leyard and Planar's hiring of industry veteran Douglas Moss as general manager for sports and entertainment in March 2018. Moss leads the companies' focus on the sports venue market and brings more than 30 years of experience, including serving as president of Madison Square Garden Network; president and CEO of the Buffalo Sabres and president and COO of the Phoenix Coyotes (both National Hockey League teams). Moss' career also includes senior roles with the International Hockey League (IHL) and the NHL's Anaheim Ducks.