Features
Florida Minuteman Press Franchise Focuses on Relationships
Building strong relationships has helped the business hit record sales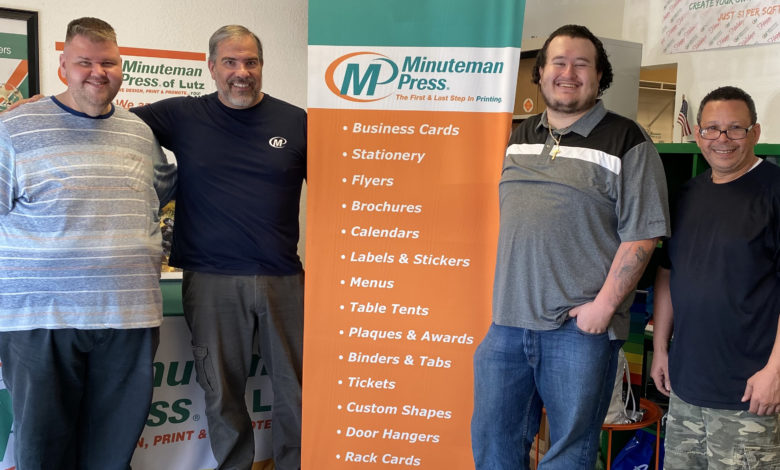 For four years, Minuteman Press franchise owner Ed Casagrande has been building relationships and helping local businesses with their printing and marketing needs. During the COVID-19 pandemic, Minuteman Press in Lutz, Florida, was designated as an essential business. Casagrande and his team have continued to reach out to clients and the community with one message: "We are all in this together."
The results of Casagrande's positive outreach efforts are a satisfied client base and increased sales.
He explains, "We are posting record monthly sales in March 2021, and I am thankful for that. Our sales for the month are more than the annual revenue of the previous owner of the business in 2016. To do this during the pandemic makes me even more excited for the future as we continue to work hard on behalf of our community and our customers."
Supporting local businesses
Casagrande elaborates, "Since the beginning, we have focused on developing strong relationships with many businesses and organizations within our local community. The pandemic has, in many ways, brought us closer together with our customers. There has been an overwhelming sense that we are all in this together, and by helping to support each other through the struggle, we have been able to keep growing."
By reaching out to local businesses, Casagrande has gained a renewed sense of camaraderie with fellow business owners.
"The response from the community has been overwhelmingly positive. If there has been one thing that has been highlighted during this difficult time, it would be the resilience of the community," Casagrande says. "Many of our customers print with us on a regular basis, and we have gotten the opportunity to know them and their businesses. When they come into our shop, they share their stories of struggle and success, and we are there to support them through all of it."
Helping through print
Early on in the pandemic, Casagrande and his team identified the businesses most in need of its printing services. It knew the food industry saw a massive increase in demand, and it focused on that market—printing labels, to-go menus, and yard signs and banners.
He adds, "The need for marketing materials promoting social distancing applied to other industries as well, and we were able to meet those needs with signs, banners, window clings, and floor stickers."
Another challenge for local businesses came in the form of adapting marketing methods. With in-person events canceled or postponed, companies turned to the franchise for help adapting and diversifying their marketing strategies.
Casagrande explains, "We focused our efforts on areas of the business with the widest margin of return. We had to get creative in finding ways to best serve the needs of our customers, many of whom have also had to completely transform their approach to marketing in a world without trade shows and other traditional marketing methods. This has allowed us the opportunity to continue to grow, despite the challenges facing our local economy. At the core of this growth is the relationships we have built with our customers. The importance of developing strong relationships with local businesses and taking care to provide a quality customer experience with every interaction cannot be stressed enough. It is the key to our success."
With those strong relationships and many awaiting the anticipated economic recovery, Casagrande is ready to help clients. The print business has implemented a new marketing outreach project to connect with customers who haven't printed as much during the pandemic to identify their pain points and offer solutions.
"This effort has translated into an increase of sales and is helping us get back on track to our pre-pandemic rate of growth," he explains. "We are investing in new equipment so that we can increase our production and profit margins, offer better and faster print solutions to our customers, and stay competitive in the marketplace."
The franchise is also in the process of expanding to a new larger facility to allow for continued growth.
"From what we have seen, the market trends indicate that the printing industry will continue to thrive, and we are looking forward to continuing our growth as the economy recovers from the pandemic."
When asked what advice he would give to other business owners right now, Casagrande answers, "The best advice that I can give other local businesses is that networking and customer care is vital to the success of a business. A large part of the effort that I have made since becoming a franchise owner of Minuteman Press is through networking with other small business owners in the local community. Through these efforts, I have developed some incredible working relationships with members of the community, and I have learned so much along the way."
He concludes, "We have all heard it said that there is strength in numbers. The pandemic has demonstrated this to be true because we have all relied on each other to get through it."