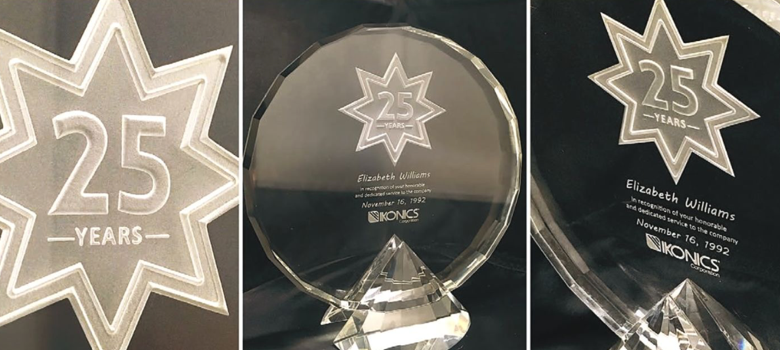 Unique to sandcarving, stage carving is a quick and easy process to add to your bag of tools to help increase value and overall ROI on any corporate award project. Technically, you can sandcarve as many stages as you want; however, a simple three-stage carving is quick, easy, and can substantially increase the value of any corporate award.
These tips can help you to execute the process seamlessly and spice up your corporate awards offering.
Artwork: A successful sandcarved project stems from great artwork. When prepping artwork, consider what your client wants the finished award to look like, how many stages are needed, and what's the best way to section those off with the artwork. You also need to think of what photoresist film will be used and whether or not you will blast from the front or the back. All this information helps determine how the artwork is set up.
Printing.With any artwork print job, inkjet media is best as it produces the most successful and consistent jobs. When printing black ink, make sure it is 100 percent black within your artwork program of choice. You should not be able to see through the black ink on the printout when held up to the light.
Applying.After you have exposed your artwork on the photoresist film, apply it to the corporate award for simple stage sandcarving. Apply the film to the substrate, sticky side down. This film is self-adhesive and somewhat repositionable. Use a squeegee to apply pressure to the film, which will adhere to the substrate. If needed, use a jig or tool to help align the film and design for perfect placement. Remove the clear carrier and use a wire wheel to remove any trapped air bubbles. After application, the substrate is ready for sandcarving.
Three-stage sandcarving. Load the substrate into the machine, set the air pressure, and start blasting. We recommend the air pressure be set between 25 and 35 PSI with 180 silicon carbide grit. Always hold the nozzle at a 90-degree angle. This helps eliminate mask lift-off. Remember: stage one is the deepest stage. This area appears closest to the viewer of the finished award. After the film is removed for the second stage carve, load the substrate back into the machine and sandcarve. Repeat this process for stage three.
-Michael Sullivan, IKONICS Imaging