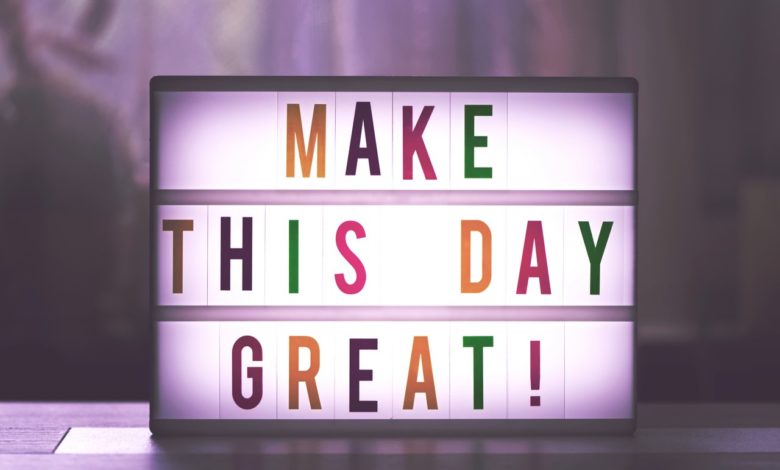 We're all working for what sometimes seems like around the clock to keep up. Sometimes it's hard to keep going at that pace, and yet customers expect perfection and on-time delivery. When the going is tough, what fires you up? What excites you? What gets you going? What helps you to rise to the occasion?
3 ingredients for motivation
The workplace is changing, and helping our team members get the most out of their work experience is directly tied to one crucial ingredient: their work passion. Some experts say that this is accomplished in three ways:
Help employees be intellectually connected to their work. Encourage them to feel capable and competent in their duties.
Help team members be personally connected. Having a good relationship between management and employees can help improve the personal connection with the company.
Help staff be emotionally connected. Help them understand the purpose behind what they do. With help from management, allow team members to customize jobs, so their passions, interests, and values are part of their daily routines.
After many years in the industry, and even though I'm what I consider semi-retired, I still wake up excited and ready to tackle all the challenges our business sends my way because I love what I do, most days. Like many of us, I have my days when I'd gladly sell out for $1.98, and I'll pay the taxes, but then I get so fired up again that I wouldn't take millions to get out. I want to explore the ways to stay in that zone and share them with our team and you.
Promote enthusiasm
In chatting with others in our industry to see what fires them up, I've learned that some get excited when their gut (aka, intuition) tells them to go for it. Some get fired up when they see new equipment at a trade show or conference and can picture all the ways it can be used to make money, to make work and life easier for them and their crew. (My husband, Dave, is like that when he finds new toys to play with.)
Others shared that they get a surge of enthusiasm when they have the opportunity to give a proposal to a new prospect that they've been cultivating for a long time. This gets their creative juices flowing, which helps reignite the passion for what they do. I think most of us would agree that we feel good after romancing a prospect for a long time and finally get the chance to show them how good we are.
The majority of industry salespeople I spoke to said getting and keeping customers happy was their big motivation. When asked how their company can help support their enthusiasm, many answers were similar:
Trust – Trust is a critical factor in building repeat business. A company has to deliver what their sales team promises: the exact product, done the exact way, at the exact time promised.
Stand behind the work – When a company stands behind its work, customers stand behind the company. Guarantees and warranties are ways to show customers that the company is confident in their work and ready to support a great client/company relationship.
Stand behind the service – Service guarantees are just as important as product guarantees. In our industry, service is important because, with most of our sales, the customer can't really try our products until they've already purchased them.
Stand behind the price – Many salespeople cringe when they have sold a product at a price that somehow gets elevated when the project is completed. Customers don't like surprises at the end of the project when they've budgeted for what they bargained for at the beginning. In our industry, when there can be variables once one gets into the project, we sometimes have to bite the bullet and honor the bid price.
Stand behind your team – Get to know your employee's clients. Know the people you serve. In his book "Delivering Knock Your Socks Off Service," Ron Zemke said, "It's easy to take regular and walk-in customers for granted. Don't. Thank them for choosing to do business with you."
Stand with your team – Help keep the sales pipeline full. It's easy to be fired up when the pipeline is full, and customers are out bragging about your company.
Not too long ago, a prospect we'd been nurturing for a long time came to our store because they had a trophy emergency (yes, Virginia, there are trophy emergencies). Their current online vendor couldn't provide what they needed by their deadline. This immediately sent me into the fired-up zone because I knew that by fixing this prospect's problem, we would have the chance to show them one of the advantages of working with a local brick-and-mortar professional.
There was no doubt that our prospect appreciated the service. They now know that we're a professional source for quality work and left knowing that we were happy to solve their problem. Now our team has another foot in toward gaining their continuing business.
Go above and beyond
A couple of industry friends told me that they get renewed enthusiasm when they catch their team in the act of doing something outstanding. Obviously, they trained their team to go above and beyond when serving their customers. Tom Peters, author of "The Pursuit of Wow" and "In Search of Excellence," said, "Train everyone lavishly. You can't overspend on training!"
When our team members know what they're supposed to do and how to do it, they have more opportunities for getting and staying fired up. Employees that are encouraged to increase industry knowledge by attending trade shows and educational conferences almost always return to work fired up.
One of the biggest responsibilities of a manager is to inspire others to be productive, efficient, and happy in their work, so they stay motivated. A business coach friend shared the following suggestions:
Provide a workplace that is clean, safe, stimulating, and that makes people feel good.
Be transparent. Have a feedback system that allows team members to share their ideas and suggestions for creating new products, new production methods, and ways to improve workspaces. When employees are included in decision making, they are more committed to the direction the company takes.
Offer opportunities to learn about the industry's latest technologies and equipment.
Invite supplier representatives to attend an all-team meeting to show their new products and share ideas on ways to market and sell those products. This encourages collaboration within the team. What a great way to increase our knowledge and product information so we can offer better customer service excellence to those we serve. Also, it's a great way to create good relationships with suppliers.
Recognition and appreciation are a big part of encouraging and maintaining a fired-up company atmosphere. Especially in our industry and especially during our busy season, we should show our teams how much we appreciate what they do.