News
Pantone Hosts Panel Discussion on Athleisure
Attendees can hear perspectives from a fashion designer, colorist, and textile dyer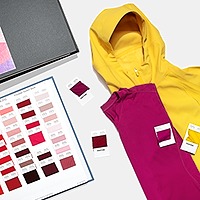 Pantone hosts a panel discussion to discuss athleisure apparel. Polyester and Cotton Colors in the Athleisure Market takes place on Wednesday, April 28 at 10 a.m. ET.
The discussion takes a look at how bright, vibrant polyester and rich, warm cotton colors are working together in the booming athleisure market.
With more people working from home, and the emphasis on function and comfort when it comes to fashion, multi-fabric apparel with broader color palettes is emerging. Attendees can hear perspectives from a fashion designer, colorist, and textile dyer.
Register for the session here.