Features
Chat with Matt: An interview with Brad Wass
An interview with Brad Wass.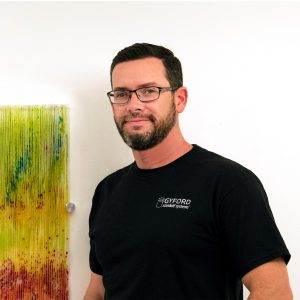 This month's interview is with Brad Wass of Gyford Standoff Systems.
What path brought you to your current position with Gyford StandOff Systems?
Straight out of high school I worked for a place called Mousetrak in Carson City, Nevada. Bob McDermand was owner and inventor of the mouse pad. We cut mouse pads from dyes all-day-long and also did custom sublimation and screen printing.
I eventually worked as the head screen printer in the custom shop. After that I found work closer to home in Reno at Art Images Sign Shop. I did installations and assisted in the shop but I wanted to learn how to create graphics. We were always too busy for advanced training, so I decided to go to school for Graphic Design (Visual Communications)
I went to school in Arizona and worked for a while at FASTSIGNS in Tempe to stay in the industry. When I got my Degree and came back into town it wasn't as easy as I thought to get into the slick design position I dreamed of. I accepted a job at a national office supply store as a print supervisor until a friend recommended I come over to his company and work construction. The money was good, the people were fun and I feared I would never use my degree. Then 2008 recession rolled around and kicked a lot of us into unemployment. Fortunately, I was able to find work as a School Photographer and did some graphic design and general labor on the side. I was hired back by the fencing company for another year but kept my resume sharp and applied around town for something creative.
In late 2010 I applied at Gyford Standoff Systems for a production artist position. They needed someone to photograph the entire catalog of parts and assist the lead graphic designer. When I saw the Gyford facility and what the product could do, I was in love. Unfortunately, my resume was not as sharp as I thought, or nearly as clever by simply fastening my resume pages together with a brass 'brad' in the corner. I was not going to get the job. I did something however none of the other candidates did. I followed up, but not with a simple phone call or letter. I got an idea and took a chance on a gimmick. I went to the craft store the next day and bought a shadow box frame and a few other items. When I got home, I painted the shadow box red and crafted it to look like an emergency fire extinguisher cabinet. It had a glass front and I attached a little glass breaking hammer to the side on a bass chain. Inside the cabinet I floated my contact info on a foam backer. For the face of the cabinet I had official and Stern looking stickers made at the print shop that read, "IN CASE OF DESIGN EMERGENGY-BREAK GLASS AND FIRE A CALL". I wrapped it up in classic paper and twine and called the next day to let them know I was still available and ready to get started. Looking back, it's silly to have phrased it that way, "break glass," because you could see my contact info through the glass of course, but I got the job. Sparking Ideas like that have moved me into more challenging, creative and forward-thinking roles here at Gyford.
How much easier it is to deploy a standoff product for a sign now compared to 10 years ago?
So much easier. No installer, designer or purchaser should get stuck on a project. Gyford has strived to be the trusted source for mounting components. Yes, we have how-to online for just about everything, but paramount is our customer service. The team will walk through design, bids, choosing the correct anchors and mounting hardware and then installation advise. Every year at trade shows I meet people who are new to our hardware and I enthusiastically introduce them to the value and quality we offer. I really enjoy listening to the customer's upcoming projects opening their eyes to where our systems could be used.
What would you consider the most trendy option for standoffs?
Aside from the tried and true four corner acrylic application; we have seen multi-layered recognition and wayfinding walls with glass/resin and engraved wood. Cutting abstract shapes and holding the material with edge grips or standoffs mounted asymmetrically makes an eye-catching display. Repurposed material is big right now, combined with colored standoffs it really complements the display.
What is the production process like from where Gyford sources its materials to how your products are created?
Our components are basically produced in three ways using U.S.A. made materials. They are manufactured in several shapes and sizes from sheet type material, solid bar form and extruded profile.
Sheet material is made into mounting plates and square parts with a milling machine. Most Round components are 'turned' from solid bar stock on a CNC Swiss lathe. (Very efficient machines)
And lastly Extruded profile like what is used in our Blade Sign Kits. This is a fascinating process where hot aluminum billets are pushed through a harder metal die like Play-Doh, It's then hardened straight and cut to size. We also have a fully dedicated custom shop to accommodate customer requests for truly unique or modified stock components which allows customers to be more creative with their designs.
What are some other uses for standoffs that might allow sign and graphics shops to expand their offerings?
Try this!
Interaction counters. Turn the standoff upright.
Graphics can be pressed between acrylic/glass surface and backed with sturdy material like wood or metal.
Raised counters are achieved with 1" or larger diameter standoff barrels standard or low-profile caps. Any businesses will benefit by having graphics displayed right at the hands of the customer. Also, if the surface is a manageable size for one or two people then change outs can be a breeze for the deal du jour. Sometimes the counter can't be raised. In this case guide them to a single sheet of clear material and fastened down with only the low-profile cap.
In your opinion, what surfaces look the best when used with standoffs, and which ones are the easiest to work with?
With our satin aluminum finish, I like a clean modern surface. When installing into something with a patina or antiquing, brick or wood I love to see our customers take advantage of our limited stock black and brass finishes. We can complement any surface though with color/textured powder coating as well.