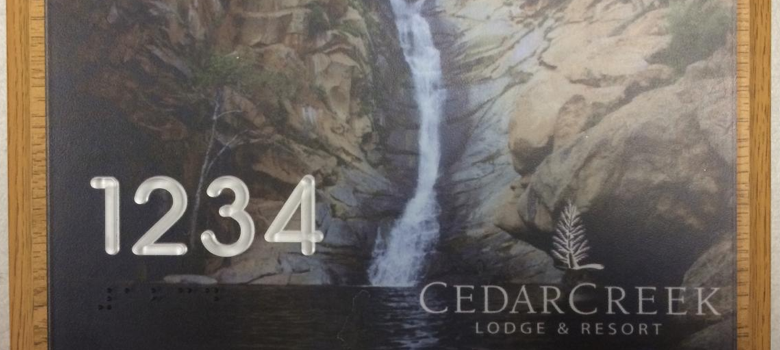 If you have a laser or an engraver with enough power, you can cut out all kinds of interesting shapes to use as layered backplates for smaller tactile signs made using this applied method with Raster Braille:
Using some of the frames you buy through your awards vendors, print a colorful background using your digital printer and hide the tactile information in that section of your framed sign with tactile characters that blend into the print. On a separate section of the sign with a plain, printed background, include the printed visual characters in a harmonizing color.
If you feel uncertain about fabricating the tactile portion of the signs, put in an order to a wholesale manufacturer for just the tactile plaque, use your equipment to make the rest of the sign, and assemble it. All the visual signs can be produced in house using your engraver, laser, or digital printer. A small tactile sign, when used as a component of a much more elaborate modular sign system, is inexpensive; you add the value for your client and can therefore charge for it.
-Sharon Toji, The ADA Sign Lady