Tips
Spark Creativity with Holiday Projects
For Halloween this year, a few industry experts showed off their capabilities online and turned a little fun into a marketing tool.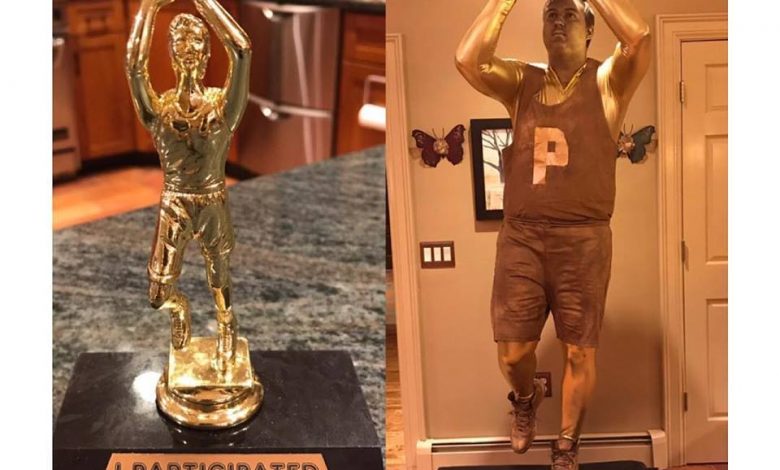 This article is from our older website archives. Some content may not be formatted or attributed properly. Please
Contact Us
if you feel it needs to be corrected. Thank you.
Holidays offer opportunities to break out of the ordinary and test your creativity – Halloween being the most recent of those opportunities. As a business, you can take that opportunity and turn it into profits. This year, a few industry experts showed off their capabilities online and turned a little fun into a marketing tool. See what they created and their thoughts behind them, and perhaps they will spark creativity for your own project this holiday season…

Image courtesy Popps Trophies & Laser Engraving
After brainstorming costume ideas, my girlfriend suggested that I should be a trophy – me being a trophy shop owner and all. I said, "That's it! But I'm not just going to be just a trophy, I'm going to be a participation trophy!"
To make the costume, I bought a gold body suit and painted my face, hands, clothes, and a basketball gold. Then, I used an aerobics platform wrapped in a black garbage bag as the base. Finally, I laser cut gold trophy plate material with the words "I participated 2018" on the front. I also made a mini replica trophy to add icing to the cake and make a great picture.
Using my 30-Watt Epilog Mini, the settings I used for the gold trophy plate material were: raster cut at 65 percent speed and 65 percent power; and vector cut at 60 percent power, 25 percent speed, and 500 frequency.
But I figured if I'm going to go all out for this costume, I might as well market it as well, so I posted a picture on our Facebook page. I thought this concept would be something that everyone could relate to because everyone has an opinion when it comes to participation trophies – and usually it's something negative. I figured this would be an opportunity to defend them for a chance in a funny way but also let everyone know I'm the place to go to for awards, engravings, and of course participation trophies. And who knows, maybe I'll have some customers that need some custom, laser-cut Halloween props for next year's costumes!
-Todd DeGroat, Popp's Trophies & Laser Engraving
Image courtesy TYKMA Electrox
We used a 50-Watt fiber laser with a 410 mm lens for marking a pumpkin. The 410 lens provides a 10.8- X 10.8-inch marking field and allows for enough focal forgiveness to follow the curve of the pumpkin.
The laser was set to ablate the surface of the pumpkin, and the vaporized pumpkin fumes were collected in a fume extraction system.
The graphics were drawn in our software using our built in CAD tools; however, users can import any designs into the software for marking.
We shared the pumpkin post on Facebook and Twitter to spread our name. Instagram has been great for us so far, and we've received many sales leads from the content we post. This is unique content for our pages, as our clients usually look at metal being marked for industrial purposes. Marking pumpkins is not something our clients purchase our equipment for, but people are interested in it anyways, for the same reason people watch YouTube videos of random items being crushed or melted. It stimulates our curiosity; and if it can get some attention and draw traffic to your page, that's always a good thing.
-Aaron Grimes, TYKMA Electrox