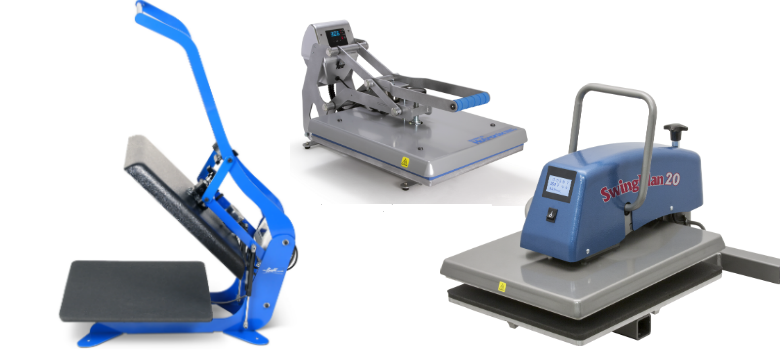 If you're shopping for a heat press and you're not quite sure which option is the right one, look no further. Here's a quick breakdown of each press and what they offer a heat-printing business.
Clamshell
Clamshell heat presses are typically less expensive than the other two styles and also require less working space than swing-away presses because they open vertically.
Clamshell presses are ideal for pressing thinner substrates, such as T-shirts and work well for vinyl and sublimation applications. There are a couple of things to be aware of due to their design:
Positioning shirts and garments toward the back of the press can be difficult and increase the risk of physical burns.
They lack the consistent pressure afforded by swing-away models.
Swing-away
Swing-away heat presses generally cost more than clamshell presses and require more working space. However, their design allows for the easy placement of substrates without fear of burns. Swing-away presses also work exceptionally well with thicker substrates such as award plaques, and they are ideal for transfer papers, given their consistent pressure.
Automatic
In this industry, it's common that we're juggling multiple tasks as we fulfill orders and personalize customers' products. That said, having an automatic heat press can be a great benefit as you don't need to stay by your press lest you forget about it. Having a press that automatically pops up when the timer goes off greatly diminishes the likelihood of burnt, scorched, and ruined products.