News
Ricoh Collaborates to Reduce CO2 Emissions with Textile Ink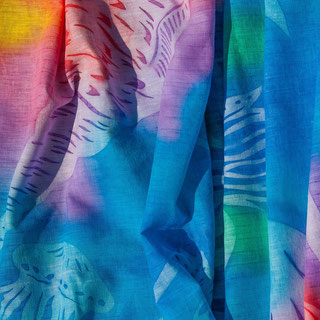 (Image: www.farbenpunkt.com)
Ricoh Europe opens market access to American ink pioneer Farbenpunkt's textile ink, PeractoJet. The collaboration enables OEM clients to compete in the digital textile market and enhance their environmental offerings. Reducing global textile production's ecological impact caused by using dye-based inks, like reactive inks in digital and analog processes, is the driver for this collaboration.
Traditional fabric dyeing and treatment accounts for 20% of worldwide wastewater, according to the company. Ricoh provides an alternative approach for digital textile printers by pairing its print head portfolio with Farbenpunkt's Peracto technology.
The pairing is ideal for apparel and home furnishing applications. According to Ricoh, it delivers more than 90% savings in fresh and wastewater use and 50% savings in energy use, which provides reductions in CO2 emissions.
Graham Kennedy, director of industrial print, Ricoh Europe, says, "This collaboration builds on Ricoh's longstanding history of innovative inkjet head development and allows us to support a production sector looking for ways to address growing questions around sustainability. Our Farbenpunkt partnership is good news for manufacturers and their shareholders, textile printers, and consumers."
Farbenpunkt managing director, Etienne Steveninck, adds, "Working with Ricoh allows us to bring this high performing, versatile ink to a wider audience. It will enable textile manufacturers to produce large volumes quickly, on a range of materials, meet strict accreditation standards, and contribute to the sustainability of our planet. The two companies are a natural fit as the wellbeing of our environment is part of Ricoh's DNA too."
Farbenpunkt's Peracto Technology textile ink is available from Ricoh across EMEA.