Features
Not Another Wall Plaque: Making Recognition Products More Dynamic
It's become harder to impress clients with the traditional wood plaque consumers have seen time and time again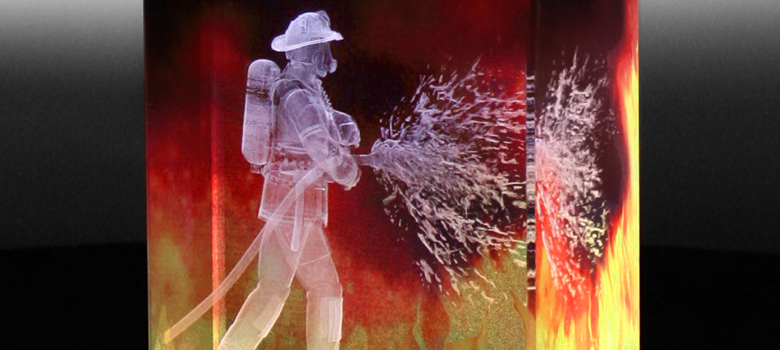 Traditional wall plaques are a staple in the recognition industry, but the trouble is that more and more, customers expect this type of product, making it more challenging to impress them with something that is goes to the next level. You have to think outside the box and approach each order as its own unique project. Here's an example an award we helped create that better fit the recipient and resulted in a more dynamic effect:
The Wyoming Fire Department wanted to surprise their award recipients at their annual banquet by presenting them with an award that was completely unexpected. With a bit of planning and creative pursuit, we created a three-dimensional, deep-etched, and color-filled award.
Using three-dimensional subsurface laser engraving, all the details of the firefighter's uniform and water spray can be seen as the award is rotated. A deep etch with gold color-fill captures the Wyoming Fire Department logo on the front of the optical crystal cube, and a full-color imprint, such as Illumachrome, boasts the power and heat of a roaring inferno on both the front and back. The firefighters that received this award could not believe how exceptional it was in comparison to the traditional wood plaque they had expected.