Features
North Little Rock Trophy on Its Struggle to Survive Invasive Development
An ongoing bridge-widening project happening in front of a North Little Rock, Arkansas business caused owner Barry Fisher to relocate his trophy shop. His story here, along with expert insight on the issue.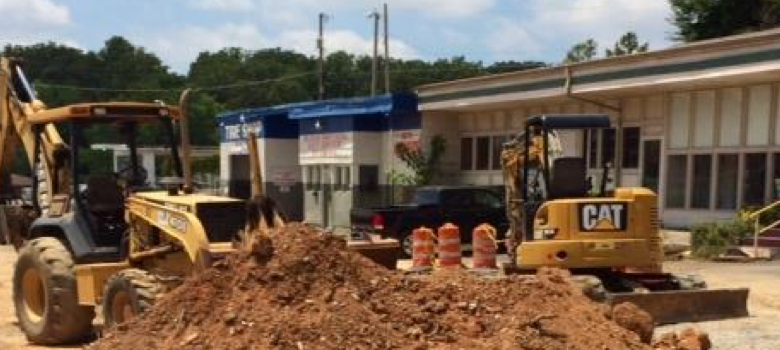 This article is from our older website archives. Some content may not be formatted or attributed properly. Please
Contact Us
if you feel it needs to be corrected. Thank you.
North Little Rock businesses along Highway 365 by the Arkansas State Highway and Transportation Department have been subjected to a rapid decline in business over the last several years due to an ongoing bridge-widening project happening right in front of their doors and where their customers park. North Little Rock Trophy Owner Barry Fisher shares that he was ultimately forced to relocate after 40 years in business there.
FORCED OUT
What originally seemed like a sound idea – betterment of the community, opportunity for a higher volume of traffic, potential for new small businesses to emerge – the construction turned the street where North Little Rock Trophy had long resided into an unpleasant place that turned customers off from visiting.
Not only that, it made it difficult for people to even access the shop. "Sales plummeted, and construction was scheduled to take place for another two or three years – it's still taking place to this day," Fisher explains. He knew staying at this location would mean failure for his business.
"It essentially made me move – I almost considered just closing up shop and giving up, but after 40 years of the shop being in this town, I decided not to.
"I even bought trophies from this shop back in the 70s," he recalls fondly.
Fisher, who bought the business in 2012, was renting the space from its original owner. He explains, "I'm not sure that he was aware that the parking was all built on state property – which I learned was fairly common back then. They were taking most of the parking lot (to accommodate for) the new road and sidewalk, so it was a struggle during construction because the shop was no longer easily accessible." He adds, "When they get finished there won't be suitable parking to maintain a retail shop of this nature."
Fisher reports he requested an administrative appeal from the Arkansas Highway Department. The result: "They came to the conclusion that it didn't constitute enough damage to affect the business." Keep in mind, the lot was built on their right of way.
After issuing that ruling, Fisher appealed it to their committee and filed a lawsuit, which was denied due to it not being filed in an "appropriate manner." The way Fisher puts it, he endured a complicated series of obstacles that not only took a toll on his business, but his health. "I was in the hospital (during the move) and I believe it contributed to the decline of my health … I wasn't prepared to take on something like that."
Other small business such as The Gettin' Place, a popular deli that was open for nearly 18 years prior to the construction, closed their doors. In an interview with the local news station, KTHV, owners of the restaurant attribute their closing to the construction, saying they are "disappointed at how the Arkansas Highway Department has treated (them), the community, and the business."
STARTING FROM SCRATCH
Although the new location is only about five blocks away from the original, "People still don't know I'm here," Fisher says. He continues to manage the shop's Facebook page, but "the funds are not available for me to advertise (on a larger scale), which has made reestablishing a challenge."
Fisher represented himself in the lawsuit Pro Se, so luckily, his costs for taking legal action are limited to filing fees. However, he speculates he's lost up to $5,000 in sales and moving costs. "It's not easy to move the inventory of a trophy shop," he reflects now five months after his move. "I still believe that the state should help when businesses have to relocate, whether or not it's on right-of-way property; if the construction is going to cause a business to decline, then they should support them – that was not the case here."
Yet, even through trying times, Fisher is still hopeful that North Little Rock Trophy can continue operating. He believes closing down permanently is still not something he wants to consider, but downsizing and eliminating his showroom so that he can primarily focus on his online services weighs heavily on his mind.
His marketing strategy for this future endeavor is currently being fine-tuned, but he speculates he will target customers by distributing catalogs and working with past clients over email.
THE BIGGER PICTURE
"Stories like this are not uncommon," Bob Hagel of Eagle's Mark, tell A&E. Like Fisher, Hagel owns a local trophy retail shop, and understands the upset of an unfortunate situation like his. "It always hurts," he empathizes, "however, it hurts the most when you have been in business long enough to be running a successful business."
Hagel adds that losing customers does far more damage than not having the full opportunity to obtain new ones. "It's not only hard on the income, but it is brutal psychologically. We work really hard to obtain and keep customers, so losing them because of something you can't control is the worst-case scenario for any business owner."
Stephen Capper, owner of A-1 Awards, seconds this belief. "I know from personal experience that having to close and move a business can be a great destruction."
But at the same time, "it can be a new beginning."
"It has been told to all of us that the success of business is determined by location, location, and location," Capper continues, "however, that old real estate sales tool was for years past. The success of most businesses of today generally can be in almost any place.
"This, to me, includes awards shops."
Vince DiCecco, Your Personal Business Trainer, agrees; a business cannot be dependent fully on its physical space. When faced with this situation, he suggests ramping up your marketing campaign by any means possible. "It could be as simple as touching base with people who have ordered from you before. Create a database of your clientele and people you've done business with – that way you can contact them when there is a big change like having to relocate."
"Send out coupons to people who have bought from you before," he explains. "Say, 'We're moving – find us at our new place and get 10 percent off.'" Whether it's direct mail, email blasts, print ads, or social media efforts, these experts believe that the key to navigating a tough situation like this starts by letting people know what your plans are.
Another thing you can do if you find yourself in this scenario, DiCecco says, is to have a ribbon-cutting ceremony or grand re-opening. Many small businesses have found this method successful in drawing attention in their community, which is exactly what is needed if you are looking to inform customers where your new place is. Not only does it take the work out on their part the next time they need to order from you, it shows your dedication to the people you serve, making them more likely to remember you and choose you over your competitors.
Of course, the best way to protect your business from invasive development is simply to avoid it. Is it always possible? No – but you can always prepare for the event by being mindful of the possibility.
That being said, a final word of advice: know what you're getting into. Fisher advises, "If you're going to rent property, you need to make sure that all the things you're counting on being a part of your project are actually going to be a part of it." He may have had to learn this lesson the hard way, but there is still reassurance for those who choose to make use of his story.