Features
Magazine Names 2/90 Sign Systems' SafeCare Best New Signage Product
2/90 Sign Systems has a variety of wayfinding signage systems designed for different environments.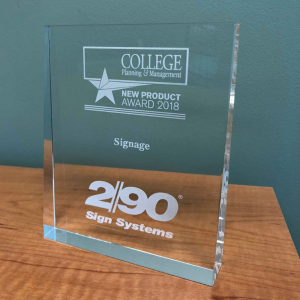 Grand Rapids, Michigan-based 2/90 Sign Systems, a company specializing in wayfinding signage, has received a "2018 New Product Award" from College Planning & Management magazine.
The award came for 2/90's SafeCare signage line, which the company says was made specifically for installation in "behavorial health environments," such as health care facilities, schools and prisons-any environment where safety and durability are key factors.
According to the announcement put out by College Planning & Management and its sister publication, School Planning & Management, the new product award program honors the outstanding product development achievements of manufacturers and suppliers whose products or services are considered to be particularly noteworthy in their ability to enhance the learning environment.
Awards were handed out in a number of categories and 2/90 won in the signage category. This was the fourth year of the awards.