Features
Featured Project: N3 Display Graphics Installs Whaam! Wall Art
Since N3 Display Graphics launched in 2000 it has been a customer of Drytac, which also has offices in Bristol, England.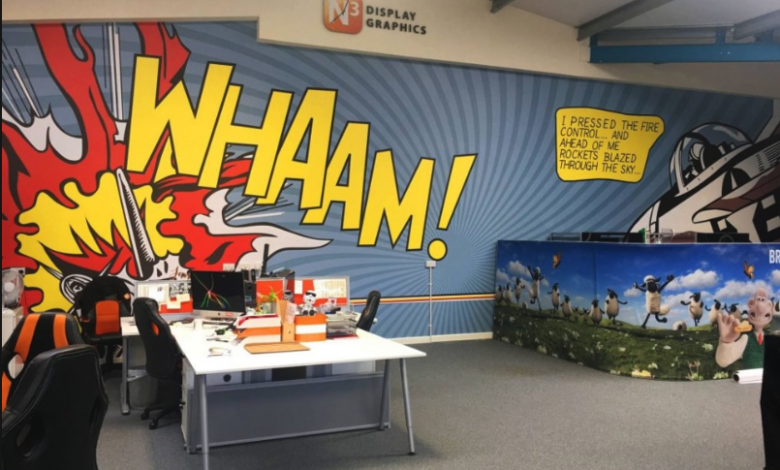 This featured project comes to us from Bristol, a city in southwest England astride the River Avon, which is where N3 Display Graphics Ltd calls home. A full-service print shop, N3 specializes in wide-format printing. The company decided to adorn a wall in its offices with a super-sized version of Whaam!, a 1963 painting done by iconic American pop artist Roy Lichtenstein.
N3 used ReTac Textures Linen media created by Richmond, Virginia-based Drytac. N3 has been a customer of Drytac-which has its European offices in Bristol-since the printer launched in 2000.
"ReTac Textures Linen is simply what we call 'wallpaper' at N3," says Robin Campbell, projects manager for the print shop. "We use it for the majority of our wall graphics. It has a slight texture which provides a realistic feel of the wall underneath and holds color well, producing really vibrant graphics."
The version of Whaam! produced by N3 is approximately 49′ long x 13′ high. It was printed on a Canon Océ Arizona 460 XT UV flatbed printer. N3 added its own touches to the image by adding fresh colors and extra movement in the background.
ReTac Textures Linen is a 6-mil printable, matte white phthalate-free polymeric PVC film with an embossed linen-like finish to add depth to flat graphics. It is compatible with solvent, eco-solvent, UV and latex printing technologies, Drytac says.