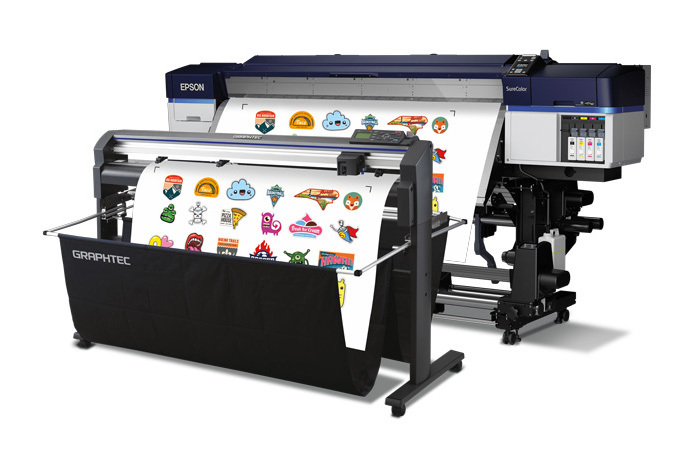 If you are in the market for your first wide-format printer, it is critical to research equipment that best suits your shop's specific needs and know the different ink types and what they each offer.
"With so many technologies to choose from, it's best to weigh your options based on what you expect your focus will be," says Daniel Valade, product manager of digital print, Roland DGA. "Traditionally, users looking to have a well-rounded offering of applications will choose an eco-solvent printer or printer/cutter to get started, as they offer the most commonly requested applications, like outdoor signage, posters, banners, apparel heat transfers, and labels/decals."
Valade points out that Roland offers entry-level eco-solvent inkjets, including the VersaEXPRESS RF-640 printer and the TrueVIS SG series printer/cutters, offering image quality, efficiency, and ease of use at affordable pricing.
"For users looking to get into a less traditional but fast-growing market such as product personalization/customization, UV or dye-sublimation inks allow for a wide range of unique applications that can differentiate a PSP from the competition. We are seeing a general trend where users start out with eco-solvent devices/inks for the versatility and, as they start to understand other applications customers are asking for, expand into one of the other technologies," Valade reports.
Mark A. Rugen, director, product marketing and education, Mutoh America Inc., says ink types, in part, determine the kinds of applications that can be made with a wide-format printer. "Eco-solvent has been the long-time favorite for most startups because of the diversity of materials that be used. One drawback is that the ink uses a solvent to disperse the ink, and time is needed for that solvent to vent away before laminating. A big advantage of eco-solvent is its outdoor durability; many applications can last for years.
Latex ink has become popular of late because the ink is cured upon leaving the printer and thus can be laminated immediately. One drawback, however, is that the ink resides on the surface of the printable materials, and many times, you must use an adhesion optimizer to assist in ink adhesion. In addition, most of this type of printer requires high heat in order to cure the latex, and that can limit the types of media that is compatible with those heats."
He says UV curable inks are cured using an LED light, so they are instantly dry. "In addition, there are numerous applications for both roll-to-roll and rigid materials. Some printers called "hybrids" can even do both types of applications, making them very adaptable to many jobs. Once again, the ink resides on the surface, so some scratch resistance is lowered, and adhesion may require a promoter, but overall the inks perform well," Rugen adds.
He says dye-sublimation inks vary from one manufacturer to the next, and the dye-sublimation and textile printing market can be complex regarding choice in materials and inks. "In addition, sublimation requires the use of heat presses, and that is an added cost to this ink usage. However, the products produced using dye-sublimation are long-lasting, and anything with a polyester coating can be printed."
Matt McCausland, product manager, professional imaging at Epson America Inc., says in signage, offering color consistency is necessary. "Print shops must be ready and able to offer an expanded color gamut and successfully match any color a client throws their way. The solvent ink industry is evolving due to rapid advancement in technology and ink chemistry, allowing PSPs to reach 98% Pantone and ensure efficient, precise, and repeatable performance. Ink technology has expanded outside the traditional CYMK color scheme, with successful formulations for red, white, and metallic silver in higher-end signage printers, such as the Epson SureColor S80600."
He points out that solvent ink chemistry and technology embeds colorant into the media to establish a more permanent bond between substrate and ink, penetrating media to form a durable bond that can withstand water, scratching, and fading. In contrast, latex inks lay on top of the substrate and never fully take on the substrate's specific attributes, resulting in duller, less consistent color. One of the primary drivers of this is the matching of ink and piezo print head technology.
He adds that Epson's PrecisionCore TFP print heads deliver accuracy and color consistency, allowing print shops to be confident in producing the correct colors for customer brands and projects.