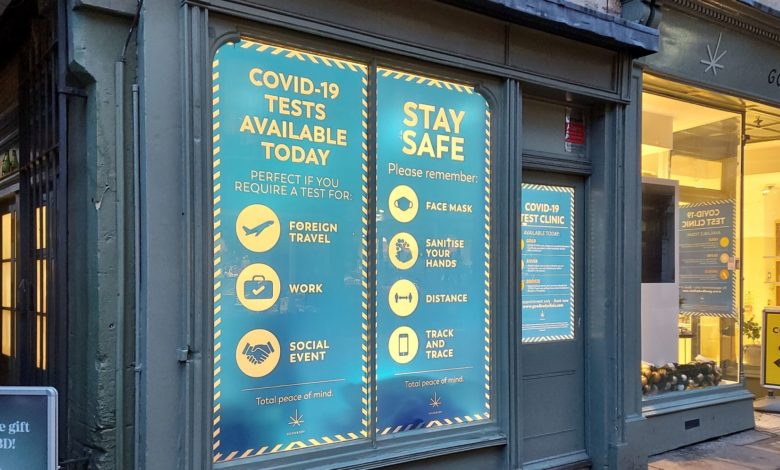 Minuteman Press in Bath, England, recently completed a multisite graphics project, installing COVID-19 test signage at two retail locations.
The client, CBD supplier Goodbody Botanicals, asked Minuteman Press to print and install a range of graphics at its stores to promote its new, private COVID-19 testing service, offered at its locations in Bristol and Bath.
The signage also promotes the steps customers can take to prevent the spread of COVID-19, including wearing a face mask, sanitizing hands, keeping a safe distance from other people, and using the government's track and trace app. Smaller graphics remind people of the three main symptoms of COVID-19.
Kieran Blacknall, large-format manager at Minuteman Press Bath, says Drytac's Viziprint Illuminate product was perfect for the project. The 4-mil translucent matte PET film is reversible and diffuses light, creating graphics viewable during the day in direct sunlight and at night when illuminated by store lighting.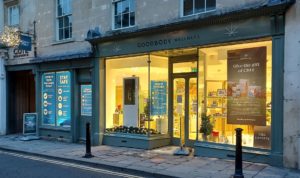 "The client was looking for a solution to convey the new testing service at their clinics. We looked at various options, including lightboxes, but all proved to be very costly in comparison," says Blacknall. "Goodbody Botanicals has spotlights positioned behind every window, so we decided a media with backlit properties would perform best and have the biggest impact, particularly during the winter months."
Minuteman Press Bath offers digital printing and large-format services.