Features
Broadsign and MobPro Partner on Targeted Mobile Advertising Delivery
The partnership allows ads to be delivered to only those mobile devices the client is targeting-no one else.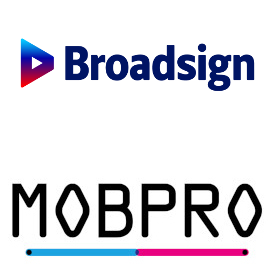 Montreal-based Broadsign International, a maker of automated digital software for the digital signage industry, announces a partnership with Amsterdam-based MobPro, a digital advertising agency that calls itself "mobile first."
Under the agreement, Broadsign's Reach supply-side platform has been integrated with MobPro's demand-side platform to enable integrated mobile and digital out-of-home ad campaigns to be purchased programmatically.
In the partnership's inaugural campaign, XITE, the Netherlands' top music video brand, used mobile and digital out-of-home to strategically reach their target audience-young adults with a passion for music-during the busy Dutch festival season, according to the two companies.
In their announcement, the two went into detail on how the partnership works logistically: "Using MobPro's mobile location data, digital out-of-home screens can be purchased only in the areas that are most relevant to the target audience. Screens in train stations close to music festivals across the Netherlands were targeted for the XITE campaign, reaching festival-goers as they headed to the venues."
"Digital out-of-home and mobile both have great potential to reach audiences with smart messaging while they are away from their homes, and programmatic adds a layer of targeting that would otherwise be impossible," says Vince Banks, vice president of programmatic sales operations at Broadsign. "We're excited to partner with MobPro to enable brands and agencies to deliver their stories to audiences at optimal times in optimal locations."