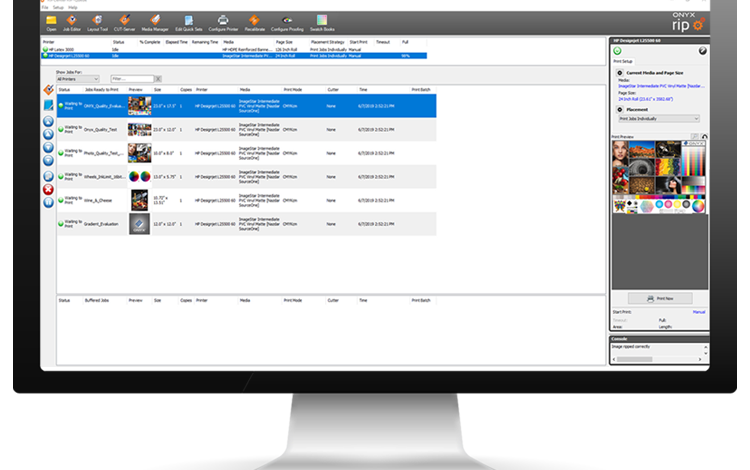 As technology has advanced in the wide-format digital inkjet print industry, print service providers (PSPs) have enjoyed the ability to print a variety of products for their print buyer customers such as stickers, banners, POP displays, floor graphics, and more recently, soft signage, apparel, décor, and textile.
Many new inks and media types have also entered the market, making it imperative for RIP software vendors to provide end-to-end solutions with the capabilities to produce high quality, consistent output across different applications, inks, and media types.
There are several tools or capabilities in a RIP software that PSPs need to meet the day to day running of an efficient print shop across so many print applications, especially as print buyers are more aware than ever of print standards.
It may be advisable for PSPs to assess what is essential to their business before making a RIP software decision. For example, is a print-and-cut workflow needed? Is the solution a full 64-bit product across all applications? Do they offer a network license solution to meet changing daily production needs? Can they support all my devices? Do they offer automated workflow capabilities for the print applications I need today and in the future? What color management options do they have? Can they automate color management across devices without having to reprofile? What about other tools, such as those providing efficiency data?
All these questions and more are just some of the things PSPs might consider when thinking about a RIP software for each print application.
With these questions in mind, PSPs can search for a RIP that may include:
A single RIP technology to handle design files through to printed product
A solution that can support their entire print environment to minimize errors
The ability to RIP multiple files at once using a full 64-bit platform across all applications
A way to drop print files across a network directly into the RIP queue for better workflows
A way to automate print workflows on a variety of settings
A color engine specific to wide-format printing
Seamless integration with design applications like Adobe
The ability to set up and automate complete print-and-cut workflows
A way to manage and map colors
Color management controls
Support for white and specialty inks
ICC profile building and support the latest v5 iccMAX ISO standard
A way to fine-tune ICC profiles through iteration
Tools to match output across devices and media types
Tools to ensure brand colors are accurate
A way to manage internal processes to ensure consistency of output over time
A way to measure printer output capabilities
A way to pull spot color out of any file before printing to minimize reprints
A way to obtain print job data for tracking
Integration to business tools for production data such as ink usage or waste
It is hard to say which of these tools is more important than any other. PSPs are aware of the evolving needs of print buyers and the new print applications being afforded to them in recent years. As a result, PSPs should only really consider a solution that meets all of these needs, across all print applications rather than just one or two and ideally as an integrated part of a full end-to-end RIP and print workflow solution for their print production.