Mixing embroidery with heat transfer vinyl (HTV) can seem challenging at first but can add value to both the finished garments and your bottom line.
1. The HTV needs to tear easily around the satin stitching.
Choosing a material that's too thick or stretchy will leave messy lines around the edge of your appliqué area or cause needle breakage. It's always a good idea to test materials when trying a new decorating style. Be sure to get with your favorite HTV manufacturer about trying samples of the products first to make sure they're fully compatible with your embroidery project.
2. The design itself is also important.
To get the cleanest possible lines, you'll want the HTV appliqué area to be separate from any finer stitches or details. It's harder to tear away HTV from under thinner stitches and could loosen or rip out threads.
Placing HTV in the correct place on the garment is paramount. Check the embroidery area with the machine if this function is available (look in your embroidery machine manual for details). Otherwise, place a running stitch around the outline of the appliqué area to show precisely where to place HTV.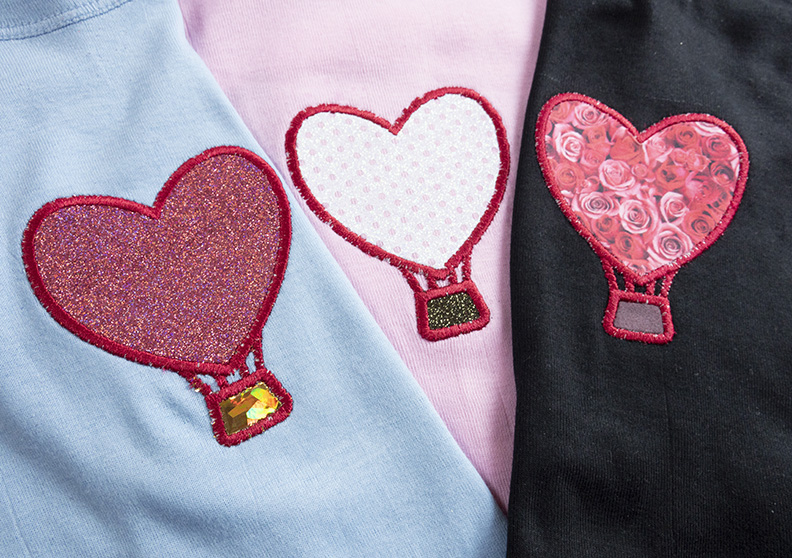 3. Be aware of puckering.
If the HTV is not held in place securely during sewing, it can pucker. Using a temporary adhesive spray on the back before smoothing onto the garment can minimize this.
Using a stabilizer backing that's not right for the garment can also cause puckering. If the fabric is stretchy or thin, the stabilizer will need to be sturdier, and a light spray of temporary adhesive can be helpful here as well.
4. Consider density.
For the most uniform stitches around the HTV, add 5-10% more density to the satin stitches. Increasing stitch density will also make them thick enough to fully perforate and cut along the outside of the material and make tearing around the outer edge easier.
5. Pressure has to be just right for adhesion.
After successfully stitching the HTV into place, getting a good heat seal is very important. Otherwise, the thickness of the stitching can interfere with a solid adhesion and cause the edges of HTV to eventually separate and start to lift. To ensure this doesn't happen, use a heat press pillow when heating to even out the pressure. Turning the garment inside out and pressing again will make sure it's completely adhered to the garment.
Using HTV in this manner can be overwhelming at first. For a shop already equipped for embroidery and heat pressing, however, this can be an excellent way to use HTV scraps and take less actual stitching time.
—Specialty Materials