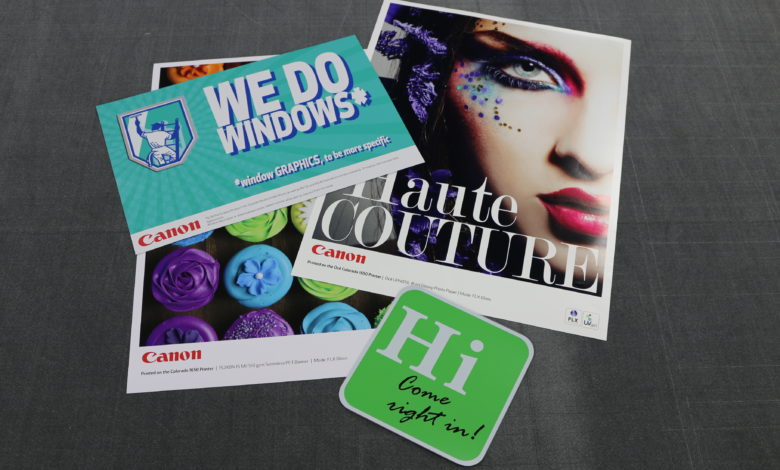 The old cliché, "It's not how you start that's important, it's how you finish," oftentimes uttered by today's top athletes and overheard in locker rooms throughout the country, has been a staple soundbite since the dawn of modern media.
"The finished product is what matters most," they'll tell journalists. "If the end result isn't perfect, what was the point?"
In the wide-format printing landscape, the same can be said for print service providers (PSPs) searching for speed, versatility, quality, and automation when crafting productions. A print doesn't truly have value until it meets the customer's expectations.
Highly capable finishing solutions, such as cutting systems coupled with powerful large-format printers, can help PSPs reduce the amount of time it takes to complete a job, eliminating bottlenecks and extending productivity. By combining these finishing touches with modern printing technologies — whether that be latex, eco-solvent, paper, banner, or the Canon Colorado or Arizona printer series — PSPs can modernize, automate, and enhance their large-format production to better serve the display, graphics, textile, and packaging segments.
But, like everything else, change is constantly afoot within the cutting and routing sector, and users are often only limited by their own creativity. The spectrum of applications and materials in play here is expansive. Workflows can now be streamlined, and workforces can be repurposed to bring more profitability in-house per job. By transitioning cutting from a manual to an automated process, PSPs can increase throughput by roughly 10 times.
After all, business growth goes far beyond just printing. Pivoting operations can expand opportunities.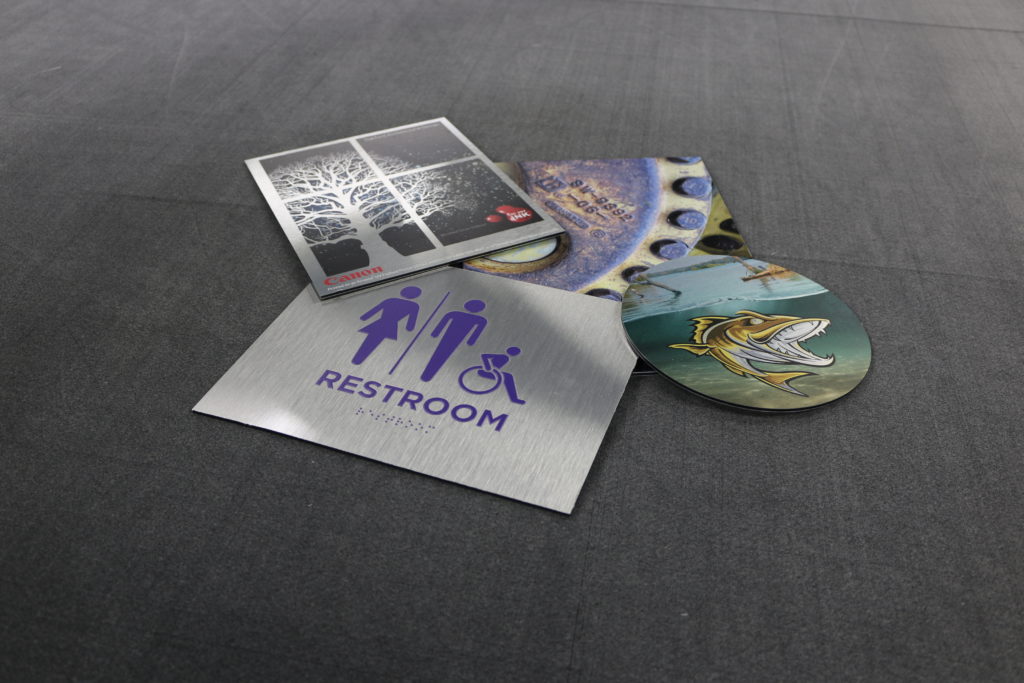 Not only can cutters be utilized on material produced on a large-format printer, but users can also fabricate other parts and pieces like thin gauge aluminum for sign fabrication, decals, retail and trade show displays, custom packaging, and more.
During the COVID-19 pandemic, customers turned to cutters to slice out acrylic sneeze barriers and partitions for convenience stores, retail locations, banks, etc., as well as protective face masks. So, while printing demands may have dissipated during the crisis, there was still revenue to be had.
"When the pandemic hit, we made the decision to move forward and produce personal protection equipment," explains Kevin Fett, president/CEO of Ion Exhibits in Itasca, Illinois. "This decision kept our doors open, although at a reduced labor force. Operating as an exhibit house, the flatbed cutter bridged the gap into a whole new market of fabricating products and complemented the cutting requirements for a wide variety of materials which are printed on our flatbed printer and ten-foot-wide textile printer."
Many of the changes that have taken place over the course of the past few years within the finishing solutions market were also propelled by the significant increases in knife and router speeds. Contour cutting of rigid stocks has opened the door to new revenue opportunities for businesses everywhere. For instance, top manufacturers like Colex, Multicam, and Zünd offer versatile and affordable solutions that help boost productivity with various table sizes and automatic features.
Additionally, Fotoba XY Cutting proprietary systems supply a complete solution to large-format technology and are capable of trimming and cutting down multiple tiles along the X and Y axes to achieve full-bleed output for a fast turnaround. So, whether it's wallpaper, floor graphics, signs, banners, or other media, users can help maximize uptime and reduce waste in route to increasing profits. Operators also have access to key finishing solutions like laminators with the capability to produce scuff and abrasion-resistant graphics, flexible displays, floor graphics, acrylic displays, and much more.
As PSPs know, manual cutting is labor-intensive and error-prone, which can result in costly reprints, material waste, loss in productivity, and potential missed deadlines. With proprietary software like ProCut Prepress, users can automate finishing steps and streamline workflow from prepress to finishing, with quick and easy preparation of registration marks, barcodes, and tool assignments, while reducing media consumption and eliminating the need for pre-cut media with object-based nesting.
Integrating finishing solutions into your large-format equipment shouldn't be the end game. It should be the start of growing your business. Canon Solutions America can help analyze and reshape your current workflow on the road to increased efficiency and profitability.
Find out more on how to integrate finishing solutions into your business today by visiting CSA.CANON.US/FINISHINGSOLUTIONS.