News
Principal LED Helps Distribute 20K Masks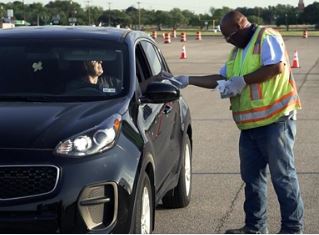 Image: www.sanangelolive
In San Angelo, Texas, Principal LED, along with Ener-Tel and The San Angelo Health Foundation, provided free disposable masks to the public.
On April 29, beginning at 7 a.m. at the San Angelo Stadium, the company helped hand out 20,000 masks to citizens in need.
With the demand for PPE growing during the COVID-19 pandemic, Principal LED's marketing manager Lauren Conaway tells San Angelo LIVE!, "It was an easy decision to say, 'Hey, this is a way that we can help every single citizen in the city of San Angelo by providing a mask."
Citizens drove to the location and had masks handed to them as they drove by. Contact between drivers and the city staff helping hand them out was limited, and walk-ups were not allowed. There was also a limit of seven masks per car/household.
The news after Principal LED recently introduced a portable sanitizer.
For more information on Principal LED, visit www.p-led.com.