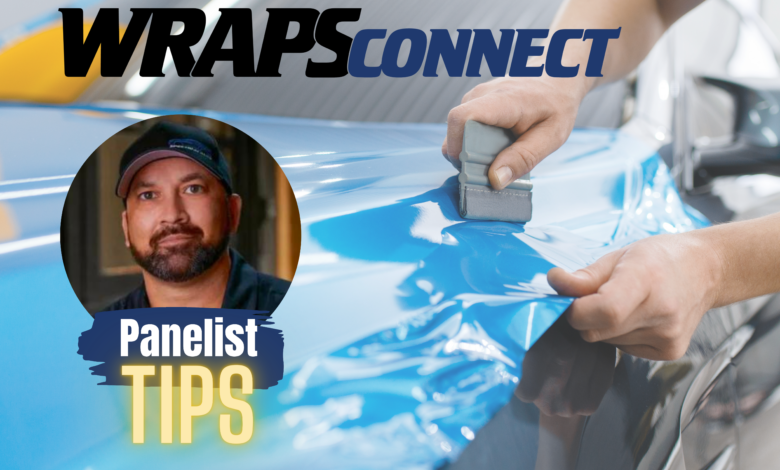 Some installers work utilizing horizontal panels and print long runs to cut down on waste. Others like to use vertical panels, especially when working alone. I like to use horizontal pre-married panels.
I take my prints and match up the design or pattern and tape those panels together at the graphic overlap to hold them in place. Next, I fold down the backing paper, so I can fuse the overlap at the seam permanently before I do the install. You can also do this process with vertical panels. Horizontal panels help ensure that less material is being used.
Click here to see Spectrum Auto's Denali wrap project
---
Narayan Andrews started installing window tint for auto, residential, and commercial glass in the 1990s. In 1997 he began installing graphics, and first started installing PPF in 2003, the year he opened his shop, Spectrum Auto, in Colorado Springs, which offers full vehicle wraps, fleet vehicles, color changes, murals, window graphics, and PPF. Narayan works as an Avery Dennison PPF trainer around the U.S., has multiple certifications, and is also a MOB (Masters of Branding) member.
Naryan will be a panelist at Meet the Masters @ WRAPSconnect, which brings top wrap industry influencers together to share their expertise on a variety of industry topics. The panel meets at WRAPSCON @ GRAPHICS PRO EXPO in Long Beach, California, on Thursday, August 17, from 4-6 p.m. at the Long Beach Convention and Entertainment Center. For more info, go to g-p-x.com/wrapscon. WRAPSCON is free with your registration to GRAPHICS PRO EXPO, which runs in Long Beach, August 17-19, with classes starting August 16.