Features
WRAPSconnect Project Showcase
WRAPSconnect panelists Narayan Andrews, Jen Carney, Tim Evans, Kevin Kempf, Jamie "Mully" Mullican, and Austin Smith share their favorite recent wraps projects
Meet the Masters @ WRAPSconnect brings top wrap industry influencers together to share their expertise on a variety of industry topics, sure to dazzle, inform, entertain, and befuddle (just kidding about the befuddling, though there may be some of that at the post-panel Happy Hour).
The panel meets at WRAPSCON @ GRAPHICS PRO EXPO in Long Beach, California, on Thursday, August 17, from 4-6 p.m. at the Long Beach Convention and Entertainment Center. There will be a 45-minute moderated session with the panel and 30 minutes of Q&A, concluding with a Wraps family Happy Hour, aka, Meet the Masters.
For more info, go to g-p-x.com/wrapscon. WRAPSCON is free with your registration to GRAPHICS PRO EXPO, which runs in Long Beach, August 17-19, with classes starting August 16.
Following are recent projects completed by WRAPSconnect panelists that run the gamut and then some, showcasing their moxie and talents:
Project:
Jet Wraps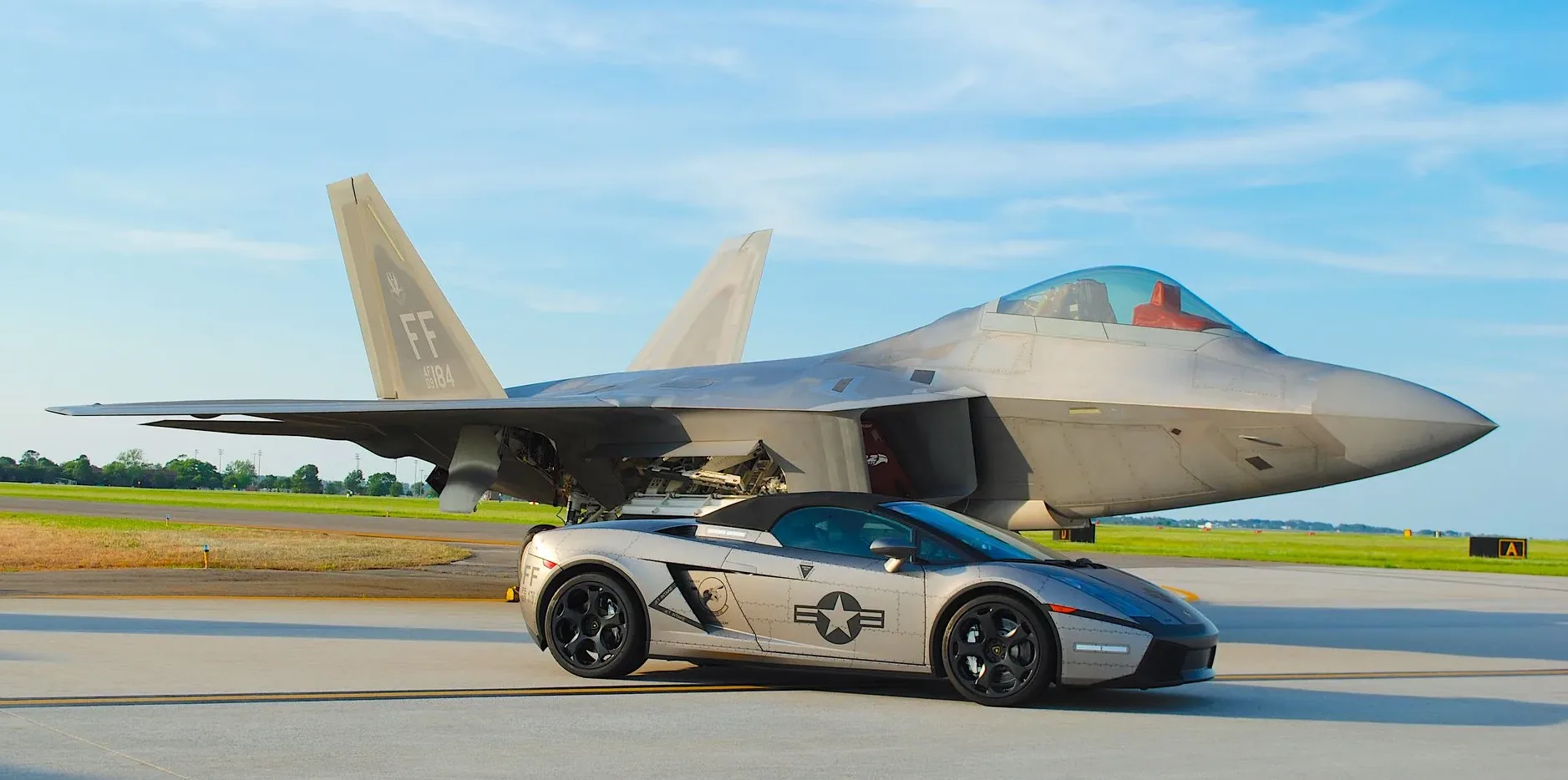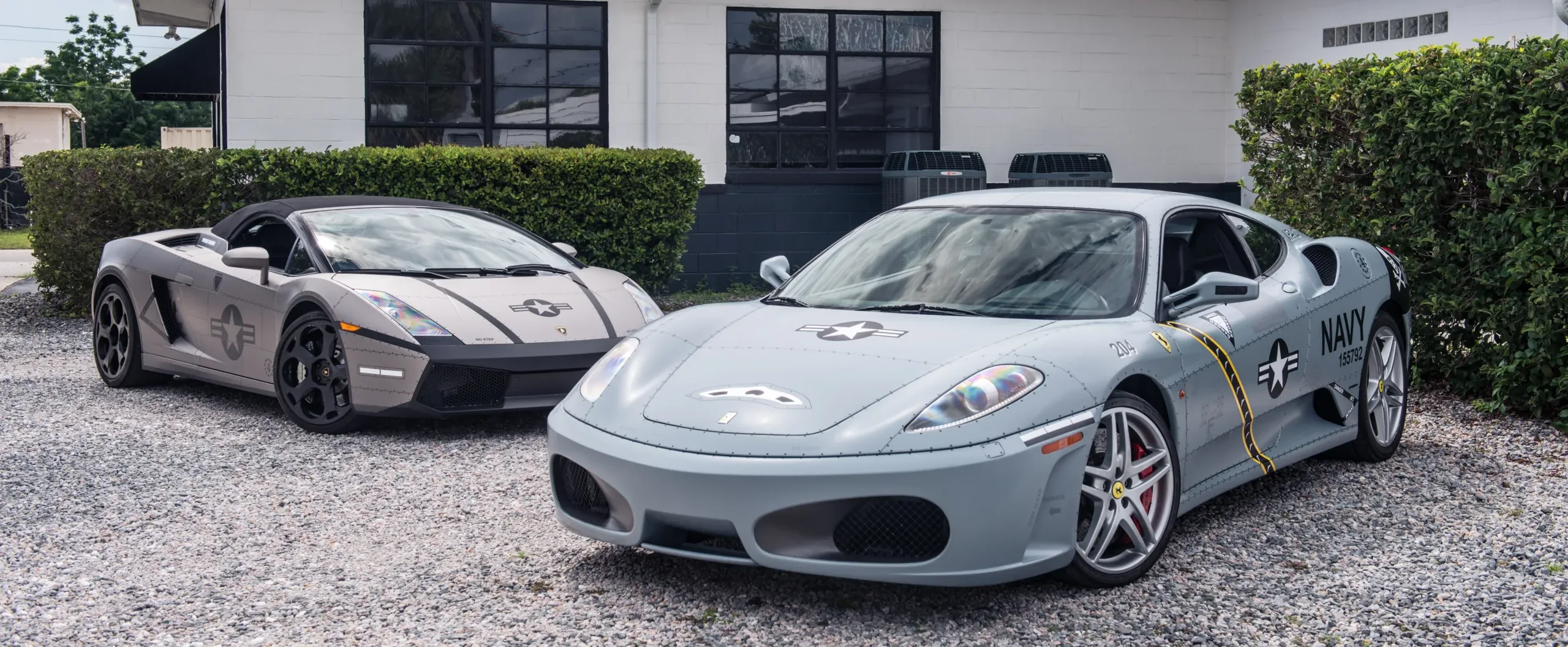 This jet-fueled project features full custom wraps of a Lamborghini and a Ferrari, each modeled to replicate the military jet it would race on the track. Each was fully wrapped in the base color, then all the rivets, decals, and details were hand-laid on the vehicles.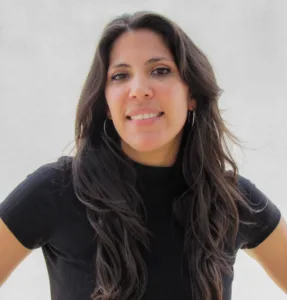 Part of a husband-and-wife team, Jen and Steve Carney have owned and operated Carbon Wraps in Orlando since 2009. Carbon Wraps started as and continues to be a primarily color change and vehicle restyling shop.
Jen started on the business side of things and began focusing more on installations about a decade ago and holds several certifications. Jen and Steve travel as 3M-authorized trainers and teach with passion for this industry. Jen runs a group, Women of Wraps, where women in the industry can be spotlighted for their accomplishments. Jen and Steve are also Wrap Olympics judges at this year's WRAPSCON event.
Jamie "Mully" Mullican, Wrap Artist
Project:
Yard Dog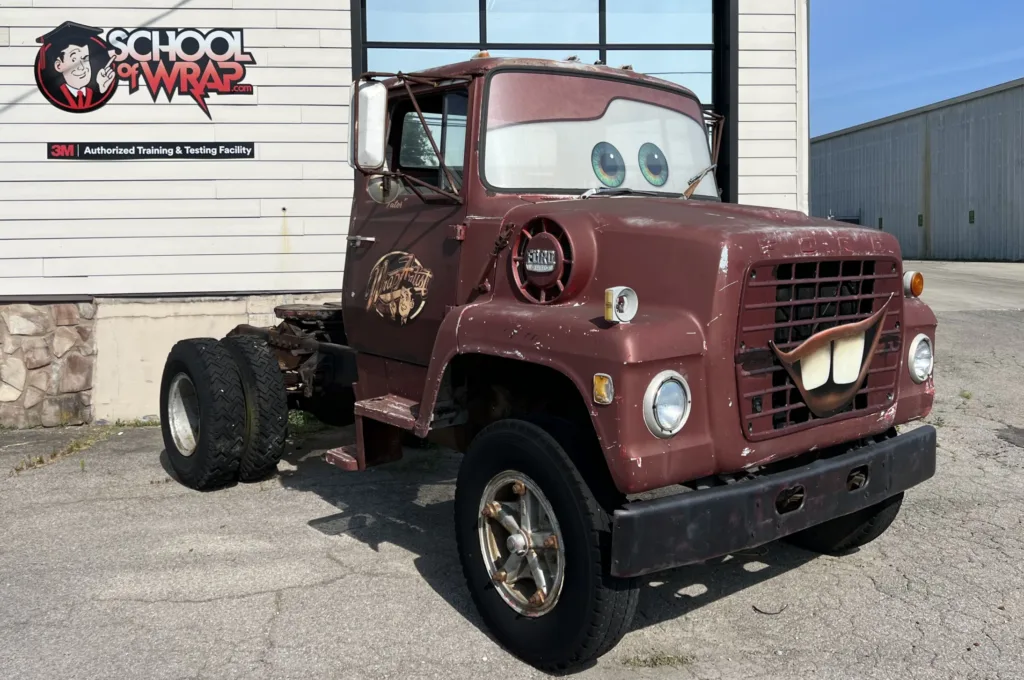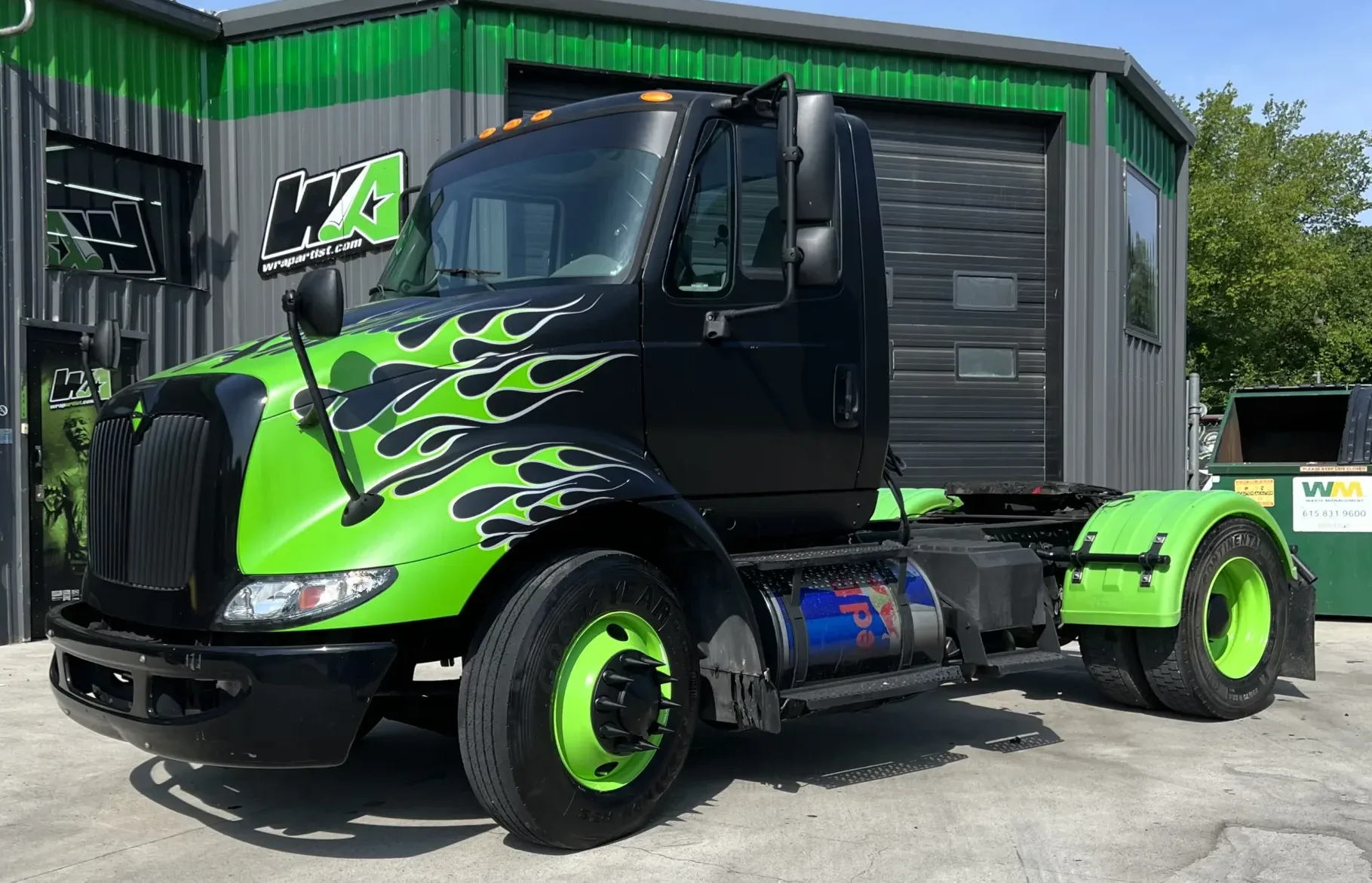 Transporting vehicles for wrapping can be a logistical challenge, particularly when dealing with large trailers in confined spaces. Wrap Artist identified this pain point and decided to invest in a yard truck capable of pulling in 53-foot trailers. Sight unseen and $3,500 later, a Ford 8000 was delivered to Wrap Artist and Tater was born.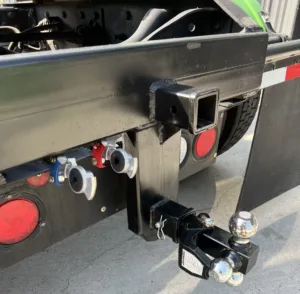 This strategic decision significantly enhanced their efficiency and flexibility in handling transportation logistics. Tater reduced Wrap Artist's dependence on others, which often resulted in delays and increased costs due to the music industry's strict timelines.
Though Tater did the job, his lack of power steering and constant leaking meant he got to enjoy a well-deserved requirement. Wrap Artist now has Tater proudly parked at the front of their facility and is a recognizable icon in the community, often the star of many group photos. In an industry where visibility and creative marketing play a crucial role, Wrap Artist recognized the potential of turning their old yard truck into a unique marketing tool.
Tater was succeeded by a newer piece of equipment that featured that Wrap Artist had outfitted with a hitch and extended airlines. This converted it to a pull all so now Wrap Artist has no trouble pulling in jobs of all shapes and sizes including gooseneck trailers, double stackers with air brakes, big boats, and more.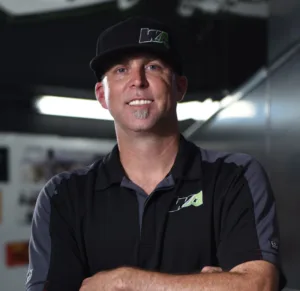 Jamie "Mully" Mullican has been in the graphics business for 25 years. With a degree in Graphic Design, Mully started Wrap Artist in Nashville with the vision of serving the music industry's largest names, taking the ideas in their head and extracting them through the design process, producing that artwork on industry leading equipment, and professionally installing through a highly trained team.
In addition to founding Wrap Artist and co-founding Masters of Branding (MOB), he recently founded School of Wrap, a 3M authorized training facility. He has spent decades mastering his skills, earning nine certifications from the industry's leading manufacturers. He has dedicated his entire career to advancing the graphics industry and looks forward to any opportunity to help others who are equally as passionate.
Project:
In Loving Memory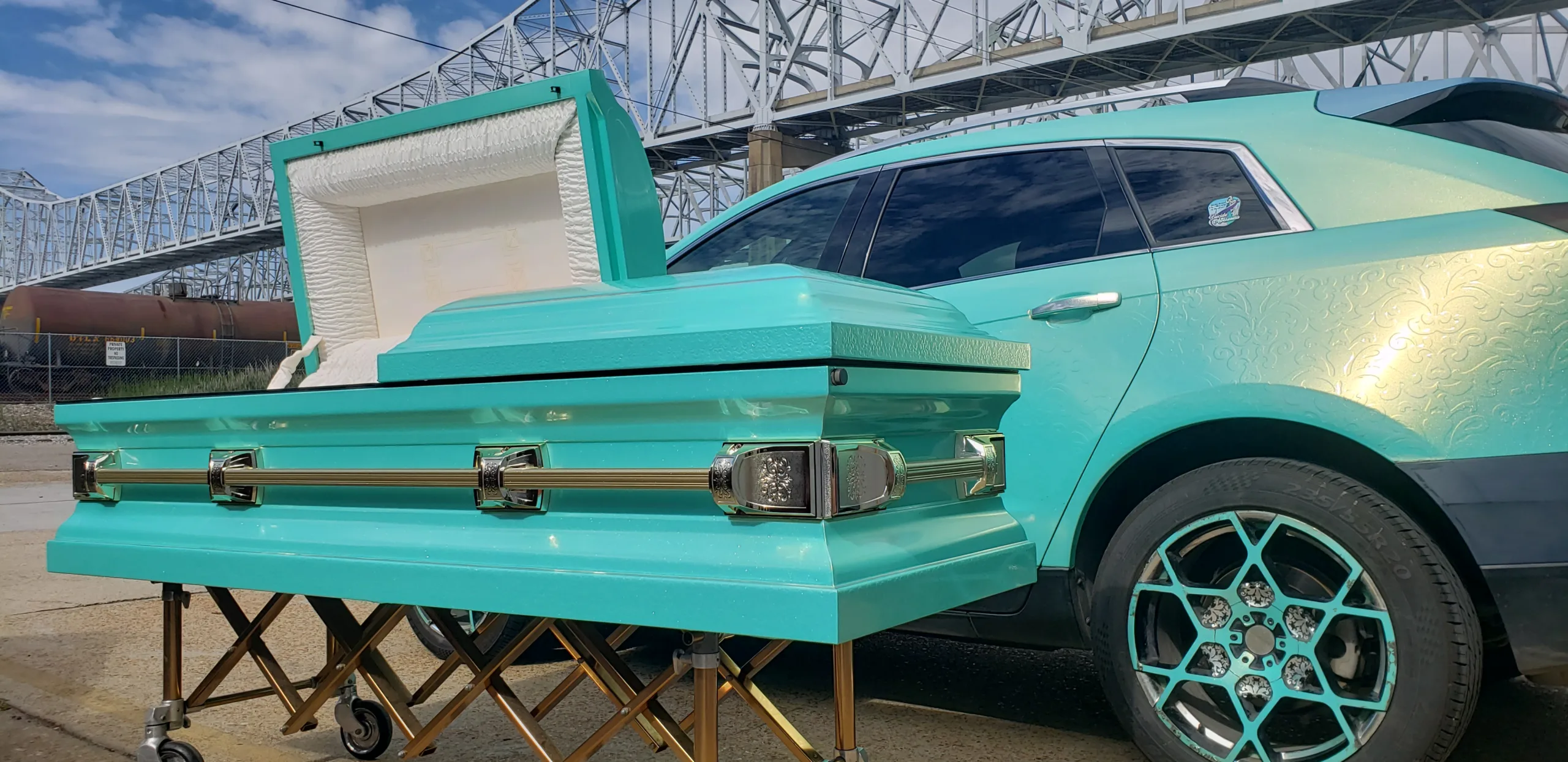 Kempf says, "When my mother passed away, I wrapped her casket to match a custom wrap we did for her Cadillac. She worked with me for the past 11 years before she passed. I made sure she left looking just as beautiful as she was while on this earth. That was a very proud moment for me, as it is still today. It was more than just wrapping a casket; it was 110-percent love and using what she was so proud of me for, to give back to her for all she has done for me.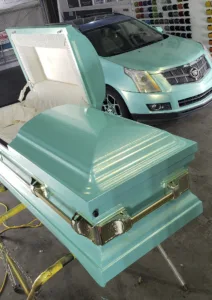 "The color was a custom one I made specifically for my mom when we originally wrapped her car a couple of years before she passed away. It's kind of like a Tiffany Blue, but not exactly; it has more teal tones. It was printed on ORAFOL 3951-RA with KPMF Gloss Gold Starlight laminate. Various parts on her car that were chrome like her fender vents, mirror trip, front grill pieces, and rear hatch chrome piece were wrapped with just the raw Gold Starlight laminate to give the chrome some sparkle."
"For the underlays on both the casket and the Cadillac, we just used a thicker vinyl, which we had left over from a previous client. I designed the lace for both items to fit within certain bodylines, but used Knifeless Tape to make sure the pattern stayed within the areas I wanted them to be. As far as being seamless, I just took my time to fold, trim and tuck in a way that you couldn't see any seams."
"The whole top of the casket was done in one piece, so the only areas that you can see seams were if you opened it up and saw where the vinyl ended up on the inside. The sides were done in only two pieces. One piece covered the front, then both sides. The other piece covered the backside, so the only seams were at the back corners, which were very clean as well. Also, on those gold handles on the casket, I hand laid more KPMF Gloss Gold Starlight laminate so they would sparkle as well. I did full jams on the casket too. I have a time-lapse video of the installation on my Facebook page."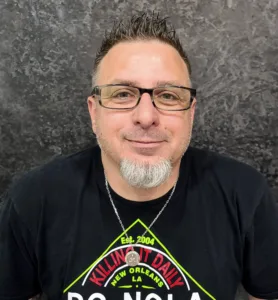 Kevin "The Professa" Kempf has been pushing the limits of wraps and designs for many years now, but is far from settling down. Though he might not post every day, you can trust that there are always new and creative things being worked on at PG NOLA, aka, The Mad Lab, located in New Orleans, specializing in custom one-off wrap design with various detailed elements.
Kevin has been in this business for over 19 years now, expecting many more to come. He has certifications from nearly every major brand on the market yet continues to expand his knowledge by learning new products and techniques as they are available.
Project:
A Graphic Novel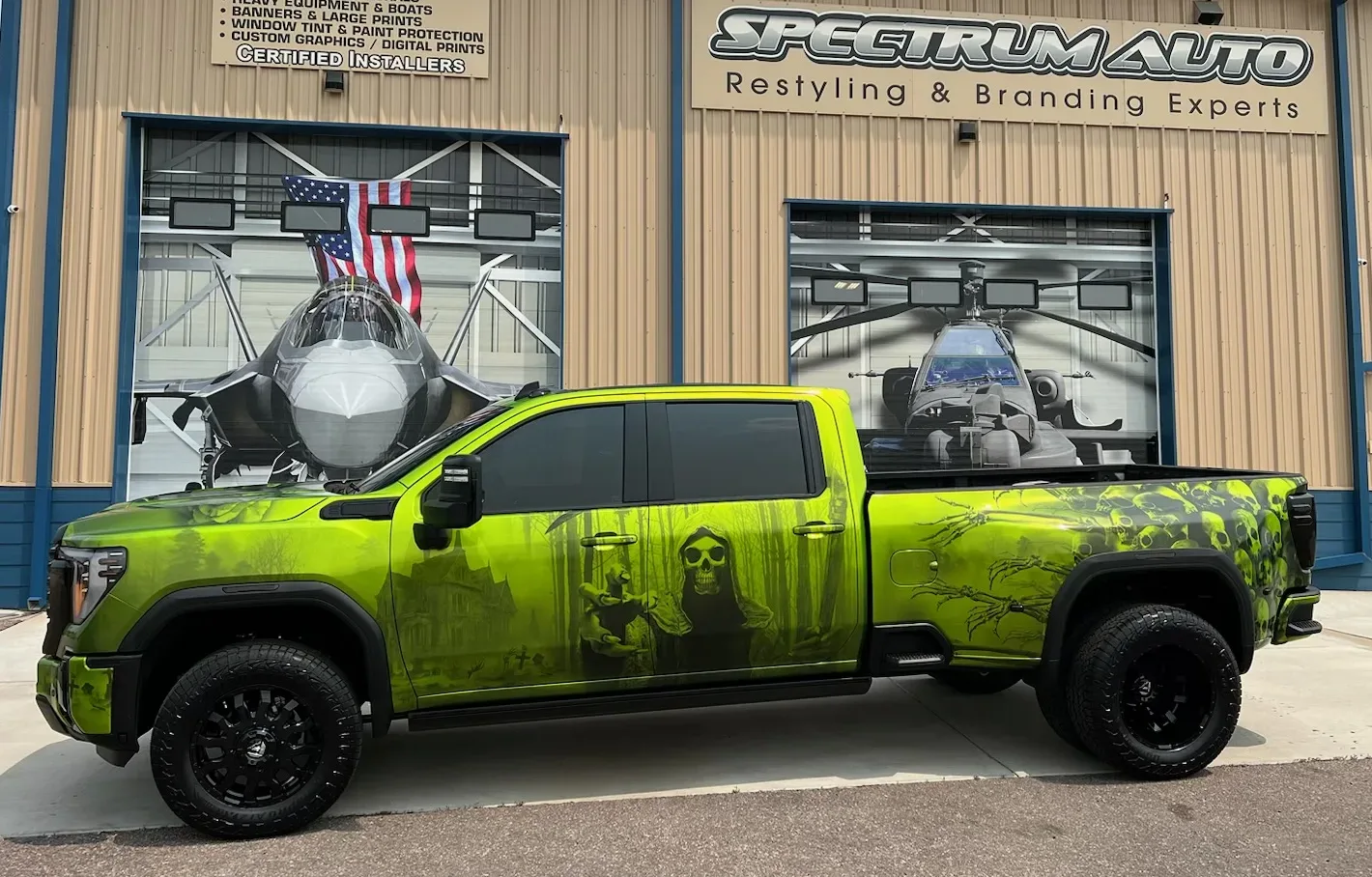 A restyler's and wrapper's dream project designed by the crew at Spectrum Auto, this cool and spooky design was installed on a fully-loaded 2024 GMC Denali Ultimate 3500HD Duramax with Air Lift suspension, FOX shocks, Cognito lift kit, Fuel wheels, 35" Hankook tires, MBRP exhaust, Chrome Delete, Luxe taillight film, and WeatherTech mats. The design was printed on KPMF Gloss Dynamic Lime and laminated. It also features Avery Dennison Supreme Defense PPF and Avery Window Tint NR PRO.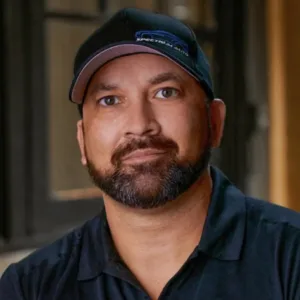 Narayan Andrews started installing window tint for auto, residential, and commercial glass in the 1990s. In 1997 he began installing graphics, and first started installing PPF in 2003, the year he opened his shop, Spectrum Auto, in Colorado Springs, which offers full vehicle wraps, fleet vehicles, color changes, murals, window graphics, and PPF. Narayan works as an Avery Dennison PPF trainer around the U.S., has multiple certifications, and is also a MOB (Masters of Branding) member.
Tim Evans, wrappermapper.com and Pro Sign and Graphics
Project:
Mobile Medical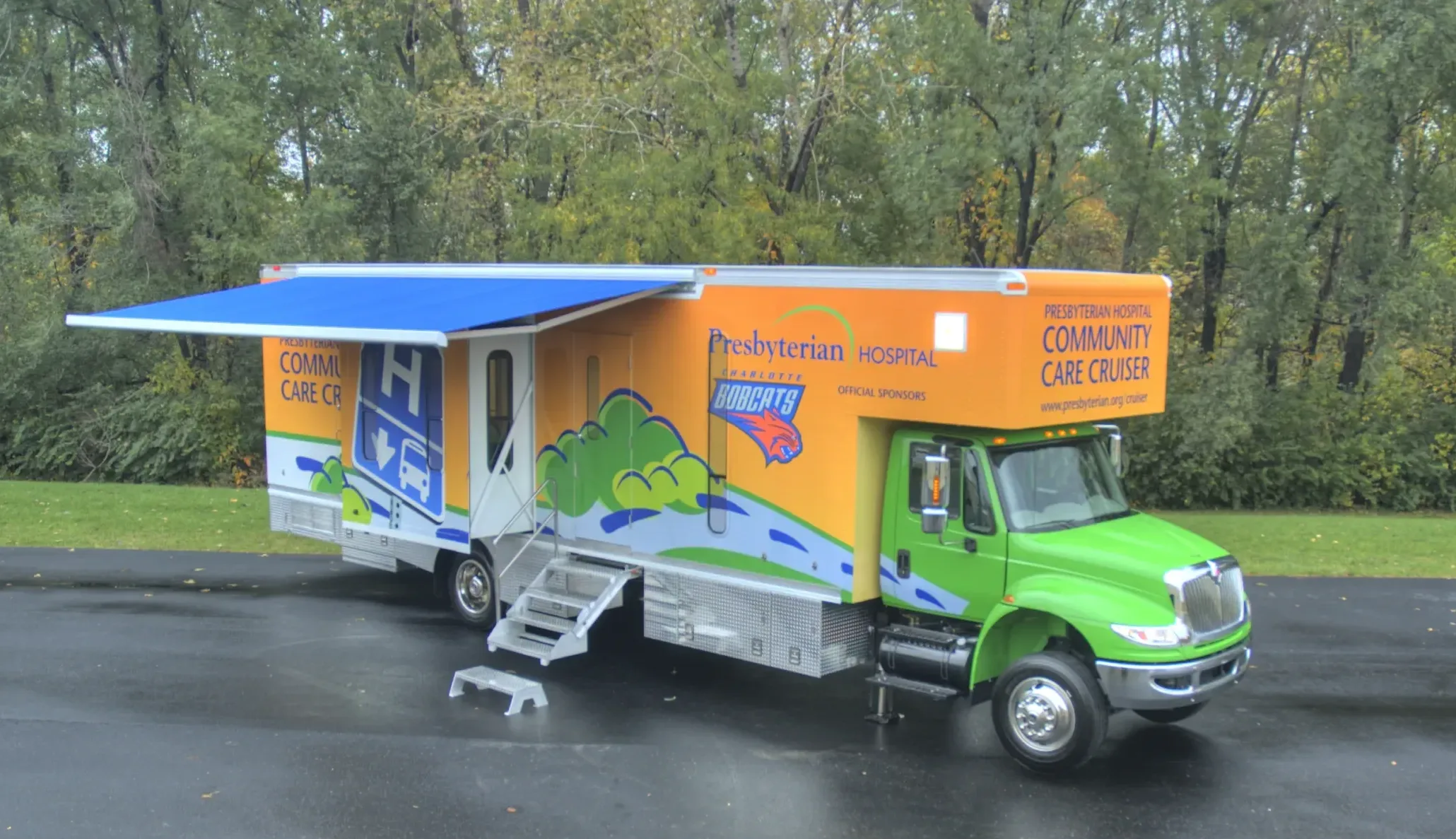 This was a custom-built medical vehicle for the Presbyterian Hospital in Charlotte. Evans and team worked directly with the manufacturer and the hospital's design department to establish the scope of work. It's fully wrapped in 3M 180cv3 with 3M 8519 luster laminate and printed in-house on HP 360 printers.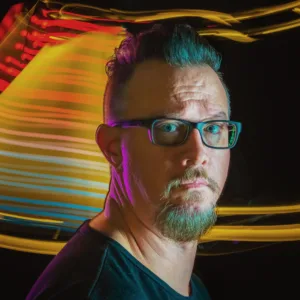 Tim Evans is a long-time sign industry veteran who now specializes in wraps at his company Pro Sign and Graphics in Columbus, Ohio. He's a partner at Carmeleon Skins in Reynoldsburg, Ohio, and runs wrappermapper.com where you can find installers the world over. Tim is also a professional photographer who captures the wrap scene at events globally.
Project:
Signs and Wonders II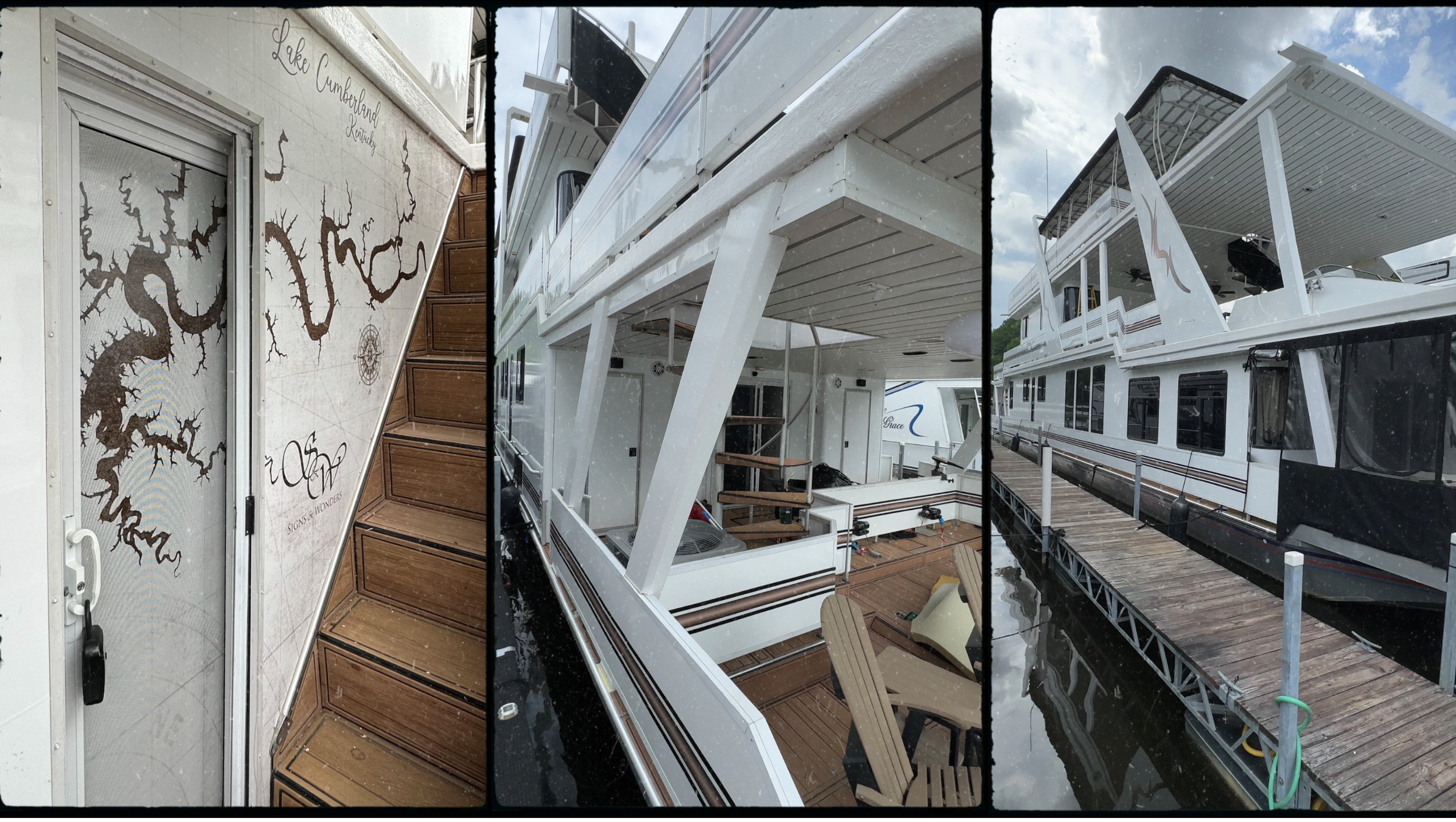 Austin says, "I recently was involved in a project to wrap a 23-year-old, yellowing, three-story tall, 107-foot Houseboat. Oh yeah… that is 680 miles from our location, and on the water. Where do you even begin with an opportunity like this? Well step by step we did a survey, produced a quote, sold the job, and then designed, printed, and sent a team to Kentucky to wrap a houseboat. A lot of shops would have shied away from the opportunity to take on such a project."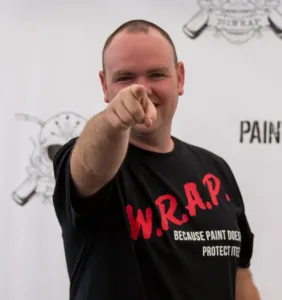 "However, sheer experience with handling it all allowed me to not only accomplish the task but do it in a way that brought our team to lead in ways they can't in just a shop and grow in ways they never would in the same environment. These projects, that I will call experiences, come along, the question will always be, do you want to tackle them?"
Austin has been involved in the vinyl, and later the wrap industry, since 2000. Initially owning a small ownership of a vinyl decal shop, and then in 2008 opening his own wrap shop, #201WRAP, in Jacksonville, Florida.
In 2012 he founded and launched Paint is Dead to the wrap world, and shortly after founded PROSERIES Wrap Tools in 2017. Today, Austin spends time in all three entities, giving himself a very unique look at the industry.