Features
WRAPSconnect Panelists Announced
A 10-person panel of wrappers will pass along their wisdom in this not-to-be-missed event, but don't forget to register.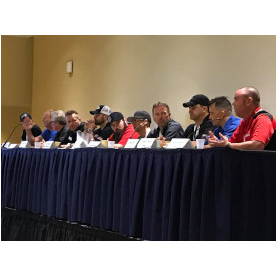 The final list of panelists that will be taking part in the upcoming WRAPSconnect discussion at WRAPSCON 2019 next week has been announced.
WRAPSCON, a trade show designed by wrappers for wrappers, returns to Long Beach, California, Aug. 15-17 as part of THE NBM SHOW at the Long Beach Convention & Entertainment Center. 
The show kicks off with the WRAPSconnect discussion-sponsored by 3M-early Thursday morning, featuring some of the top wrappers in the world. The panel will field questions from WRAPS editor Matt Dixon and then there will be time after for Q&A from the audience.
This year's panelists are: Adam Sumner from Wrapix Imaging; Luis Tirado from WBC Graphics; Casey Folk from PDX Wraps; Jim Miller from Miller Decals; Justin Pate from The Wrap Institute; Jen Carney from Carbon Wraps; Matt Richart and Dallas Fowler from Digital EFX Wraps; Austin Smith from #201Wrap; and Chad Parrish from Graphiti Wraps.
Along with WRAPSconnect, WRAPSCON will feature the Wrap Olympics, a three-day competition pitting  two-man teams against each other for the chance to win thousands of dollars worth of prizes. There will also be a "Meet the Masters Happy Hour" on Thursday evening after the exhibit hall closes. This is a great opportunity to rub elbows with some of the greats in the wrap world, but it is an invite-only event. Stop by one of our sponsor's booths at the show to pick up an invitation.
Registration to THE NBM SHOW and WRAPSCON is free up until Wed., August 14, and after that it's $25 per person.