Womenswear is a constantly evolving field, with brands always seeking to stay ahead of the curve and keep things fresh. Each year brings new color, style, and graphic design trends that influence the clothing choices of women around the world.
In this article, we'll explore some of the most exciting and popular trends in womenswear for 2023. Whether you're looking to help your clients stay on-trend or simply want to see what styles are popular from our supplier network, we've got you covered with the latest insights and predictions. From bold color choices to fresh takes on classic styles, there's something for every fashion-forward woman of all sizes.
Color and style trends
Let's first dive into color and style trends as seen in the retail marketplace. With Pantone selecting Viva Magenta as its color of the year, this pinkish-red hue gives a great pop of color, especially when paired with softer earth tones and warm pastels. This color is great to have as the garment color or just the decoration.
The three main color stories that are proving popular are…
Perky Pinks
Nurturing Greens & Blues
Rich Earth Tones
When helping your client purchase womenswear it's always good to freshen up the color story, allowing the wearer to pair the garments with the rest of their wardrobe that is in line with the season.
Knowing the trends will help you gain credibility with your client whether they use them or not. It builds trust and shows that you're always trying to help them make better merch. Here are some style trends that will remain popular for 2023…
Y2K fashion: Break out those old Von Dutch hats and Juicy Couture velour jumpsuits. The looks from the turn of the last century are showing strong in retail. Cap Sleeve baby doll tees, mini-skirts, baggy jeans, and bedazzled denim jackets are just some of the items seen in retail.
Prep/sporty: The prep look will probably never go out of style. Classy and refined, this look will continue to hold strong in 2023. Letterman jackets, cardigans, tennis attire, and knitted sweaters are some of the pieces that make the prep/sporty look authentic. This look falls in line with a lot of what is available in our supplier's catalogs.
Gorp core: Hopefully this is the tail end of this trend, but "Good ole raisins & peanuts" looks mixed utilitarian outdoor style with eclectic mismatched pieces. From color-blocked windbreakers to jumpsuits to puffer jackets with cargo pants, this hodge podge of style allows people's personal style to shine through. While you won't catch me rocking this, young people embrace this look.
Now let's talk about some pieces I am really digging from our suppliers right now that I think pair well for this year in womenswear. While there are so many staples, I want to show strong pieces that will elevate a merch collection. Cropped tees, hoodies, relaxed shirts with specialty washes, matching top/bottom sets, mom hats, and hip bags are all solid pieces to any collection…
Womenswear decoration and design trends
Lastly, because we have to sell decorated apparel, I want to showcase some decoration and design trends I'm seeing in retail…
Raised prints: Whether it's HD ink or standard puff, womenswear seems to have more fun with graphic apparel than what I see in menswear. Having an ombre puff or adding some crystallina to the ink, texture is a winner!
Creative embroidery: I don't understand why more of our industry doesn't explore embroidery beyond the left chest corporate logo slap. Unique stitches, unique thread, and creative placements are a new frontier to explore when it comes to embroidery. Free-form graphic embroidery seems to be picking up with the young crowd because it gives an artistic freedom that brings so much more texture and depth than screen printing. Try to help your client create a multiple media piece that combines print and embroidery for the ultimate retail garment.
When it comes to design style, there are so many different looks that you can adopt, but here are a couple I see across most brands…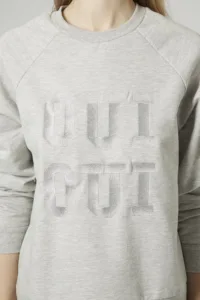 Tonal and hand-drawn typography: Whether it is a touch of punk rock with hand-drawn or scribbled text or chunky letters filling up the shirt, typography gives you a great way to celebrate your feelings and interests. I try to get clients to focus on statements and text more than their logo. Unless you are one of the huge brands, having your logo as the focal point won't have the impact you think it will. Showcase what problem your client's business solves or their mission statement that keeps the logo secondary.
Artistic/abstract: This design style really showcases what we call graphic tees. Through photo realism, collage work, and gritty texture, the feminine expression really shines. Soft prints and specialty inks also make this style popular. With the rise of NFTs and the metaverse, artists are showcasing their work on apparel more than I have ever seen. Manual screen printing also gives more flexibility with this style to achieve unique placements and coverage.
It is so important to ask your client questions when they are requesting womenswear.
What vibe is the client going for? Professional, casual or weekend vibes?
What fabric will work best? Sheer, heavyweight, drapey, technical?
What neck or collar type is preferred? Crew, v-neck, scoop, boat, over the shoulder, dolman?
What demographic will be buying or wearing this?
Understanding a client's project better will help you curate items that will resonate with their audience. While a lot of these trends might not fit for your clients, having a broader understanding of the marketplace will take you from order taker to partner. We should want to learn what is out there to become better at our craft and to help others look good and build their brand.
Keeping body positivity in mind, we advise our customers to take all of the above points into account when creating an apparel line in order to provide a variety of offerings that appeal to every body type and help everyone feel comfortable and look their best.