Time-Saving Tips for Fleet Graphics Providers
Saving time on fleet wraps and graphics often starts well before the vehicles come into the shop
Saving time on fleet wraps and graphics often starts well before the vehicle(s) come in. There are many ways to save time during the installation, but smart setup and record keeping save time and money from the start.
Ordering
When we handle a fleet of vehicles for a customer it's usually an ongoing account. We may install a few vehicles at a time but they often come in waves spanning months or years. Any customer that has ordered from us multiple times gets their own folder. We of course file these alphabetically with the rest of our accounts, but the individual files stand out and contain all the paperwork and notes for that particular customer.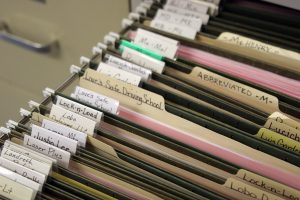 When a fleet customer calls or emails to place an order for another vehicle we can easily pull their file and have all the reorder information quickly. These files will contain previous invoices and pricing, artwork printouts, color notations, and anything else we'll need to quickly process the new order.
When we initially quote a new fleet project we typically determine set pricing for each vehicle type for X number of months or years. This is part of the bid process and assures the customer that they will receive consistent pricing. We may also make considerations for multiple vehicles at a time versus one vehicle. Any pricing and dates are noted in their file.
Fleet design
During the design phase of the job, especially on the initial order, we try to plan the graphics in such a way as to speed the installation. This preplanning makes a big difference in how quickly the graphics can be installed and creates consistency across multiple vehicles.
One of our solar company clients has a variety of vehicle types in its fleet. They wanted a consistent look on all the vehicles so we incorporate the same blue swish design on all the vehicle types. The sizing and placement vary by vehicle type, but there is still a consistent overall look.
The next step, with these swishes and other graphics we design, is to plan for these graphics to land on the vehicles in smart ways. This means we'll keep in mind obstacles when planning where the graphics will finish or overlap. This is especially important with text and fine details. By shifting these in the computer ahead of time the installation will go smoother and faster.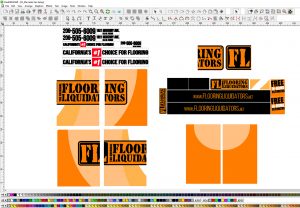 When setting up print files we also try to print in large vertical or horizontal panels depending on which option will give us the best results with the most efficiency. If we want a seamless wrap we set up our panels ahead of time, with overlaps, so that each section can be wrapped without seams. Planning the overlaps, and giving ourselves extra vinyl, also speeds up the installation.
If the wrap has tight text placement or the text lands on a compound curve or some other distorted shape then we cut this text as spot graphics. The background image can then be applied and the spot graphics are installed over the top. Although it's a two-step process it is still faster than trying to keep text straight while working around those tight spaces during the installation of the wrap panels.
Colors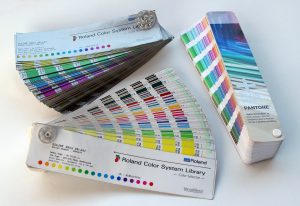 Keeping track of the customer's colors is not only important from a consistency standpoint, but it also makes the design setup faster. If you have their colors saved from the initial art setup, then each subsequent order can be set up that much faster.
On most of our wraps and fleet graphics jobs, we'll do a sample print for the customer to approve. After the first initial approval, we keep this sample print on file for future reference.
We use Pantone color charts, custom Roland color charts, and 3M color charts in our shop. The Roland color charts were created through our RIP software and show us what colors we can expect to achieve on different media types when we export vector graphics from our FlexiSIGN Pro software. We have 3M charts for 3M premium, one for 3M calendared, and one for 3M printable silver metallic. Color charts save time when working with the customer and matching any colors they're already using.
Also, making your own in-house charts is a great sales tool. The reason we have one for premium, calendared, and metallic is because the colors look different on the media types, so it's important to have the different options for accuracy. If printing to Arlon, Avery, Orafol, etc., you'll want to make sure your charts are for the media type and manufacturer you sell.
Records
Keeping good records saves time on the reordering of additional graphic sets, finding and processing artwork, and placement during installation. As I mentioned earlier we keep organized customer folders with proofs and notations to make reorders quicker. We also keep the sample prints, color notations, and any artwork guidelines in their customer folder.
Digital files are also kept organized so we can quickly find them. We use a cataloging software called Cathy Catalog. All digital artwork is saved to a company folder within a working drive. After a certain amount of time, the working folders are saved to our backup drives and we add the information to the catalog program.
When we initially proof the layouts for a new account we try to proof the graphics on photos of the vehicle(s), or on a template of the vehicle. During the installation of the first vehicle in a fleet we'll note the placement measurements on the printed proof or template for that vehicle.
When we install graphics on additional vehicles, we can quickly reference these measurements to ensure that the vehicles have identical placement. When vehicles in a fleet are parked next to one another discrepancies in placement become obvious. By noting and following established measurements you ensure a consistent and professional install.