Features
North Carolina Business Owner Gives Back and Doubles Sales During COVID-19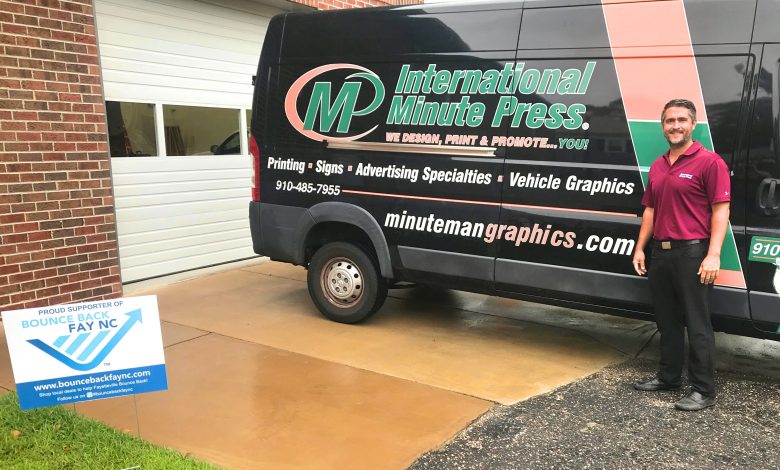 Printing franchise owner Jared Ostendorf shares his story and how he had record monthly gross sales for International Minute Press in Fayetteville, North Carolina, amid COVID-19.
When the pandemic first hit Fayetteville, Ostendorf says that failure wasn't an option for himself or his community. He's owned his printing and marketing franchise International Minute Press Fayetteville for eleven years. As an essential business, he was able to remain open and use his company for good.
He supplied local restaurants and other open businesses with 100 free banners and launched a free community website Bounce Back Fayetteville to support local businesses. Through these efforts, Ostendorf doubled his monthly gross sales in May 2020 and gained 20 new clients.
On the success of his business during these times, he says, "I always go by the philosophy that we don't tell a customer no. When the COVID-19 pandemic hit, we didn't stop. We got creative and listened to our customers. I looked at closing or taking time off as a personal failure, so we did everything we could to stay open, and our efforts paid off."
First, he used his printing and marketing capabilities to give back to other local businesses by reaching out to local restaurants and clients who couldn't advertise their open status. His company gave away 100 banners with simple messages like, "We are open," and "Takeout is available."
"Before you know it, our banners with our branding and colors were all over Fayetteville. It sent the signal that we are open, that Fayetteville businesses are open," Ostendorf says.
Regarding his business growth, he states, "It's not about having the biggest customers but earning trust and having repeat customers from a diverse range of industries. We are able to do this because printing allows for such a wide range of products and services and so we can meet a diverse range of needs."
As North Carolina continues to reopen, Ostendorf is hopeful to continue accelerating his growth as clients begin to return with printing needs. "Between that and the traction in sales we've gained, we are in a great position to help others bounce back as we all get back to more regular business."
To continue the momentum, Ostendorf and his team jumped on board with Minuteman's Bounce Back initiative, which provides free business listings and allows community members to stimulate local economic growth and recovery.
"Even the local radio stations got on board and started promoting the initiative, which keeps growing," adds Ostendorf. "We are glad to be here, standing tall. That message of hope is one I hope to share throughout Fayetteville as we continue to reopen."