Features
2018 Year in Review
In case you missed the big news from 2018, here are the noteworthy events of the year.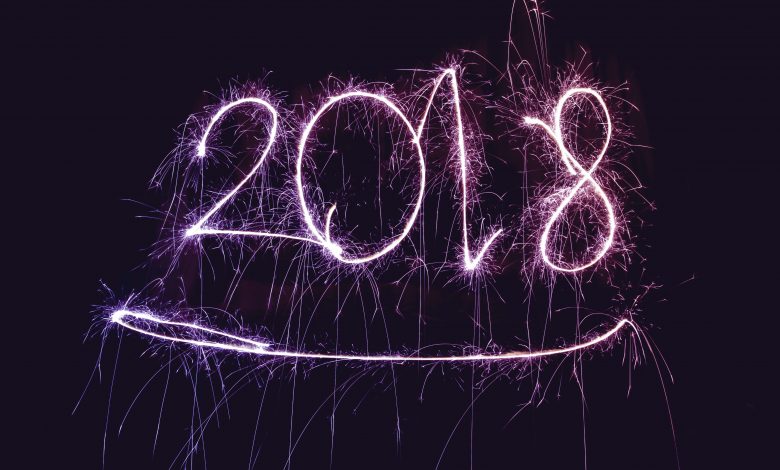 The awards and engraving industry saw another successful year filled with acquisitions, anniversaries, new looks, and new faces. Many new businesses opened their doors while some closed for various reasons. In case you missed the most notable news of the year, take a look at the happenings from 2018.
To make sure you don't miss out on any news in 2019, subscribe to A&E's daily newsletter by heading to our site, entering your email address on the right-hand side in the blue box, and clicking "Sign Me Up."
Anniversaries:
Epilog Laser hosted a celebration on August 11th in Denver, Colorado in honor of its 30th anniversary. Guests from as far away as New York and even Japan attended the event.
Gravotech Fabrication Specialist Celebrates 50th Work Anniversary
Gravotech congratulated Wilson "Willie" Rodriguez on his 50th work anniversary at the company's Duluth, Georgia location. Originally from Puerto Rico, Rodriguez joined the company in 1968.
Little Falls Trophy Celebrates 55 Years
2018 marked 55 years in business for Little Falls Trophy, located in Little Falls, New Jersey.
Victory Trophies Celebrates General Manager's 30th Anniversary
Victory Trophies, a Portsmouth, England-based supplier of trophies, awards, glassware, and giftware, celebrated the 30th work anniversary of its general manager, Mark Hooper.
Universal Laser Celebrates 30 Years
During the last 30 years, ULS has accomplished many milestones including the development of a strong patent portfolio, creation of a repository of laser processing data for numerous materials, introduction of new products, and the building of a global customer base.
Acquisitions: 
Holmes Custom Acquires Central Florida Stamp and Sign
After two years of discussion, Holmes Custom announced its acquisition of Central Florida Stamp and Sign, which was finalized on May 1st.
Marco Awards Group Acquires Freeman Worldwide Products
Marco Awards Group/Discount Trophy & Co. Inc. announced the acquisition of Freeman Worldwide with the addition of selected Freeman CMA products.
Donaldson Company Enters Agreement to Acquire BOFA International
Under the terms of the agreement, BOFA will run as an autonomous company alongside Donaldson's other business partners. The deal was closed on September 11th.
Gyford Productions Acquired by Rowmark
In a joint announcement, Rowmark and Gyford Productions revealed that Rowmark purchased Gyford, effective October 31st.
Awards and Accolades:
Sarasota Trophy and Awards Wins Small Business Award
On June 15th, the Sarasota Chamber of Commerce announced Sarasota Trophy and Awards as the winner of the Small Business Award in the Products and Services category.
Awards and Engraving Wins Readers' Choice Award 2018
Awards and Engraving, a Baytown, Texas-based trophy business, received a 2018 Readers' Choice Award in the Best Awards Company/Engraving category earlier this year.
Inc. magazine ranked LogoJET USA 3,716th on its 37th annual Inc. 5000, its list of the nation's fastest-growing private companies.
Florida Sign and Graphics Shop Named 'Small Business of the Year' for Second Consecutive Year
Architectural Signage & Printing was recently named the Small Business of the Year for the second straight year by the Central Pasco (County) Chamber of Commerce.
Owner of Zelma's Awards Wins Lifetime Achievement, Retires
In September, Patty Lingenfelter was honored with the Lifetime Achievement Award from Tehama County, California, and then promptly followed the recognition by retiring.
Closing Doors:
Cissna's Sporting Goods and Trophies to Close its Doors After 45 Years
CL and Linda Cissna announced their retirement, and with it, the closing of Cissna's Sporting Goods and Trophies, their Louisville, Kentucky-based retail shop, which specialized in custom-engraved team sports awards.
Colorado Timberline Closes Doors After Ransomware Attack
Colorado Timberline, a Denver-based business specializing in large-format printing, sublimation printing, vinyl printing, and laser etching announced it iwas ceasing operations.
San Luis Obispo Trophy Shop to Close Its Doors
After over 50 years in business, Borah's Awards, located in San Luis Obispo, California, closed its doors. Its last day in business was October 12th.
Helping Hands:
Gemini Sponsors Cannon Falls Bombers Robotics Team
For the third year, Gemini provided financial sponsorship and engineering mentorship, in addition to supplying equipment such as a plasma cutter, router table, 3-D printer, fabrication materials, and plant equipment for the Cannon Falls Bombers Robotics program.
Trotec, IKONICS, and JDS Donate Seminar Proceeds to Children's Group
Trotec, IKONICS Imaging, and JDS Industries partnered to host a two-day technical workshop on lasers, sandcarving, and sublimation. Half of these earnings were donated to Camp Kudzu, a Georgia-based children's camp that offers programs to support the medical needs of children with type 1 diabetes.
Specialty Engraving Sponsors Local Special Olympics
Specialty Engraving, based in Suwanee, Georgia, sponsored the Special Olympics of Forsyth County for the 10th annual Battle of the Bats Softball Invitational.
Condé Contributes to Education in Alabama School Systems
Condé introduced an education program to students attending the Alabama Career and Technical Education Summer Conference, which focused on teaching students how to run a business and raise funds for their school using product decoration technologies.
Dreamscape Making a Difference in the Type One Diabetic Community
When Marissa Chavez, COO and engraving specialist at Dreamscape Technology LLC in Davenport, Iowa, was diagnosed with type one diabetes (T1D) at the age of 33, she felt a little upended. Chavez has now joined the fight against it by working with JDRF.
In Memoriam:
In Memoriam: Hagerstown Trophy Shop Owner
George Allen Berger passed away February 14th at Meritus Medical Center at the age of 70. Berger and his wife, Odessa, owned and operated the Trophy Shop in Hagerstown, Maryland.
Former Owner of Shields Trophy Passes Away
John Shields, 78, of Altoona, Pennsylvania, died June 18th at UPMC Mercy hospital in Pittsburgh. He was well-known as the longtime owner/operator of Shields Trophy until his retirement.
New Looks and Launches:
In honor of the 30th anniversary of A&E, the team worked hard for several months to reimagine the future of the brand.
Unisub and ChromaLuxe Launch New Technical Support Portal
Unisub and ChromaLuxe introduced a new technical support portal entitled "Start to Sublimate."
In an effort to connect audiences across all of its publications, National Business Media (NBM) launched THE NBM NETWORK. The network aims to connect NBM brands Awards & Engraving, Printwear, Sign & Digital Graphics, and THE NBM SHOW through the initiative.
LaserCoach Launches Website for CorelDRAW Training
LaserCoach, an Australian distributor of Epilog lasers, launched a new website on August 17th to provide online training courses for CorelDRAW's Graphics Suite. It is tailored to laser engravers and users of similar equipment.
New Annual Publication START HERE Makes Debut
START HERE is a new annual publication dedicated to providing valuable start-up information for graphics professionals looking to expand or branch out in their business. This magazine is brought to you by the creators of A&E, Printwear, and Sign and Digital Graphics magazines, as well as the producers of THE NBM SHOW.
New Shops, New Owners:
GTX Awards & Engraving Undergoes Transfer of Ownership
Lauryn and Mike Abraam took over ownership of GTX Awards & Engraving in Georgetown, Texas. They are the fourth set of owners since the shop's opening in 1983.
NetSoft Studio Under New Ownership
Neils Norby accepted ownership of NetSoft Studio, effective in 2018. As a result, Gabby Norby, daughter of Norby, assumed ownership of his company, San Dieguito Trophy.
Ribbon-Cutting Ceremony Held at I:40 Awards and Engraving
Martin Updike expanded his business ventures, entering the recognition industry with the addition of I:40 Awards and Engraving.
New Shop Opens in Galesburg, Illinois
Personally Yours Creations opened up shop at 223 E. Main St. in Galesburg, Illinois. The store personalizes children's books, signs, name badges, plates, plaques, ornaments, mugs, wine glasses, tumblers, placards, labels, and more using techniques including engraving and hand painting.
New Shop Opens in Dickinson, Offers Personalized Services
On October 13th, CQ Engraving officially opened its doors. Located along the I-94 Business Loop East in Dickinson, North Dakota, the business offers everything from custom T-shirts to mugs, baby gifts, and more.
On the Move:
Fruciano Accepts Position with Coherent
A&E contributor Mike Fruciano accepted a new role at Coherent as market development manager.
Dan Barefoot Named VP of Global Sales and Marketing of Prism Inks
Prism Inks Inc. announced Dan Barefoot's promotion to vice president of global sales and marketing.
Marco Awards Group Hires Longtime Industry Sales Rep
Marco Awards Group announced the addition of Lyle King as the southeast regional sales manager.
THE NBM SHOW:
THE NBM SHOW Rolls Out 2018 Coast-to-Coast Schedule
National Business Media (NBM) unveiled its 2018 lineup for THE NBM SHOW, including new cities, as part of its coast-to-coast schedule.
Who's New at THE NBM SHOW in Arlington?
Several companies exhibited in Arlington 2018 for the first time or returned after taking some time off from the show.
THE NBM SHOW Concludes First-Ever Cleveland Show
THE NBM SHOW concluded its first-ever show in Cleveland as it continued a coast-to-coast tour of U.S. cities.
The Final Stop for THE NBM SHOW 2018 is the Tar Heel State
Charlotte, North Carolina served as the final stop of the year for THE NBM SHOW in 2018.
THE NBM SHOW Visits 3 New Cities in 2019
For 2019, THE NBM SHOW has eight events on the calendar, including visits to new cities as part of its coast-to-coast reach.