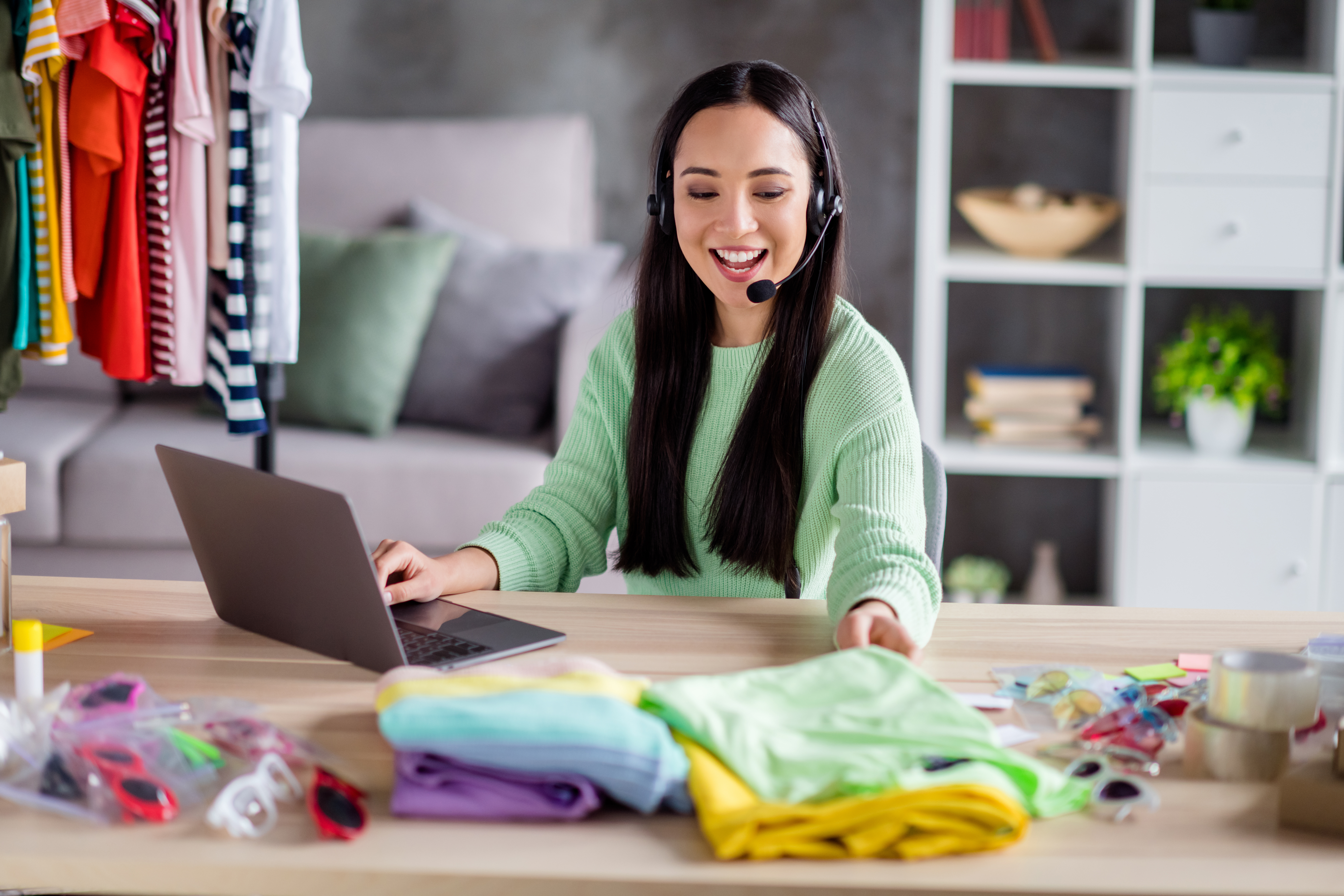 The first three years that Megan Lindholm ran her decorated-apparel business from her home, she hauled samples everywhere, from uniform fittings to school offices to baseball fields. "We had apparel literally everywhere since we saved our print overruns for sampling," says Lindholm, owner of 643SPIRIT in New Albany, Ohio. "We created endless mock sheets for people with style ideas. We took lots of bad photos of spirit shirts or basketball socks and sent them to clients."
Finally, Lindholm was over the time-consuming back-and-forth with her customers and moved into a showroom. "It's been fantastic," she says. "People stop in to pick up what they want for their organization sales, and it takes five minutes instead of an hour. We host uniform fittings instead of carting samples all over town. People driving by see our signs for masks, custom Ts, and work apparel, and stop-in to order Ts and hoodies for their workplace."

With that, here are 10 ways to set up an effective apparel showroom that customers can't wait to visit.
1. Give them an experience
A brick-and-mortar showroom lets customers know you'll be around for the long haul—so make it a great experience. "People should feel happy when they visit," Lindholm says. "We burn candles, play fun music, and offer guests candy. We also have a spacious meeting room for uniform fittings or meetings, plus a play area for kids."
Remember, super-tight and cluttered shops are a total turnoff. "You need a good flow directing people to where they can find different things easily," says Tanya Kost Doyscher, owner and graphic designer at The Visual Identity Vault. "Set up visual cues where they can and can't go. We do this with countertops where we can discuss things with them and ensure social distancing."
2. Allow customers to touch and feel your products
Apparel is one of those categories that people need to experience for themselves. "Include men's, women's and kids' styles," Lindholm says. "I recommend having a ton of Ts in stock so they can see the color and fabric options."
When you stock your showroom with good-better-best products, your customers can touch and compare the items to see the differences in how well they're made. This will help them choose the right quality level that'll work best for them and help you upsell higher-priced items by allowing clients to feel the difference for themselves.
3. Showcase your decoration prowess
"Include print on at least 30% of your samples so people can understand how the finished product will look," Lindholm adds. "Showing the difference between vinyl, screen printing, sublimation, embroidery, and heat transfers is also a smart idea." The decoration itself may sell the product, give inspiration, or make it stand out to the customer differently than it would have if it were just blank.
4. Let them try on the apparel (when it's safe to do so)
"Some people can't decide without feeling how soft a garment is, or if the women's fit is a realistic fit, or if they should go with a unisex fit," Doyscher says. "Shopping can also be a social event, so meeting up to try on or pick out shirts is fun for some people."

Not only can letting your customers try on your apparel help make a sale, but it can also cut down on the need for returns or exchanges later. That's why Jody Laird, owner of Double L Embroidery, took the time to embroider logos on her best-selling styles in a full range of sizes for people to try on.

While COVID-19 has presented challenges for in-person shopping, you can perhaps host virtual product reveals for some of your top customers.
5. Make cross-selling a no-brainer
Lindholm recommends putting lots of printed accessories and promo items like blankets, mugs, umbrellas, bags, and socks in attractive displays to catch people's eyes. "Change your displays often—just like a retail store—to make it interesting," she says. While people are looking at Ts or polos, you can also recommend hats, lanyards, water bottles, and other gear.
6. Create a station for "on-demand" apparel
Lindholm stocks lots of screen printed transfers from her local school district so she can heat press apparel on-demand for people who stop in. "Customers love this instant gratification experience of designing their own apparel, and it's a fun bonding time for us," she adds.
7. Stock decorated apparel for sale
For example, you can carry a line of spiritwear for local school sports fans. "I stock pre-made items for schools that generate significant income for my shop," Laird says.
8. Your customers should enjoy personal service
Build greater customer satisfaction by interacting with people face to face. This rapport helps when it comes to returns or working with disappointed customers. Treat your sales associates as experts in their field, not just salespeople. Your associates should know everything about all of your products, including how to order and configure customized items.
"When we opened our showroom, the biggest issue we faced was not getting our production work done since we were with customers all day," Lindholm says. "That's why we hired additional staffers whose whole job is to help walk-in customers. They call me if they need help with something special, like a bulk order."
9. Create an easy, quick checkout for your customers
This is important because many people leave lines after waiting for eight minutes. If possible, set up a separate customer service desk for those who need extra assistance with special orders or purchases.
10. Offer a versatile pickup experience
Due to COVID-19 restrictions, people want better pickup options from brick-and-mortar stores. "Our showroom has also been a huge help during the pandemic," Lindholm says. "Many schools closed so people couldn't pick up their spiritwear. We offer a free pickup option or a contactless dropbox option. People don't pay shipping and can grab their order at their convenience. This also gets people in the shop to see what fun stuff we have. It's customer connection and a sales opportunity every time they pick up an order."
BONUS: How to create a virtual showroom experience for buyers
Buyer behaviors have definitely changed, with more people browsing and buying online. Especially this time of year, people miss window shopping. A feeling of "pent-up" gift shopping is driving some people to shop in stores. However, a larger number is "window shopping" from their web browser, ordering online, and then picking items up in person. This move is driving the need for omnichannel stores that allow for online orders and in-person pickups.
"Rather than contending with impromptu walk-in traffic, allowing customers to self-service is a win-win. Your staff isn't distracted by prospective customers, and serious customers have the tools to shop online."




– JP Hunt, co-founder of

InkSoft
"We've ramped up our online presence and are promoting web stores far more since people are used to shopping online for everything," Doyscher says. She offers after-hours appointments for bigger corporate customers to experience her offerings. "If we present them with what we have in the store, they can spend less time here since we've gotten them excited about new products."
Decorators should put an eye toward their online presence, including an eCommerce site that lets people nationwide upload artwork, select apparel, and place their order. "It's a smart business move to hop on this trend since major brick-and-mortar traditional retailers have been hard at work attempting to create the 'in-store retail experience' from home," says JP Hunt, co-founder of InkSoft. "Of course, COVID-19 has accelerated this, so allow consumers to self-service when it's most convenient for them."
Hunt recommends doing a simple website audit to find any gaps in your current website buying experience. "I tell people to run through a checklist of what you'd expect as a customer," he says. "As a customer, I expect to check my order status, place an order, design online, get an accurate quote, and so on."
Here are four checklist items:
Make it easy to navigate the ordering and buying process.

"Guide consumers through the buying journey to eliminate bottlenecks and friction that could result in a website bounce and exit," Hunt says. "Consumers expect to be able to complete their order or fulfill their needs from your site. If there's a dead-end in the shopping experience, it'll result in abandoned shopping carts."

Show visuals of each product.

If you can add a visual configurator on your website, do so. That way, customers can virtually see how a T-shirt will look as they add logos or artwork and choose different colors and styles. "Include clear product descriptions, decoration options, and methods, along with production and delivery timelines," Hunt says.

Keep running stock totals so your customers know if an item is sold out or on backorder.

There's nothing worse than a customer excited to purchase an item, only to find out it's out of stock.

Offer delivery and in-person pickup options.

Some people like the idea of getting out and picking up their products, while others want their orders mailed or delivered.
Ultimately, many decorators believe that setting up both a physical and virtual showroom experience will help customers reach you in a way that makes them feel comfortable.