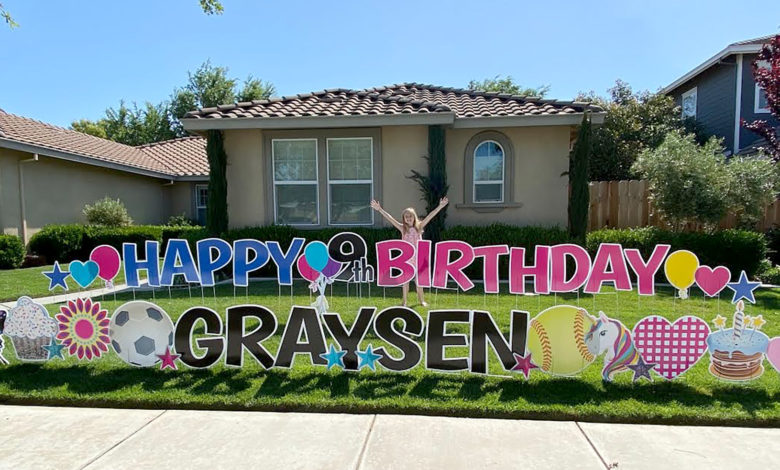 When we mention yard signs, what are we really talking about? Generally, they're a corrugated plastic substrate with screen-printed, digitally printed, or vinyl-lettered graphics applied to one side or both, mounted on a stake.
Some of the customers you might consider marketing these signs to include:
Real Estate Agents – for sale and open house signs, riders for custom information
Restaurants – advertisement of specials, now hiring, drive-thru open, hours
Elections – name recognition for various local and national elections, awareness for voting
Small Business – advertisement of specials, "Another Quality Job By" signs, new product promotion, now hiring
Recognition – graduate signs, birthday wishes, job or school accomplishments
Substrates
There are a variety of substrate and frame options to both improve the look and durability of yard signs.
Most of the yard signs we do are 18″ X 24″ in size, but there are smaller sizes available for riders or security type signs, as well as larger signs, typically up to 36″ X 48″. If the sign gets much larger than that, a sturdier frame should be used.
Most of the yard signs we do are on a 4-mil corrugated plastic. We produce the signs with the flutes running vertically, and the wire stakes we use slide up into the sign.
For a longer-term, outdoor sign, we also offer an aluminum composite material that works great for digitally printed graphics, screen printing, and cut vinyl lettering. It's a 1/8-inch-thick material made up of two thin layers of aluminum with a plastic core. We've moved almost all of our sign substrates over to this material.
For yard signs, we either slide or bolt the lettered substrate into the frame. This material can also be contour cut to shape as well. Since there aren't flutes for a wire stake and the material is a little heavier, you need to use a sturdier frame to display the sign.
Frames
In the last couple months, as these senior graduation signs have taken off, we've ordered thousands of the heavy-duty wire stakes for our signs. Right now, it's difficult to even get them. The lightweight and low-cost features of these frames make them a perfect complement to our economy yard signs. The most common stakes we get stand 30″ tall and 10″ wide, and the wires slide approximately 8″ into the sign.
The same corrugated plastic or aluminum composite material I mentioned earlier works well in the metal frames we also offer. The most common ones we get come in an 18-by-24-inch top space with a 6-by-24-inch space at the bottom for changeable riders. The signs can slide in for ease of changing, and can also be bolted in for security.
These same style frames are also offered in a bit bigger 24-by-36-inch size with a 6-by-36-inch bottom rider. The frames are made from 3/4-inch angle iron and have a foot peg for pushing into the ground.
As a lighter-weight option, there are also high-grade plastic frames available.
Another frame option is a t-stake style frame. These work for single-sided signs and stand taller with options from 42, 48, and 60 inches tall. We typically use a 3/4-inch angle iron option, but there are also plastic options available too.