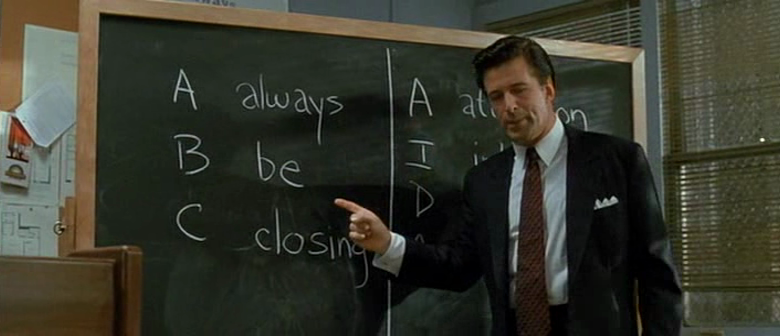 "Put that coffee down!"
For anyone who is a fan of Alec Baldwin's take on sales in "Glengarry Glen Ross," you know that you need to always be closing. The scene is an amusing take on an abusive sales manager with a very cynical view of the sales process.
Let us put aside the attitude, the language, and the tension of that scene. The message is timeless: You need to sell to stay in business.
One of my favorite lines in that scene is when Jack Lemmon's character pushes back and says, "The leads are weak." Alec Baldwin doesn't miss a beat, "The leads are weak? You're weak!"
The reality is that you make a sale in every interaction with a prospect:
You sell them on your product or service, or
they sell you on why they do not have to buy
It does not have to be this way
Selling is not a game of kill or be killed. It does not have to be antagonistic or nasty. But let's face it, you need to keep the lights on. You might have employees and rent to pay for, but you need to sell to grow your business one way or another. This is where you can get creative. There are many ways to sell and develop a relationship with your prospects. There is no one-size-fits-all solution.
Down-sell
This rule is the simplest. Get any sale at any cost—discount, payment terms, consignment. You want to establish a buying opportunity for the prospect at any level. The goal is to secure a customer. Once somebody buys from you, they are exponentially likely to buy again. You offer the same excellent customer service and quality that you would give to any of your other customers, but they get the first taste at an extraordinary value. Many business academics quote figures on how it is anywhere from five to 10 times harder to get a new customer than to keep an existing customer. People do not like change. Once they establish a relationship with a brand, it isn't easy to get them to switch. The key in down-selling is to establish that relationship.
Here are some simple ideas to move a buyer from the prospect column into the client column:
First-time customer discounts: If a prospect walks into your shop and shows interest in a product or service, proceed like you usually would in qualifying them. If you notice them leaving without buying anything, you could try to say, "Were you aware of our first-time customer 30% discount?"
Payment terms and deposits: Offer the prospect a chance to make payments on the item. This is where your customer experience can close them on a long-term relationship. There is a danger to giving away free work. This is clear. However, not doing any work is costing you money anyway.
Consignment or credit card hold: Give the prospect the product for 48 hours and encourage them to use it. If they like it, they can pay for it later or return it. Take a credit card and put the payment on hold. If they return the item, cancel the order. If they do not return it, charge the card. But give them the option to control the purchase process.
Sell small. Get $1 from them. Sell them something, anything. Make the sale at any cost, but never for free. A 100% discount is better than free. There needs to be a transaction, even if it is lopsided in favor of the client.
Cross-sell and upsell
If you want to see this in action, go to McDonald's.
A cross-sell is pairing something complementary with the item the buyer wants. Think of McDonald's asking, "Would you like fries with that?" or "How about an apple pie or a sundae to go with your burger?"
Home Depot and Lowe's make this an art form. You can always tell a well-trained associate when their first question is, "What project are you working on?" If you buy a can of paint, they recommend brushes, trays, drop cloths, masking tape, coveralls, and anything else that could go with the item you originally came to buy.
Moral of the story: Sell the entire job, even if the prospect only wants a portion of it when they first contact you.
An upsell is simply a more profitable option for you and greater value for the customer. "How about supersizing that drink for 35 cents more?" Go to the car wash, and you will hear, "Would you like to upgrade to the gold package?" Even the gas station has the highest-octane gasoline listed as "best value."
These can be items on an existing price list, or you can get creative. Your No. 1 goal is revenue. Bring the money in. Worry about profit after that.
Enlist your team to crowdsource ideas. They are the ones in front of customers all day. They have the best idea of where the perceived value lies based on the questions asked by prospects and the prospect's reactions to your price list.
The Pareto Principle
The Pareto Principle states that you get 80% of your business from 20% of your customers. You never know who or where that 20% comes from. Down-selling is designed to get the client. Now you need to keep them. An excellent customer experience will keep them coming back. When they do, you can start to experiment with cross-selling and upselling. As you develop your relationships with your clients, a small portion of them will want to know what else you have. This is your opportunity to make some real money. This is where you can get into white-glove, concierge, and highly personalized services.
It all starts with customer zero. Get them in and keep them. The relationship, and more importantly, the profit, will flourish from there.