Besides vector art and bitmap editors like CorelDRAW, Adobe Illustrator, Corel PHOTO-PAINT, PaintShop Pro, and Adobe Photoshop, other software can enhance your quality and production speed.
First, let's talk about individual version purchase versus subscription. Corel and Adobe, as well as other software providers, offer subscriptions and individual purchases. An individual purchase allows you to license the software forever. The number of computer devices the software can be installed on varies.
Subscriptions provide a smaller, annual dollar commitment. It provides access to every version upgrade and perhaps additional products or enhancements. The downside is that if the subscription is not renewed, you will have limited functionality of the software that was licensed during the subscription period. Plan accordingly.
Lasering photos. You can laser photos by turning the photo into a grayscale image and a halftone. You can do this using your Corel or Adobe art programs, but it is a daunting process for many. If you want more precision, flexibility, and artwork speed, specialized products can reduce the setup time down to a few minutes, given a good-quality image.
Most laser manufacturers sell software that works well and are easy to learn. There are also independent products such as PhotoGrav, PicLaser, and Laser Photo Wizard Pro with plenty of adjustment settings to produce great-quality lasered photos.
Font managers. The last several versions of Corel Graphics Suite come with Corel Font Manager. It provides a means of categorizing fonts and seeing what the font looks like. The font manager also provides access to all of your fonts on your computer regardless of where you stored them and without having to install all of them. Installing a large number of fonts slows down your computer and can even bring it to a halt.
There are other independent font managers to consider too. I found having one was a big boost to my productivity. If you want to offer a large variety of fonts to your customer base or if you have a significant font library, you will find it one of your favorite tools you wish you had a long time ago.
Photo background removal software. I have removed many backgrounds from photos over the years. The software tools have improved dramatically. Both Corel and Adobe have built-in tools with their graphics products that are good.
Specialized software can provide better results on complex photos and make removing the background around hair fairly easy. My favorite is PhotoScissors. The use of artificial intelligence built into recent versions of software is becoming powerful and accurate.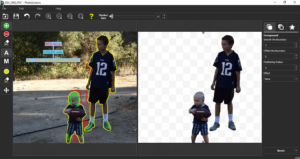 Photo resizing. One of the benefits of working with vector art is that you can increase its size as you need to without losing resolution and sharp edges. However, we don't always have that choice even with the vectoring tools built into our graphic products. Receiving a bitmap graphic at a small size like 1″ X 1″ at 100 DPI and needing to laser it at 4″ will render the graphic a resolution of about 25 DPI. The quality (especially the small objects) is likely to be unacceptable.
CorelDRAW has a plug-in called BenVista PhotoZoom Pro that can be installed. An older version is free (Bitmaps>Plug-ins). I use iResizer to easily choose what portions of the photo I want to keep and the parts I'm OK with deleting as I resize and change the shape.
Full-color. The final software product I found useful when combining full-color print with laser engraving is a free product I found on the internet. It's called ColorCop. It allows you to determine a reasonable estimate of the RGB or CMYK values for any image you can get on your desktop computer. I have used it often when replacing a bitmap image with a vector graphic I created to replace it and needed as accurate colors as possible. A poor color bitmap will never give you accurate colors, yet it may be all you have to work with. ColorCop is easy to use—place the color dropper over the part of the image you want to color sample.
Learn more: Tools to Complement Your Laser