This article discusses planning the process used by sign shops for electric monument or other electric sign projects. I believe the goal of any process is to provide a road map for the team to follow for the purpose of eliminating costly mistakes and to provide a way to allow team members to adjust certain aspects of the project in order to keep it moving through the shop.
Some newer, less-experienced sign shops don't fully understand which aspects of the project are written in stone, and which are flexible throughout the fabrication process. This is where planning for the unknown becomes vital, and having a staff of committed team players is key to keeping the sign between the lines until it's installed.
Remember, attitude is everything. No matter how hard you try to design and implement a process, if your team members aren't really "into" what their role at the company is or what is being fabricated, your process will have hiccups. This is true for any industry and if the little sign person voice inside your head is telling you that you don't have a team of committed employees, the rest of this article won't really help you much until you improve that first.
The process of planning the process
So, the process of planning the process for this article must assume that your team members, and you, actually enjoy coming to work each day. So, with that groundwork being laid, and the understanding that the following can only really go smoothly if every team member owns their work, and the objective of developing a process is focused on profitability, and minimizing stress, then here are some practical realities to consider in setting up a plan to prepare your process.
Defining the non-negotiable
Where are the facts? What are the facts? A: The client has certain wishes. B: Engineering says it must have XYZ for a support pipe. C: There are power lines within 5 feet of the sign location.
Facts are facts, and some things are just not negotiable. Knowing and identifying these set-in-stone factoids will help your entire team with setting fabrication boundaries. Here are some of the categories you can use to develop your list of non-negotiable facts that should be part of the contracted agreement you have with the customer.
The customers' wishes: Not all customer wishes can be met as we all know; however, there will be certain key elements of the new sign "experience" that the client will focus on, or latch onto as their "happy factor" that a sharp salesperson will key into, and cater to. It might be one of the following: color, lighting, initial visual impact, size, architectural styling, install location, or even the brand of LEDs used, or the EMC manufacturer.
Installation drop-dead date: If you miss their grand opening, their Google reviews of your company will cost you thousands in lost future business. How hot is this hot button for the client? Deadlines should be non-negotiable, but sometimes it happens due to weather, or other events that are out of everyone's control and have nothing to do with fabrication or installation. Noting these possible hiccups and providing professional communication with the client leading up to the installation date is key to keeping a happy customer.
Engineering: No matter what, the mechanical fabrication details and materials characteristics listed on the engineering drawing and report must be followed exactly.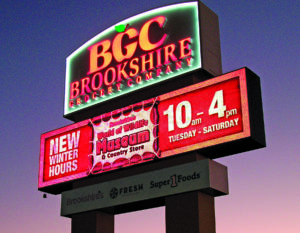 UL/NEC600/local code electrical/fabrication requirements: Follow these rules or things catch on fire.
Supports, structural components, and materials: Most of the time, these details are so directly tied to the engineering that they cannot and must not be adjusted, ever.
Safety: No matter what, safety surrounding every aspect of the project must be at the forefront of every consideration. This is absolutely non-negotiable and keeps pinnacle premiums low.
Everything else surrounding the sales, estimating, approvals, permitting, fabrication, and installation of an electric sign project are all flexible in one way or another.
Defining the project's flexible facts
The flexible facts are details that are sort of negotiable and open to modification, and thank goodness they are that way. These are the areas we will be focusing on because it's the variables that can throw the best-planned process off track very quickly.
Here are the negotiable aspects that should be noted and outlined in the contracted agreement. In this way, the team members have the permission (within a set parameter of conditions) to make slight changes to the fabrication of the sign in order to keep the process moving smoothly through the shop. Without these permissions, every new condition that arises would logically require the customer be contacted, and the situation explained in order to approve the modification. Obviously, this is not the most efficient way to do things and it can destroy any hopes of meeting the install deadline.
The sign's exact installation location: The site chosen by the client for installation may be free of all underground utility hazards, free from rock and expansive soil issues, and may still need to be moved back 3′, or moved to another spot if below-grade unforeseen conditions prohibit it. This is very rare, but I do know of times when this has happened. Planning for this is easy and it only involves a little research, and possibly a phone call with the city permit desk. By knowing the sign code options and educating the customer on this at the time of sale, during fabrication, and before the day of install, it eliminates any concerns in the client's mind if something needs to be adjusted.
Paint, ink, or vinyl colors: Red is red is red? Shades of color may be an absolute non-negotiable with corporate branding, but when it comes to the local shopping mall sign or the average office park tenant sign, it's probably something that can be adjusted slightly if necessary. Most customers will focus on the look of the overall finished sign and won't be running up to it with their Pantone book verifying that the green is really PMS 350C. When most customers say, "I want it to match the building," what they really mean is to "look similar to," or "to complement it."
LED modules manufacturer or model changes: What is most important to your customer? Intensity? Lumens? Price? Do they care? Having some room to move on this can prevent delays caused by a supplier's delay in shipping a certain type of LED.
Customer approvals and permissions on modifications during fabrication: Specifically outline with your customer how your process works and why it's necessary to allow your company to adjust the fabrication should any weird anomalies occur. This is the one key factor that can almost eliminate a project coming to a stop in the shop. This step of the process becomes "set in stone" should the customer not agree to letting certain aspects be adjusted. In that case, any and all modifications to the original sign drawing would require a customer sign-off. This is perfectly acceptable, and it won't affect the flow of the job provided this aspect is noted, discussed, and planned for with the team. In this way, expecting and planning for customer approvals upfront categorizes the step now as a non-negotiable part of the fabrication process for that sign.
The process of planning your process really starts with a vote of trust on minor decisions (or not) from the customer, then an outline of the different departments which each play a role in the production of the sign.
Overview of the steps
Here is a breakdown of the average steps of the electric monument sign fabrication process. Your choice of order or importance may be slightly different, and you may have a few steps to add; however, addressing each of these is key to a successful sign project:
Customer approval of the agreement or contract and artwork
All documents, drawings, artwork, and forms required by the city for permitting must be ready to present to the city when the deposit is received
The permit must be in hand prior to starting fabrication
Materials prices are verified prior to ordering
Materials are ordered and verified based on existing levels of stock currently in inventory
A meeting should occur between sales, fab, and install to review the project (discuss the roles of the team and identify potential conflicts)
Weekly meetings to review the progress of the project (inform the customer of the progress, remind them of any new or existing scenarios that realistically could affect the install date, colors, look, etc.)
Concrete is reserved, and special equipment for installation is ordered and confirmed for that installation date
Materials are cut to shape, routed, and prepared for assembly
The framework is assembled (along with saddles, sleeves, reveals and internal bracing)
Acrylic, aluminum, and steel is prepared for assembly
Cabinet assembly takes place, per the requirements for transporting it to the install site
All elements requiring paint are prepped and painted, vinyl is applied, acrylic is attached
Sign components are joined or disassembled as necessary for transport to the install site
Sign support pipes, lumber for setting pipe, rebar, and other installation equipment is loaded onto the transport vehicle and secured
The route to be used for transport of the sign is looked at again to verify if there are any new obstacles to avoid, construction zones, or new overhead power lines that could pose a problem.
Concrete trucks, and or any special equipment needed for the install are confirmed ahead of time (verify they will be at the job site on install day five days prior to install day, confirm again two days before, and finally the morning of the install)
The sign is transported to the job site where it will be installed
Installation takes place (support pipes are set in concrete)
Once the concrete is set, the sign cabinets are installed and the customer is happy and so satisfied they cut you a check for the balance right there on the spot (and throw in an extra $100 as a tip)
From a 30,000-foot view, that is how to plan the process for fabricating and installing an electric monument sign. Are there a few unique or custom steps that might be required that I don't have listed? Absolutely there are because each project has its own set of challenges.
The process you create for your company is really up to the needs of your customer. Do they need to approve every step and every alteration, or do they trust your team? Working with larger corporate accounts forces you to tighten up your process to fit their requirements, but working with smaller businesses allows you to be much more flexible and accommodating. Your process should satisfy and address the needs of the customer, and the needs of your bottom line.
Recognizing and embracing these key differences will help you put together a process that never leaves you or your customer in a bind. But, having a team of dedicated employees who really care about their work is 100% mandatory if you want to have a process that actually works.