Education
Hard Bid vs. Design/Build Sales Strategies
Different approaches are needed to successfully win projects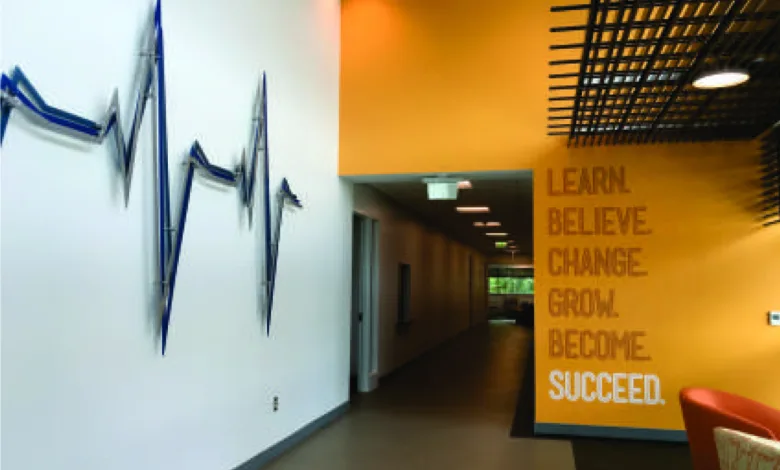 In today's competitive world of providing turnkey architectural signage for large projects that involve both interior and exterior signage, it can be somewhat overwhelming to keep focused and develop the different strategies needed to successfully win projects. It usually boils down to two types of selling and marketing: Hard bid quotes that are based upon project-specific drawings and specifications and the design/build strategy that provides the bidding company with some flexibility. Both have a place, and companies quoting this type of work can be profitable at both.
Hard bids
Hard bids have a place but are often referred to as harvesting the "low hanging fruit." Don't get me wrong, there are many successful companies that work this angle exclusively. It's about pricing signage as "widgets" based on the supplied drawings and specifications provided by the architect. These projects are often from state, federal and educational markets that require very competitive pricing, so margins are usually lower. Successful companies make the lower margins profitable by increasing volume. If you are a company that only goes after one or two of these types of projects, this market might not be for you. But if a company is set up to deliver multiple projects a year there is great opportunity.
The two types of hard bids
One where the owner puts out a request from quotes from multiple general contractors (GC). The other where the owner has interviewed GCs and appoints one to act as a construction manager (CM).
In the first case, multiple GCs will put out a request for bid on the signage packet for a project. It is necessary to go through all documents and create your quote. But in this scenario, you need to do your homework and find out all the bidding GCs and provide them all the same quote. Once a GC is awarded, additional follow up on the quote is necessary and the salesmanship comes into play if a reduction in margins can win the project.
CMs are a slightly different story, as the results are usually in a publicly announced bid opening for the different trade's scopes of work. This often requires the sign company to fill out extensive pre-qualification paperwork to be accepted to bid. Sounds like a lot of work — and it is — but the advantage is this process "weeds out" a lot of competition. A bid opening for the signage scope usually needs at least three bidders. If they don't get them, it goes back out to bid until they get three. Bid proposals also involve a plethora of documents that need to be signed and notarized. See Hard bid architect schedule and drawings
These projects still involve going through and quoting all interior, exterior, permitting, submittal costs and installation and are presented in the bid documents as a "lump sum" number. You do not provide the detailed quote at this time. If awarded, the CM will conduct a scope review and this info can be shared with them at that time.
The devil is in the details
Hard bidding almost always involves entering contracts. GCs and architects are notorious for putting lines in the specifications like "all code-related signage" that might not be in any sign-type drawing, specifications, or sign schedules. Some GCs and CMs are understanding, and additional signage not quoted can still be done with a change order (CO). Keep in mind these types of projects will not allow you to bill a deposit. Instead, progress billing on an agreed schedule of values (SOV) is billed once a month on what is completed.
The bottom line is that a good, detailed estimator is needed at the front end, as well as administrative personnel familiar with filling out pre-qualification paper work plus contracts and an accounting department that understands the pay applications involved during the life of the project. Most importantly, a skilled project manager to organize and coordinate all is essential.
This is not "relationship" selling; it is all about thoroughly understanding the signage scope and being very competitive.
Fortunately, not all projects fall under this umbrella, but most do. Occasionally you may see that signage is owner-supplied or put in an allowance. This opens the door for a more design/build strategy.
Design/build
Ahhh, the design/build. It opens new opportunities, puts more control in your court and brings back more of a "relationship" sale. Although it is a small percentage of hard bids it still exists as outlined earlier. But this will be found in more private projects like multi-housing, senior living projects and rebranding of acquisitioned properties. Your company has more input in creating the interior and exterior portions of a program. See  
There is more than just one option
Design/build can offer the ability to offer a company's strength in the design at the front end and material choices used in fabrications. It provides the option of doing some really creative work on one end and providing value-engineered solutions on the other. The key here is that you are providing appropriate options for the client's needs. See Design-Build Value Engineered
It all starts with pulling a budget number and expectations from your client. Perhaps the client is already over budget on other parts of the project and looking for a solution to create a sign system that fits. On the other end of the spectrum, a client is willing to spend the money to create a very unique high-end themed environmental graphics program to build its branding.
This creates a tiered level of pricing. Some may call this "speculative" selling. If you have successfully pulled a budget number and have a good relationship, the stage is set to provide a fulfilling solution for a client and the only additional cost is in the design process.
If a client is teetering between bidding out or a design/build, a strong case can be brought to their attention of the time and costs involved on their part of bidding. For example, putting projects out to bid involves the client completely understanding the signage scope and providing drawings and specifications together so they can accurately access "apples to apples" quotes. That takes a lot of resources on the part of the client and time. It is estimated that this process on averages takes eight weeks or more to send out quote requests, evaluate, and then enter into an agreement. With time being one of the most valuable resources for a client, you can let them know they can avoid all that time and cost and work on a budget and expectations of what they are looking for and deliver solutions with only absorbing and billing the design costs up front. Shaving two months on timeframe and costs involved on the client's end is the key to the value for the client.
Choose wisely
Both strategies have a place. A good balance of both can have the advantage of filling a company's backlog to avoid the dreaded "rollercoaster" sales cycle often seen in the sign industry. Understanding the differences between the two allows a company to market and allocate sales resources appropriately. Maybe you just want to pursue the design/build projects or you want to go after volume to feed manufacturing. Regardless, learn each strategy, have the drive to go after it and the knowledge to know the difference.