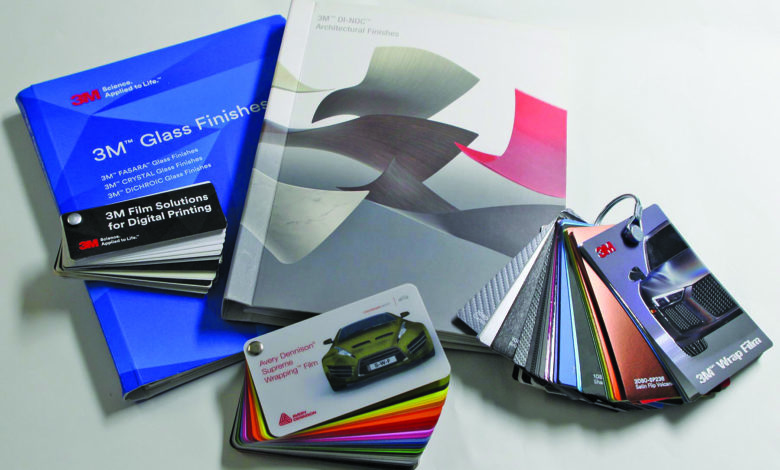 When a new project comes in, one of the first considerations is what type of vinyl to use. The process of choosing the right media for the job is often determined by the kind of application, material features, and desired adhesive type.
There are many options on the market for each type of material. It's essential to be familiar with the products available to offer educated solutions to your customers. Manufacturers provide plenty of resources so that you can be both informed and competitively priced.
Vinyl application 
Determining the application for the vinyl is the first step in choosing the perfect vinyl. You'll often have to ask the customer a few exploratory questions to determine everything they're hoping to accomplish with the graphics.
The first application consideration includes these:
Trailers/Box Trucks
Vehicle Wraps
Watercraft
Transit
Label
Backlit Signage
Awnings
Smooth Walls
Textured Walls & Surfaces
Windows or Glass
Floors
The second part of the application question to consider is the surface itself. Here's a list of surfaces to take into account when choosing the vinyl:
Flat
Flat with rivets
Corrugated
Simple curves
Compound curves
Deep channels concave
Flexible substrates
Textured wall and surfaces
Vinyl features
The type of film you print onto comes in options that affect the graphics' appearance and performance. These film types include metallic, translucent, transparent (clear), opaque, perforated, and retroreflective. Each of these films has its own unique characteristics.
The features or characteristics of a material will provide solutions to the application's problems. For example, if the application is a full vehicle wrap on a Sprinter van with deep concave areas, then the features you're looking for are flexibility and conformability.
Are the graphics going to be on a vehicle for less than a year before needing to be removed?  Then choose a transit media that's made for short-term applications and has a removable adhesive. Do the graphics need to be seen at night?  Then the perfect vinyl for that job is one with retroreflective properties.
Here is a list of features to consider, based on the application:
Visibility/reflective
Visual effect
Light flow
Long-term outdoor durability
Short-term outdoor durability
Privacy
Flexibility
Conformability
Ideal for contour cutting
Second surface applications
Adhesive
The adhesive used on a particular vinyl makes a big difference in both the graphics' application and the removal of the graphics in the future. It's important not to overlook graphics removal, especially on large applications where the adhesive could either cause damage or be very difficult and time-consuming to remove.
Continuing the example above, with a full wrap on a Sprinter van with deep concave areas (application), we determined that we needed a vinyl with both flexibility and conformability (features). So when considering the adhesive, we would want to look for a vinyl that is pressure activated for easy positioning and has air-release channels for a smooth application. Additional adhesive considerations include:
Permanent
Removeable
Changeable
Air-release
Adhesive color (clear or gray – block-out)
Overlaminate
Determining and using the perfect vinyl won't matter if you don't protect it. We laminate all of our vinyl—whether they're a temporary transit ad or a long-term vehicle wrap.
The benefits of laminating graphics far outweigh the minimal extra cost involved in adding an overlaminate. Not only does the proper laminate protect the graphics from abrasion, but it also enhances the graphics. With many finish options (gloss, matte, ultra-matte, luster, textured), you can provide protection against UV rays, enhance moisture resistance, and make installation easier.
It's wise to match up manufacturer vinyl and laminates as they're designed to be used together and are essential for any possible warranty claims. Matching the vinyl and laminate also means if you're using premium vinyl, you want to use a premium laminate. A calendared laminate should never be used over a premium vinyl, as the laminate may shrink more than the vinyl, causing failure. Premium laminate over calendared should not have the same failure, but it doesn't make sense to use a more expensive laminate over a less-expensive vinyl.
Resources
Once you've determined the application and know the features you're looking for, how do you find the right vinyl for the job? Manufacturers offer many comprehensive resources for determining the suitable material for the job.
Most manufacturers have resource guides and online databases with product bulletins that list the vinyl and laminates they offer, some with easy-to-read charts for cross-referencing the features, adhesives, and recommended applications. Once you've determined which vinyl(s) may work for your project, look through the product bulletins for chosen vinyl to review the specific features in detail.
Color charts and sample books are an excellent resource for reviewing samples of the actual material.  Having these on hand makes it easy to review options with your customer.  Check with your suppliers or manufacturers to see if sample charts are available.