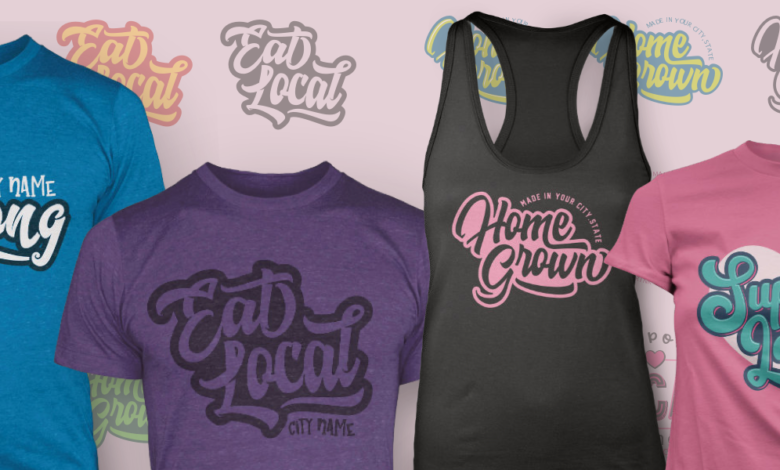 Back at the beginning of the pandemic rollercoaster, we saw the Here For Good movement take over. We watched together as decorators and print shops nationwide (and in Canada) worked with local businesses to sell printed T-shirts online, creating new revenue streams and massive fundraising potential at the same time.
Several months later, local businesses and communities at large are still hurting. They need a way to raise money and awareness and feel connected to one another. The answer? Boxing Up Local Pride—or Here For Good 2.0.
Where Here For Good offered custom T-shirts, Boxing Up Local Pride is giving boxes filled with lots of swag, including custom apparel and promo products (with the spirit of your community holding it all together).
It's a community-oriented campaign where you'll partner with local businesses on items that represent their brand, so your marketing efforts should be targeted at your community. That doesn't mean you're limited to only a wide-lens approach. We're of the mindset that you should get specific wherever you can. So, what does "getting specific" look like in this case? We have a couple of ideas.
Use your local network
Every business, no matter how small, has its network of people. From customers to staff to family and friends, they all already have an audience that's eager to hear from them and support them.
Use those audiences. Make sure you communicate to the local businesses involved. From your very first campaign-related interaction to the success of the fundraising and the degree of their earnings, it's up to how effectively they're promoting the initiative to their people. Whether it's through sending out emails, posting on social media, or getting creative—like hosting a virtual event where all buyers can attend wearing their new custom apparel—the options are limitless. The more options that are explored, the more raised funds there will be.
Don't forget corporate
With the new year fast approaching, businesses big and small are looking for creative ways to show their employees they're valued. What's better to show gratitude than end-of-year gifts?
Once you have your boxes established, reach out to notable businesses and organizations in your community with the idea of sending each employee a community-centric box of custom goodies, so they feel more connected to their surroundings and each other.
The best part: Employees will know their company focused its holiday/new year spending on a great and important cause, and they'll love the gifts even more.
Things to keep in mind in your pitch: You're offering an end-to-end order fulfillment service, so once the organizations tell you which boxes they'd like and how many, all they have to do is sit back and relax as you produce, package, and distribute them— directly to their employees' homes.
Pro tip: Don't limit this pitch to the holidays or the new year. You can make a case for work anniversary gifts, award gifts, or even community-themed Work From Home kits.
Partner with a second cause
Beyond just partnering with local businesses, consider the option of bringing a charity into the mix. Maybe it's the local children's hospital, the local PTA drive for getting students new tools/athletic equipment, or a statewide fund to help the homeless.
Whatever it is, make sure you're talking to the local businesses and getting their opinions—and figuring out how to split the profits. Adding a charitable cause to this campaign's mix is an excellent way to ramp up the sense of urgency and impact while simultaneously opening the initiative up to new audiences. If it's a statewide nonprofit, you'll likely have people all over the state wanting to buy in and show support.