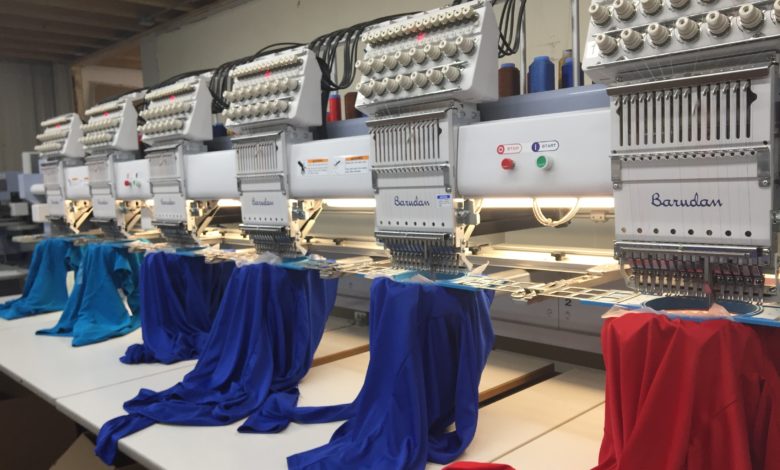 Performance wear takes even more consideration than more traditional garments. With stretch properties, slick finishes, synthetic fibers, and added athletic qualities, this ever-growing market continues to throw curveballs at embroiderers.
To increase your chances of coming out on top, be extra thoughtful with the following components in a performance job.
Garment sizing
Garment sizing is a critical factor to consider when accepting an embroidery order for a performance garment. These garments are designed to hug the body and can be less than flattering in many instances. Depending upon the garment, these shirts can run one to two sizes smaller, which means a customer who normally orders a medium can quickly find themselves in a large or extra-large garment.
Design selection
Design selection plays a critical role. Since a performance garment has stretch, it is susceptible to significant distortion. The more stitches we load into the design, the more likely distortion will occur. If you look at the embroidered logos of some of the large athletic companies that have built their brands around performance apparel, the embroidery is simple with a low-stitch count. In a custom world, we don't always have control over the designs we sew. However, if you educate your customer in advance, they might provide a design better suited for a performance garment.
Backing
One of the roles of backing is to stabilize a garment to accept embroidery. A stretchy material defies stability. It wants to shift, stretch, contract, and dance around in the hoop. A typical "fix" to combat this is to load up on the backing to over-stabilize the material, which causes a thick, stiff look that is likely to cause skin irritation.
A great combination of backing is a poly mesh no-show backing paired with a light tearaway. This will provide stability, softness, and help prevent the backing from showing through to the front of the garment. If you require three sheets of heavy cutaway to avoid puckering, then there are design and density issues at play, rather than a backing issue. In some cases, a sticky backing or a fusible backing can be helpful.
Hooping
A really tight hooping that you can bounce a dime off of is perfect for a stretchy garment, right? Wrong! Common sense says if we want to prevent puckering, hoop it nice and tight so that the garment can't distort. However, as said best by Sir Isaac Newton, "To every action, there is an equal and opposite reaction." An overly tight hooping will cause the material to contract, causing more distortion than any embroidery ever could. The key is to hoop the garment tight enough so that there are no wrinkles in the material but not so tight that the material is stretching. It is also good practice to use the smallest possible hoop size for the design.
Design creation
Pathing (the traveling route) of the design is paramount. A performance garment will sew best with the same principles as pathing a design for a cap. Digitizing from the center out will significantly reduce any distortion as it keeps the fabric consistently moving away from itself. This will result in more color changes and trims in the design and significantly improve the end results.
Density also plays an imperative role. Too much density is sure to cause puckering or material distortion. A master density value of 4.0 pts, .40mm, or 63.5 SPI is a good starting point. Be prepared to adjust as needed but avoid extreme values.
Underlay
Underlay shares the responsibility with backing to stabilize a garment. If a design is comprised of a series of solid shapes, one of the best things to do with your underlay is lay it under a series of shapes. This will help hold the garment in place by adhering the garment to the backing, and, in turn, help to minimize distortion.
Embroidering on performance garments is not tricky. It merely requires you to put some additional thought into the process.