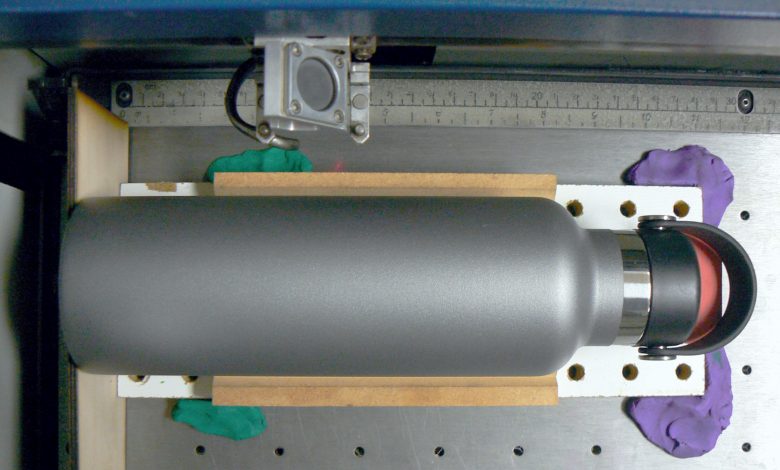 Choosing a laser starts with your business model. What will be the main items you laser? A 50-watt CO2 laser is what I use for personalizing products. My business focuses on awards and other personalized products for organizations such as businesses, non-profits, governments, including police and fire, and electrical and solar signage. I also laser lots of wood urns for many of our regional mortuaries and crematories. I cut acrylic and wood up to 1/8 of an inch and sandcarve almost all of my glass and round metal products.
The laser you choose could be quite different as your customer base, and the subsequent needs and uses, can and will be different. Let's talk about how to make that determination.
The Laser's Features
Some laser shops work with a lot of metal products. You may use a metal-marking chemical to apply a permanent mark, or you might have a customer that wants to mark the metal directly. A CO2 laser and a rotary engraver may be the best solution. However, you may want to purchase a laser that has both CO2 and fiber lasers to etch acrylic, wood, and mark metal with the CO2 while directly lasering metal with the fiber laser.
This example brings us to your first task, which is understanding how your laser will be used. What is your present or anticipated customer base? If you are just opening up a shop, you may not know who your customers will be. Talk to laser shops that are already in your area to find out what their market niches are. Do they work primarily with sports leagues, providing dozens or hundreds of trophies at season's end?
They may be a shop that focuses on tool marking. There are gift shops personalizing products or general engraving shops that work on almost anything someone brings through the door. Corporate awards, sign shops, and many more niches are possible. Your niche will guide you in selecting the right laser technologies, power (wattage), table size, accessories, and specific features that will serve you best.
If, after all this, you still have no idea who or what you will focus on, I suggest you buy a used CO2 laser with a 30- to 50-watt tube. A 12″ X 24″ table size will serve you well until you discover the niches you want to focus on. Should you select a niche requiring a different laser, or simply decide you want a new laser, keep the used laser as a backup or second laser to improve productivity during busy times or for large jobs.
Here are five general guidelines that are useful in selecting a laser:
Acrylic, laserable metal, and wood sheet material for making plates and products are available from industry suppliers in 12″ X 24″ sheets.
If you focus mostly on making trophies, 30 to 40 watts does the job well; 50 to 60 watts is better for a lot of cutting. Bigger than 60 watts is useful in cutting plastic or wood thicker than 1/8 of an inch.
Baseball bats, shovel handles, axes, and other long tools and sporting equipment need a wide laser bed in the 36- to 48-inch range.
Lasering a lot of glassware, including bottles, mugs, tumblers, and other round products, warrant investment into a rotary device for your laser.
Lasering large quantities of products such as promotional items can be served best with larger table sizes and a new camera system.
Mixing technologies such as UV print with laser cutting works much better with a camera system, as registration for the cutting operation is much quicker and more accurate.