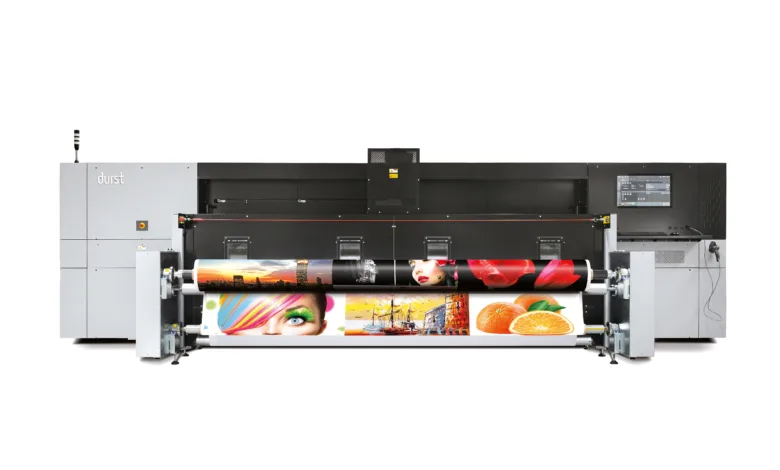 Digital textile printing with dye-sublimation inks is rapidly growing within the large-format print industry. Quick to take off in Europe, dye-sub is becoming the choice technique for end-users because of the efficiencies in fabric shipping and handling, as well as the rich, high-quality results. Fabric has a high-end look and feel, but printing and finishing it can be challenging.
Let's begin with an overview of the dye-sublimation process from inks to equipment. In subsequent articles, we will further examine such topics as substrates, inks, fixation methods, finishing, marketplace economics, and workflow. Although there are many different approaches and variants to sublimated fabric printing, we will focus primarily on transfer paper dye-sublimation because that is more widely used in the U.S. grand-format arena.
What is dye-sublimation?
Dye-sublimation is the process of converting printed, solid dyes into a gas without going through the liquid stage. Heat and pressure are used to infuse colorant into a polymer material (usually polyester). There are two basic methods for printing with dye-sublimation inks, direct and transfer. Transfer is the most common method and consists of printing a mirrored image on donor paper and transferring the image onto a polyester-based product, usually a textile with heat, pressure, and dwell time. The direct process differs from transfer printing in that the image is printed directly on a coated fabric and then sublimated in a similar fashion, without the use of transfer paper.
What are the advantages and disadvantages of the direct and transfer processes?
Both methods require heating the fabric to infuse the ink into the fabric, but both have their pros and cons. Transfer printing allows the most flexibility in terms of substrate range. You can basically sublimate to any polyester textile (or other polyester-coated product, for that matter). Transfer printing is very efficient, as you only need to set up the printer for the one transfer paper you are using. Adjustments for different fabrics are made at the fixation unit.
Direct print has been around for several years, and many pieces of equipment have been designed specifically for this application. An advantage of this is you can eliminate the need for transfer paper altogether, which can simplify the process in some ways. Direct printing also increases strike-through, making the image appear on both sides of the fabric. In some applications, this may be desirable. Several manufacturers have released direct-inline sublimation systems, allowing a print provider to print AND sublimate the fabric in one step, vs. printing and sublimating on a stand-alone fixation unit.
A challenge of direct printing (offline or inline) is you need to characterize the printer for each fabric (separate ink limits, profiles, etc.)  Additionally, fabrics pre-treated for direct printing provide the best possible output in terms of sharpness, rub-fastness, and vibrancy. This adds minimal cost and usually mitigates the cost of the transfer paper. The best systems offer the ability to print paper, direct offline and direct inline, giving the provider the ability to produce graphics best suited for the intended application.
What are the different dye-sublimation inks?
Historically, there have been several variants of dye-sublimation ink for the large/grand-format print space. The industry started with an oil-based dye in the early 2000s and moved to solvent near the end of the decade. Today, water-based ink is the standard in this space.
The main difference today has more to do with the application. The traditional textile industry often uses high-energy dispersed dyes. These usually require extensive post-processing once the printing process is complete. Within the large/grand-format space, low-energy dye-sublimation ink is formulated for dedicated transfer paper printing or a "hybrid" type ink that allows for transfer and direct-to-fabric printing.
Who uses dye-sublimation and what are its applications?
Print providers in the soft signage, trade show, retail, P.O.P., event and entertainment industries are seeing the benefits of dye-sublimation printing and a huge opportunity exists in these areas from small to large display graphics shops. Typical applications include banners, stretch graphics for exhibitions, traditional flags, feather flags, retail point of purchase, tents, even hot air balloons. Silicon Edge Graphics (SEG) are quickly becoming the norm in retail fabric displays to their ease of installation, reduced shipping costs, and overall upscale look and feel. Also, imprintable items such as coated ceramics, wood and metals use this method, but it is important to note that dye-sub is designed only for polyester-based materials. In the case of solid substrates, like a coffee mug, for example, the mug must have a polyester coating, usually a liquid that is baked on. If the substrate does not have a polyester coating, then the process will not work.
The rapidly growing Print-On-Demand industry has adopted dye-sublimation for many products due to its versatility and ease of use. Products such as personalized blankets, pillows, floor mats, mugs, wall art, face masks, and more have grown exponentially over the past 5 years. There are many companies dedicated to this industry alone.
Why use dye-sublimation as opposed to other printing methods?
Overall, dye-sub's advantage over UV-curable, latex or solvent printing is the ability for the fabric to have the same feel, or "hand," which adds to the high-end perception of the product. Put simply, the end result is by far better in look and feel because the ink is infused into the fibers of the substrate itself, as opposed to a pigmented ink that builds up and sits on the surface of the fabric. This level of saturation produces superior output. Another important benefit of the ink being infused directly into the fabric is that without any additional surface protection, the image is now permanent and cannot be washed away, rubbed off or otherwise removed from the fabric.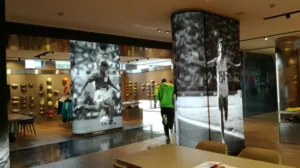 UV curable ink, however, is the most versatile of these other ink technologies. It adheres well to a wide variety of substrates, including fabric, but it does change the feel of the material. Latex is similar to UV except that it can produce better, brighter color on textile than most UV printers. It can change the hand of the material, but not to the extent that UV does. However, a latex printer must be slowed down and print many more passes to achieve the same color as a dye-sublimation print. Solvent inks (pigmented inks not to be confused with solvent-based dye-sublimation ink) require the material to be coated with a receptive layer for the solvent ink. This can change the hand of the material as well. In addition, solvent output generally produces a less saturated image than the same print with dye-sublimation.
If someone wanted to get started in dye sublimation, what equipment would be required?
Basically, you need a printer, some sort of heat press to sublimate the ink and finishing equipment. There are several manufacturers that offer solutions. There are three types of dye-sublimation systems: systems that are dedicated transfer paper printers; systems that can only print and fixate inline; and systems that can be configured to print paper, direct offline or direct inline. The most versatile systems can be set up to produce output by any one of the three methods depending on the application.
Beyond the printing equipment, there are a variety of fixation units, from small clamshell heat presses where pressure is applied manually (often used in shops decorating T-shirts), to industrial sublimation systems such as roll-to-roll calendars and large format flatbed heat presses. The last components are the cutting and sewing systems. These components will be broken down in more depth in future articles.
Why do you think adoption of this process has been slower in the U.S. than in Europe? What are the barriers to trial?
In my opinion, there are a few reasons: First, the perceived high cost of entry and steep learning curve because of the complexity of the process could be a reason for slower adoption of the process. Secondly, many companies have concerns about the sizing, cutting, and sewing of fabric graphics which causes hesitation in adopting new technology. Third, some industries have been slow to adopt new applications due to the uncertainty and changes required within the business.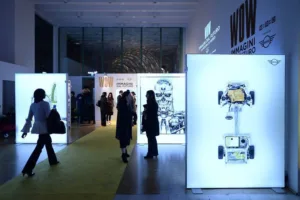 On the first point, equipment and materials are expensive, but the margins are much higher. Because of the complexity of producing dye-sublimated graphics and the cost of the materials themselves, the retail selling price of fabric per square foot can range from $7-$10, which can be far greater than vinyl, for example. In other words, printing businesses stand to make a lot of money, and the dye-sub market remains on a healthy upswing. Although the install base has grown over the past few years, the fabric graphics market is still less commoditized than the typical vinyl banner. In the long run, transportation, handling, and overall management of fabric is also less costly, which is attractive to end-users.
Secondly, the finishing takes people out of their comfort zone. There is a general lack of education in our industry about sewing, appropriate setups for sewing equipment, supplies like needles, threads, and the various types of sewing machines. This has left many in our industry apprehensive about taking the first step into the dye-sublimation business. However, the market is wide open, with great opportunities for print shops to increase their margins, differentiate themselves, and remain competitive.
Finally, some industries have been slow to adopt fabric. The trade show and event business has fully embraced fabric over the past several years. In fact, most displays at a tradeshow will have multiple fabric-printed graphics such as SEG-printed walls, stretch fabrics, hanging signs, and more. The retail industry has been slower to adopt fabric, although this is quickly changing, especially with some mass retail stores fully embracing fabric graphics. Over the past four years, we've seen several large retailers change some or all their displays to fabric, which has saved them money on shipping and installation in addition to providing a product that can be recycled.