With the continual upgrades to the smartphone, more and more people embrace photography. 1.2 trillion photos are posted to social platforms each day, creating vast amounts of visual data stored on mobile devices. Compare that to the 80 billion photos taken by traditional cameras almost 20 years ago. Technology has made it easier for people to take pictures and print them without sacrificing quality.
But how can you embrace this technology when it comes to crystal awards and gifts? Add a full-color photo! Printing a full-color image on an award or gift adds to the individuality of the award. No two awards will look alike, even if they're presented for the same occasion.
Not sure how to promote this trendy idea? Here are some "out of the box" ideas that sell themselves.
1. Give internal branding & employee retention a boost
With the onset of stay-at-home workers, new hires, and job transitions, it's important to encourage employee morale. Employees encounter fewer face-to-face experiences in the workplace, so it's key to meet those challenges with creative and heartfelt exchanges. Employee appreciation doesn't have to be complicated.
Pro tip: Suggest these types of corporate awards to your corporate and business customers: acknowledge new employees, celebrate sales goals, honor years of service, and recognize those that go the extra mile with gifts that include a personal touch.
One idea that doesn't get enough attention is an onboarding kit. Send a new employee a "Welcome to the Team" gift box that includes company swag and a welcome gift. A photo of the company or the team printed on a gift can be memorable. Imprint the gift box with a personal message or the recipient's name and title to make it a one-of-a-kind presentation.
2. Shake up the ordinary with creative marketing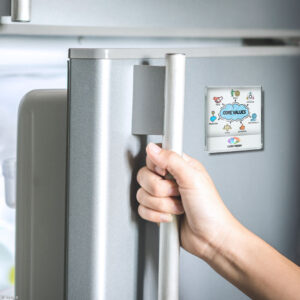 Find innovative ways to market your customer's brand. Get creative!
One of the fastest-growing trends is kitting. Since we are facing more and more virtual events and meetings, companies need to pivot to meet the needs of a changing world. Kitting products can include motivational quotes, positive imagery, and trendy platitudes on smaller crystal gifts. Besides virtual events, kitting can be a great way to appreciate a vendor, celebrate a holiday, or win back a customer. Kitting was used often during the pandemic to keep people connected. It's also a trendsetting tool that encourages people to discuss a brand on social media.
3. Give them something to talk about
There's always something to celebrate as a business – industry awards, safety awards, sales goals, best customer service, volunteering, work anniversaries, and more. When a company achieves these successes, a larger award can sit in the lobby or a trophy case. Tie that achievement back to employees by presenting each person with a full-color photo on a crystal gift. Everyone involved will hold a piece of the company history and feel included in the process.
Explore the variety of shapes and sizes of modern crystal awards with full-color photos. They'll excite and interest each recipient, and they'll be talked about for years to come. We can't wait to see your ideas brought to life!