News
Vistaprint Partners with Boston Celtics to Support and Spotlight Small Businesses
Vistaprint to be featured on Celtics game jerseys beginning with the 2020-21 season

(Image courtesy Vistaprint)
Vistaprint, a marketing and design partner for small businesses, and the 17-time NBA World Champion Boston Celtics announce a multi-year partnership where Vistaprint becomes the exclusive marketing and design partner of the Boston Celtics.
As part of the partnership, the Vistaprint logo will appear in Celtics colors on the front left shoulder of Celtics game jerseys beginning with the 2020-21 season.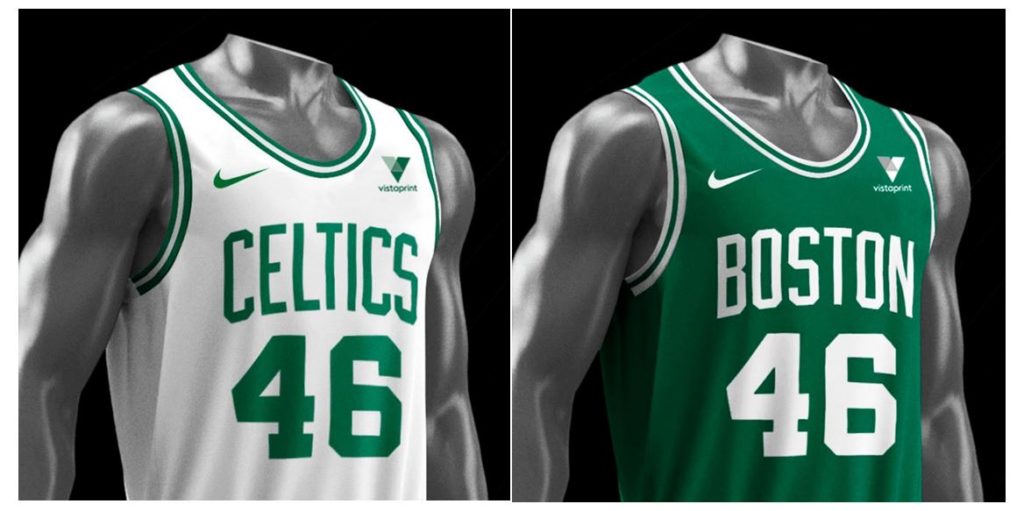 Throughout the partnership, Vistaprint will work closely with the Boston Celtics and the Boston Celtics Shamrock Foundation to support the Boston Celtics United for Social Justice initiative, including building economic opportunity and empowerment in minority communities.
"As a company with deep roots in the Boston area, we are thrilled to announce this partnership with our hometown team, the Boston Celtics," says Vistaprint chief marketing officer Ricky Engelberg. "Even more so, we're proud to join up with the Celtics to shine a spotlight on the important role small businesses play here in our community and across the country. Though our partnership with the Celtics is just beginning, Vistaprint's partnership with small businesses has been in place for more than 20 years. We are excited to use this new platform to help enhance that 20-year commitment in a way that we've never done before. This work has never been more important as small business owners face economic hardship brought on by the pandemic."
The collaboration will provide local small businesses resources, including financial assistance, educational resources, and marketing and design services. The Celtics and Vistaprint will commence by working together to support Boston-area small businesses with integrations into highly visible team platforms, including digital and social media content, fan engagement, and promotions. The partnership also includes significant assets across the Maine Red Claws and CLTX Gaming, including primary jersey patch placement for both teams, which marks the first time this has been incorporated across NBA, G League, and NBA 2K League franchises.
"We share much in common with Vistaprint, but where we feel most connected is our shared values of commitment to excellence, innovation, and community," adds Rich Gotham, Boston Celtics team president. "This partnership will allow us to work together to bring out the best in both organizations."