News
Universal Lighting Announces Distribution Agreement with New Jersey's Ascend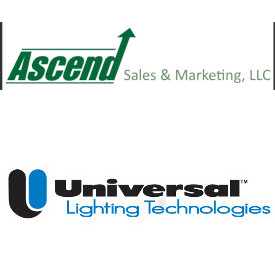 Created with GIMP
Nashville, Tennessee-based LED lighting company Universal Lighting Technologies announces a partnership with Manville, New Jersey-based Ascend Sales & Marketing LLC.
Under the agreement, Ascend will represent Universal Lighting in high-efficiency installations, from architectural to general, in the northern New Jersey and New York City areas.
"As an industry leader, we look forward to expanding our reach in the North New Jersey and New York City markets with an agency who provides extensive market knowledge and a commitment to building strong relationships with their customers," says Eric Schlechtweg, Universal's eastern region director of sales. "Though a newer agency in the NY/NJ market, Ascend has proven to be a top performer in the lighting industry, and we are confident the talented and experienced team at Ascend will continue to offer the best possible technology to customers while expanding the reach of Universal Lighting Technology solutions."
Ascend represents an array of manufacturers of electrical and industrial lighting products, and says its sales team collectively has more than 40 years' experience in the industry.