News
Toshiba's Teresa Sternhagen Wins Stevie Award for Woman Executive of the Year
Sternhagen receives the honor for demonstrating leadership across Toshiba and her community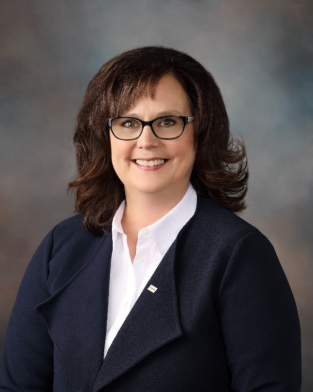 Teresa Sternhagen (Image courtesy Toshiba)
Affirming her leadership at Toshiba America Business Solutions and within her community, Teresa Sternhagen has won this year's Silver Stevie Award for Woman Executive of the Year in the 18th annual Stevie Awards for Women in Business.
The Stevie Awards have been hailed as the world's premier business awards. Gold, silver, and bronze Stevie Award winners were determined by the average scores of more than 160 business professionals around the world, working on eight juries.
Leading by example
Upon joining the company in 2008, the general manager of Toshiba's toner products division has established a reputation for leadership by deploying supply chain, inventory control, and procurement tactics and strategies.  Beginning July 1, 2019, Sternhagen has directed efforts ensuring quality, environmental and occupational health, and safety standards at Toshiba. This includes implementing local, state, and national regulatory mandates including current ISO Certifications. She also serves on Toshiba's executive leadership team, which charts the company's strategic direction.
Sternhagen also recently led Toshiba's sustainability project centering on a one-acre parcel at the company's Mitchell, South Dakota, facility. Toshiba employees took part in planting indigenous flowers and grasses spawning increasing numbers of bee and butterfly pollinators. The project enhances biodiversity education and awareness for local students.
Sternhagen is a 15-year board member of the Bon Homme School District 4-2 in Tyndall, South Dakota.  She also holds a Bachelor of Arts from Dakota Wesleyan University and CPIM (certified in production and inventory management), while completing coursework for certifications in supply chains and logistics and distribution.
Maggie Gallagher Miller, president of the Stevie Awards, says, "Women-owned and -run organizations have contributed significantly to the increase in innovation and entrepreneurial activity we've seen globally since the beginning of the COVID-19 pandemic. The nominations submitted to the 18th Stevie Awards for Women in Business that attest to this are inspiring, humbling, and motivating. We celebrate Toshiba's Teresa Sternhagen for embodying these positive characteristics to benefit both her company and community."
Larry White, Toshiba America Business Solutions president/CEO, adds, "Teresa is the consummate leader at work and within her community, and we are thrilled for her to receive this wonderful recognition for her efforts. She leads our toner products division by demonstrating the highest levels of professionalism, positivity, and compassion to Toshiba's employees, business partners as well as the Mitchell community."