News
Stahls' Offers Free E-Book for Apparel Decorators Navigating the COVID-19 Crisis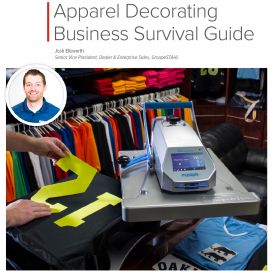 Stahls' offers an e-book for apparel decorators navigating the COVID-19 crisis. The company says the book is a "survival guide" with advice on how to deal with the current climate.
Compiled by Josh Ellsworth, senior vice president of dealer and enterprise sales for GroupeSTAHL, the guide features ideas, tips, and suggestions on how to best cope with the COVID-19 situation. Ellsworth discusses the importance of having a current website, the benefits of adding business-to-consumer products using the company's Spirit Sale services, and how to offer customers viable products while working from home. The book also explores how to collaborate with other decorators and maintain lifetime loyalty with clients.
To download a copy, visit https://assets.stahls.com/stahls/content/pdf/ebooks/Apparel-Decorating-Business-Survival-Guide.pdf.