News
Screen Printing Veteran Nicole Pape Launches Equipment Distribution Company
Pape's new company, Embellishr, is a remote distributor of new and pre-owned garment decoration equipment

(Image courtesy Embellishr)
Screen printing veteran Nicole (Nikki) Pape recently launched an equipment distribution company for the garment decoration industry dubbed Embellishr.
The new business is a remote distributor of new and pre-owned screen printing equipment — which also offers full equipment sales services, including appraisal, marketing, and shipment.
Pape, owner, has been in the screen printing industry for 18+ years — from manual printing to automation and contract work to retail, with entrepreneurship as her driving force.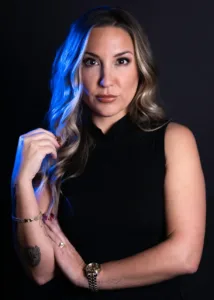 Pape started as a manual screen printer for a large commercial retailer in 2005. She went on to open her own screen print boutique in her loft in downtown Los Angeles, California, where a couple of years later, she sold her shop for double its worth. She was then pulled to become a partner in one of the Bay Area's largest contract embellishers, where she worked with sports licensors, corporate tech companies, and major musicians.
She moved on from the partnership in 2020 and dabbled in real estate in the Reno, Nevada, market for less than a year, selling about $25 million in new home sales.
Missing the industry she was made for, she quickly jumped back in at the opportunity to become the ROQ US channel manager (where you may have seen her at trade shows, in your shops, or in an airport as she jumped from place to place to meet fellow printers.)
With respect and gratitude, she decided it was time to once again become the entrepreneur she was born to be, and parted ways with ROQ last November to open the doors to Embellishr in December of 2022.
Although her business is newer, she has been utilizing her years of expertise to coach, teach, and customize what shop owners need to continue their growth trajectory. She says she has finally found her calling with Embellishr and is just getting started.
"At Embellishr, we like to think of ourselves as the exotic car dealer of the screen print industry. We work to curate the right selection of equipment to meet your needs at a rate that you can grow with," states Pape. "Embellishr handles everything from appraising your preloved equipment, strategic marketing, procuring a buyer, streamlining the purchase process, to tearing down, crating and shipping it to its new owners, so you can focus on your business, and let us do the rest." 
She continues, "If you're in the market for new automation, we also currently distribute ROQ equipment as well as Advanced Inkjet Technologies. We're here to help your business grow with automation so you can say yes to more revenue and start capturing additional profitability right away."
Want to hear more from Nikki?
Nikki will be interviewed by Nikki Bowen and Christina Haines of Print Girl Mafia during GRAPHICS PRO EXPO in Irving, Texas, on Thursday, March 9 at The Corner in the GRAPHICS PRO Booth (623) from 1-2 p.m. as they chat about all things apparel decorating.
For more information about GPX Texas go to g-p-x.com/tx