News
SAi Announces Executive-Level Changes
Mikki Webb has been appointed president & COO and Lloyd Cundiff to senior VP & CTO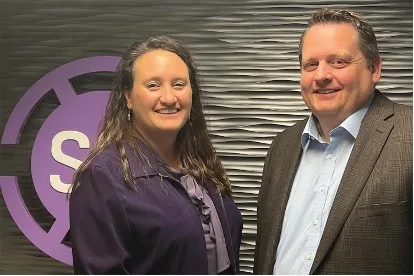 SAi has announced the promotion of Mikki Webb (left) to president and COO; and of Lloyd Cundiff to senior VP and CTO.
SA International (SAi), a provider of software solutions for sign-making, wide-format digital printing, and CAD/CAM machining industries, announces two promotions to its senior team.
Mikki Webb has been appointed president and chief operating officer, having assumed the role of senior vice president for the last two years; while Lloyd Cundiff has been promoted to senior vice president and chief technology officer.
Mikki Webb has amassed 25 years of experience managing large-scale operations focusing on customer experience. She joined SAi in 2018 as director of customer experience before being promoted to senior VP of North American sales and customer experience three years later. A specialist in managing people, processes, and tools, her new role as president and COO will extend her responsibilities to cover all aspects of SAi's operations while also seeing her added to the company's board of directors.
Lloyd Cundiff also brings solid career expertise to his new role, enjoying 25 years of experience within the sign and printing industry, which includes leading development teams across several companies. Webb joined SAi in 2010. In his new role as senior vice president and chief technology officer, he will continue to lead an SAi development team comprising 20 staff.
"Today's announcement reflects the importance SAi places on succession planning to ensure we have individuals of the highest caliber and with proven career experience in senior positions – both for the future success of SAi and our ability to continue to meet the changing needs of our customers," says Don Feagan, chairman and CEO, SAi.
As part of SAi's organizational changes, Dan Purjes is stepping down as SAi chairman but will remain the majority owner and will continue to participate in strategic initiatives concerning the company's future. At the same time, current SAi CEO Don Feagan becomes chairman and CEO.